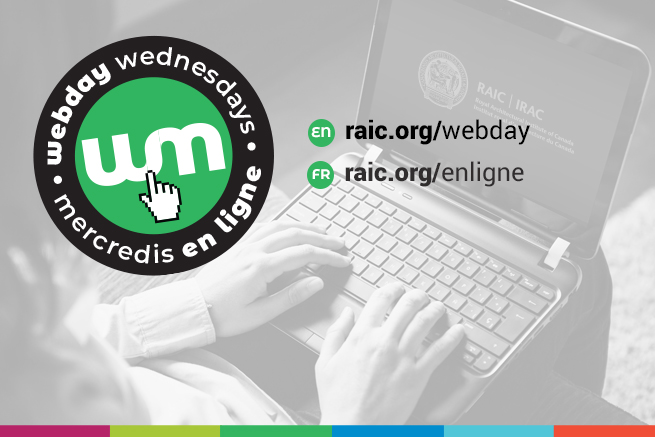 RAIC Continuing Education Learning Management System
You can now register for past Webday Wednesday webinars through the RAIC Online Store, then log in to the RAIC Learning Management System to access past webinars! To see the RAIC online courses, please see here.
Register for courses any time and gain important skills conveniently from the comfort of your home or office. Once you have completed the course, you will be issued a continuing education certificate of completion. For more information on LMS, how to order onlince courses and webinars, and more, please see here. 
---
2020 Webday Wednesday Webinars

2019 Webday Wednesday Webinars
---
2020
January 2020 - Practice Essentials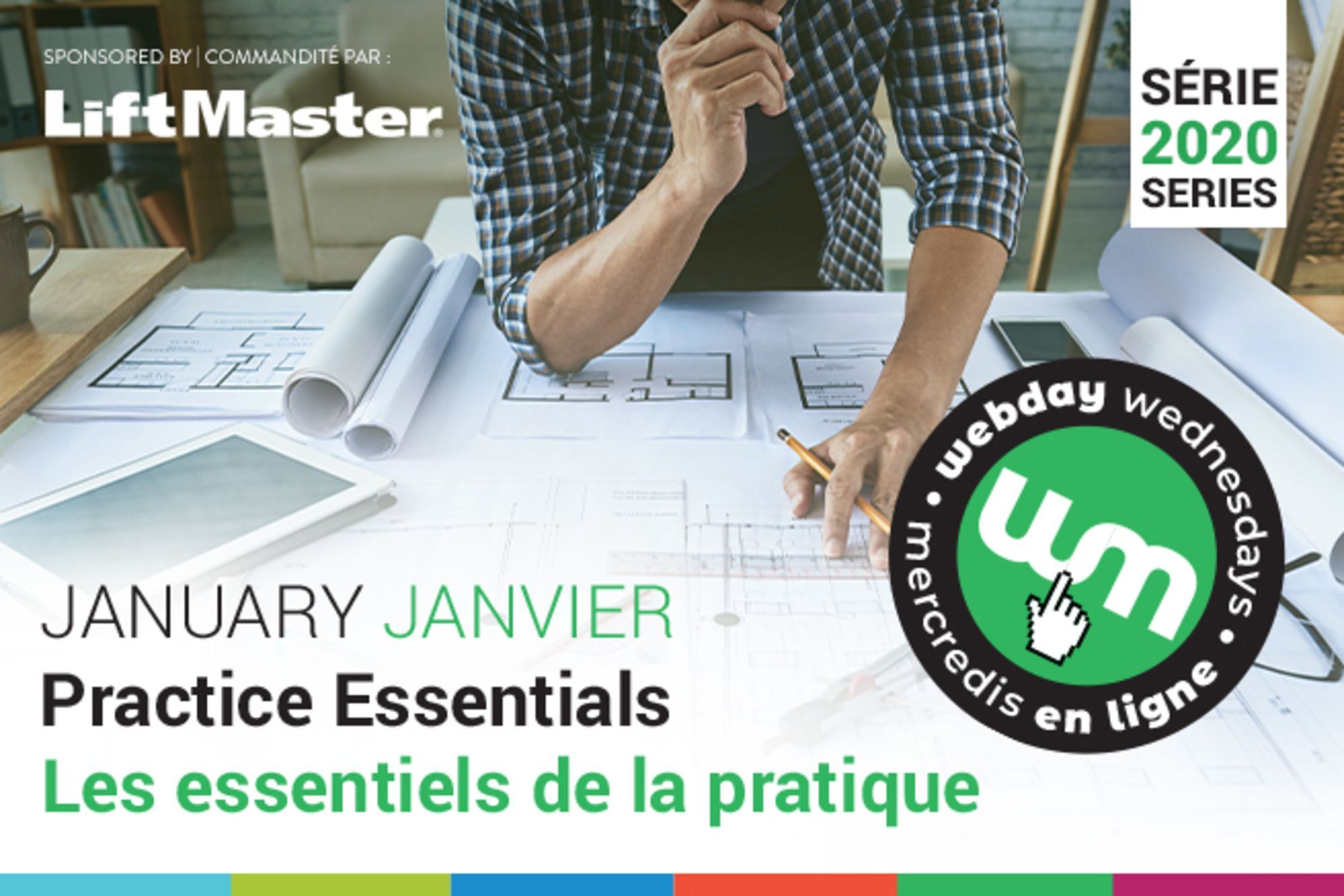 Practice Essentials Webinars | Bundle
January 15 - HOW TO CALCULATE FEES
Donald Ardiel, Director, Practice Support/Director, Syllabus, RAIC
January 22 - CHECKLISTS FOR THOSE WHO HATE CHECKLISTS 
Brian Palmquist, Architect AIBC MRAIC BEP LEED AP | President, Quality-by-Design Consulting Ltd
January 29 - CANADIAN STANDARD FORM OF CONTRACT FOR ARCHITECTURAL SERVICES DOCUMENT SIX 2018 EDITION 
Donald Ardiel, Director, Practice Support/Director, Syllabus, RAIC
Thank you to our January Sponsor: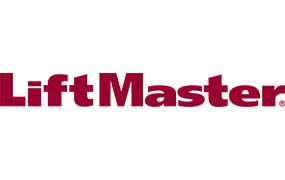 LiftMaster is the number one brand of professionally installed residential garage door openers, as well as a major manufacturer of commercial door operators, residential and commercial gate operators, telephone entry systems and related access control products. Driven by the access and security needs of the marketplace, LiftMaster's expansive line of state-of-the-art residential and commercial products are designed to fit any lifestyle or application, providing the latest technology and innovations in safety, security and convenience. More information visit LiftMaster.com. 
---
February 2020 - Emerging Technologies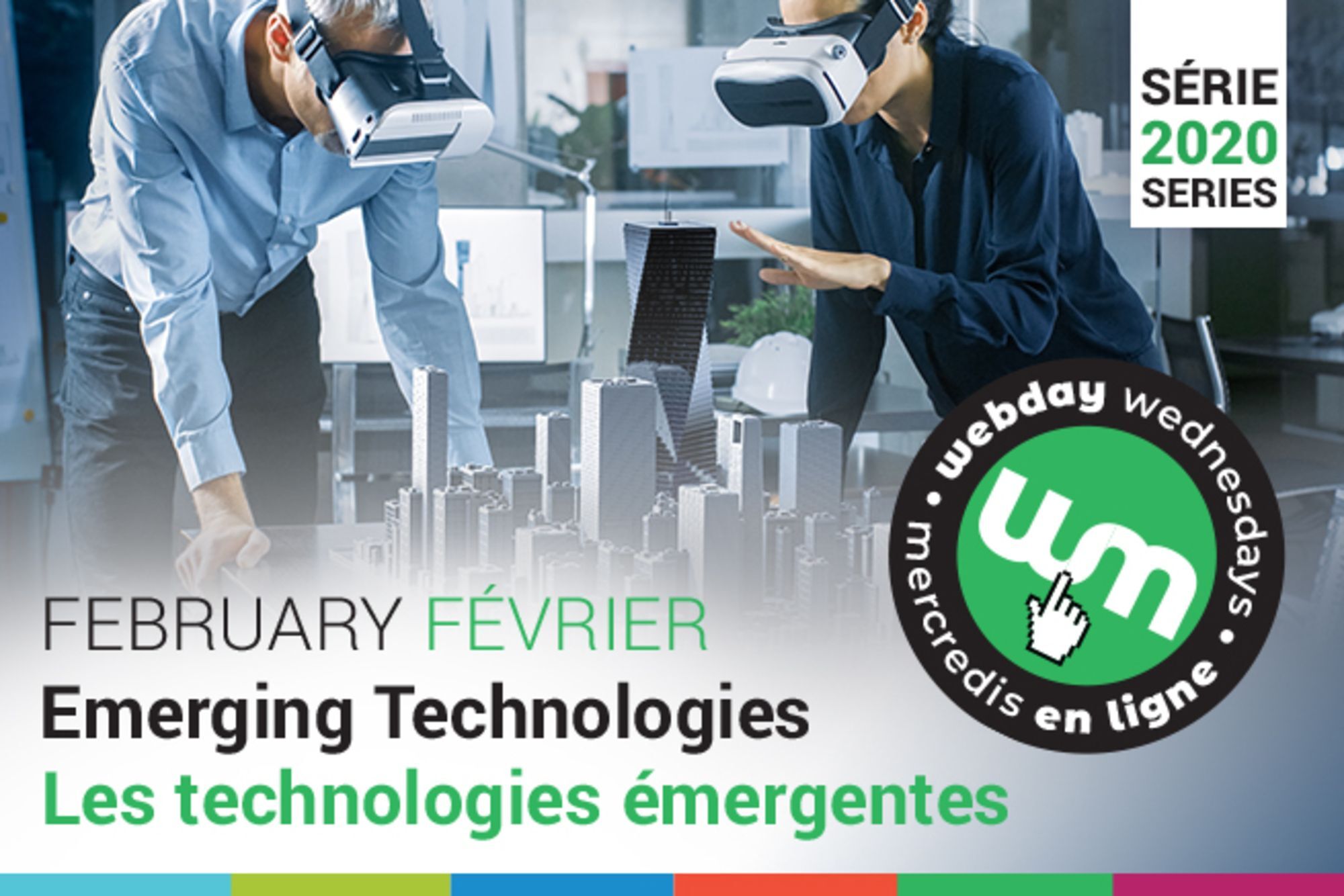 Emerging Technologies Webinars | Bundle
February 5 - THE APPLICATION OF DRONE TECHNOLOGY IN ARCHITECTURE 
Grayson Lee, RPAS Instructor | Pilot | Flight Reviewer, Digital Content Solutions Inc. 
February 12 - INTRODUCTION TO 3D LASER SCANNING FOR ARCHITECTURE 
James Hayes, Principal, if Then Architecture 
February 19 - THE EMERGENCE OF VIRTUAL REALITY: USING GAME ENGINES TO VISUALIZE 3D SPACE
Joshua Chartrand, Research Team Lead / Developer, Carleton Immersive Media Studio
Julia Laninga, Research Team Lead, Carleton Immersive Media Studio

February 26 - BAHÁ'Í TEMPLE OF SOUTH AMERICA: IMPLEMENTATION OF ADVANCED TECHNOLOGY FROM DESIGN THROUGH CONSTRUCTION
Justin Huang Ford, B.Arch. | Associate, Hariri Pontarini Architects
---
---
March 2020 - Diversity, Equity, and Inclusion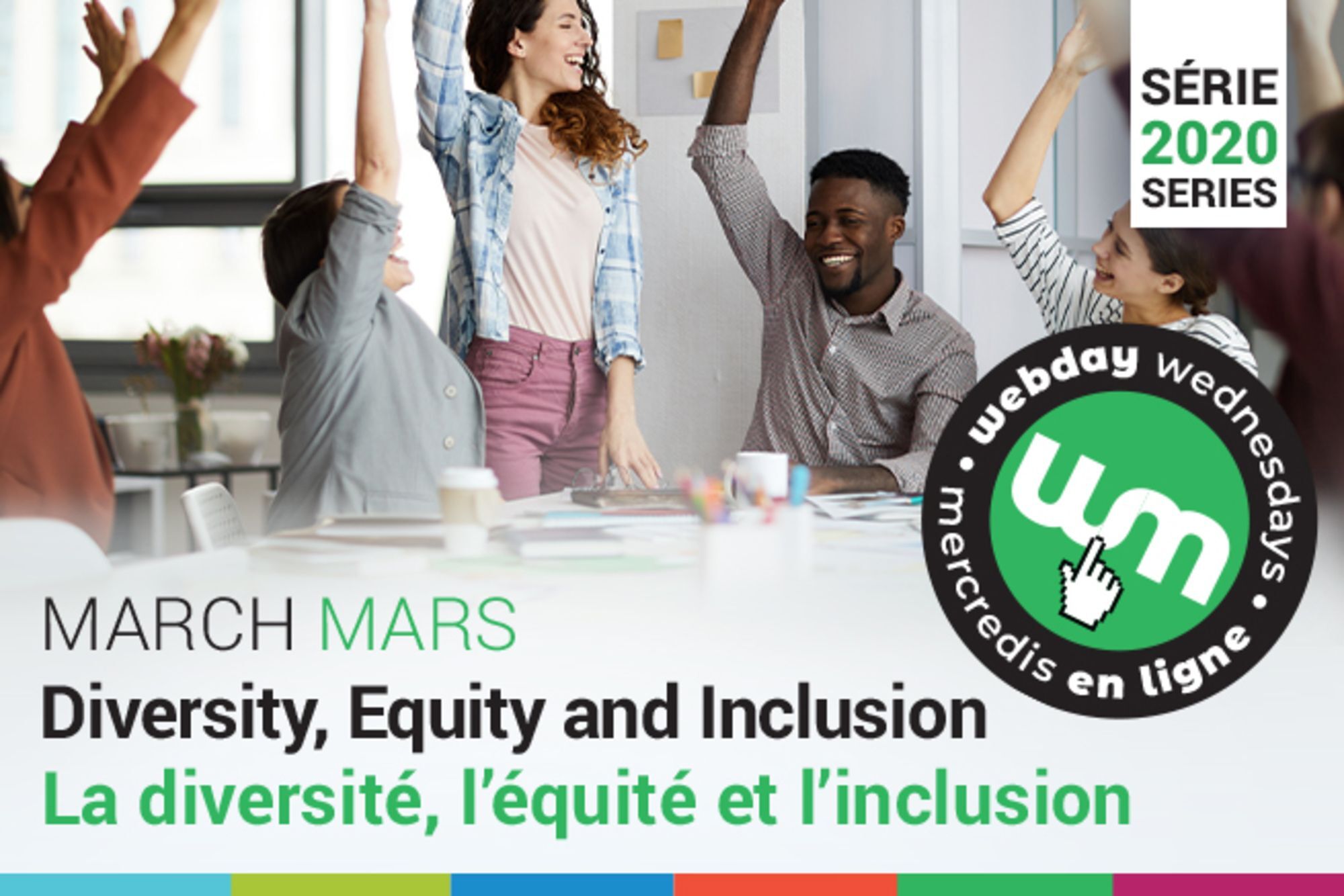 Diversity, Equity, and Inclusion Webinars | Bundle
March 4 - WOMEN IN ARCHITECTURE AND GENDER PARITY IN THE WORKPLACE
Lisa Bate B.Arch., PP OAA, AAA, AIBC, Int'I Assoc.AIA, FRAIC, F.RESET, PC CaGBC, LEED AP BD+C, ICD.D | Global Sustainability Lead, Principal, B+H Architects
Melissa Mazik M.Arch., MAARch, B.Arch Sci., MRAIC, LEED AP, OAA | Architect, Associate, B+H Architects
March 11 - SUPPORTING INCLUSIVENESS IN ARCHITECTURE
Amy Norris MRAIC, OAA
March 18 - RETURN ON INVESTMENT - WOMEN AND LEADERSHIP IN ARCHITECTURE
Anna Sampson and Zahra Williams | BEA
March 25 - DIVERSITY IN PRACTICE
Farida Abu Bakare, Shiva Mendez, Damon Sheppard, Kimberly Dowdell | HOK
---
April 2020 - Universal Design

April 1 – GOOD DESIGN IS INCLUSIVE DESIGN
Lorene Casiez BScN, MN, B.Des., WELL AP | Associate, Quadrangle
Jesse Klimitz B.A., M.Arch., MRAIC, OAA, Fitwel Ambassador | Director, Human Space

April 8 – HOW TO HOLD ACCESSIBLE MEETINGS AND CONSULTATIONS
Thea Kurdi RAIC Affiliate, GAATES Register Accessibility Consultant | Vice President, DesignABLE Environments Inc.

April 15 – THROUGH OTHER EYES: HOW PEOPLE WITH VISION LOSS SEE YOUR BUILDINGS
Bob Topping MRAIC OAA | President, DesignABLE Environments Incorporated
David Lepofsky LLB, Lawyer, Professor | Advocate for Persons with Disabilities, AODA Alliance

April 22 – HOW DO WE KNOW WHEN A DESIGN IS ACCESSIBLE?
Lara Pinchbeck, Doctoral Student at University of Alberta, MA (Material Culture), BEDS (Architecture), BA, PHEc, RHFAC, PM

April 29 – AN INVESTIGATION OF THE COSTS OF ACCESSIBILITY – BUILDING TO RHFAC GOLD
Darryl Condon Architect, AIBC, AAA, SAA, OAA, NLAA, AIA, FRAIC, LEED AP | Managing Principal with HCMA Architecture
Thank you to our May Sponsor: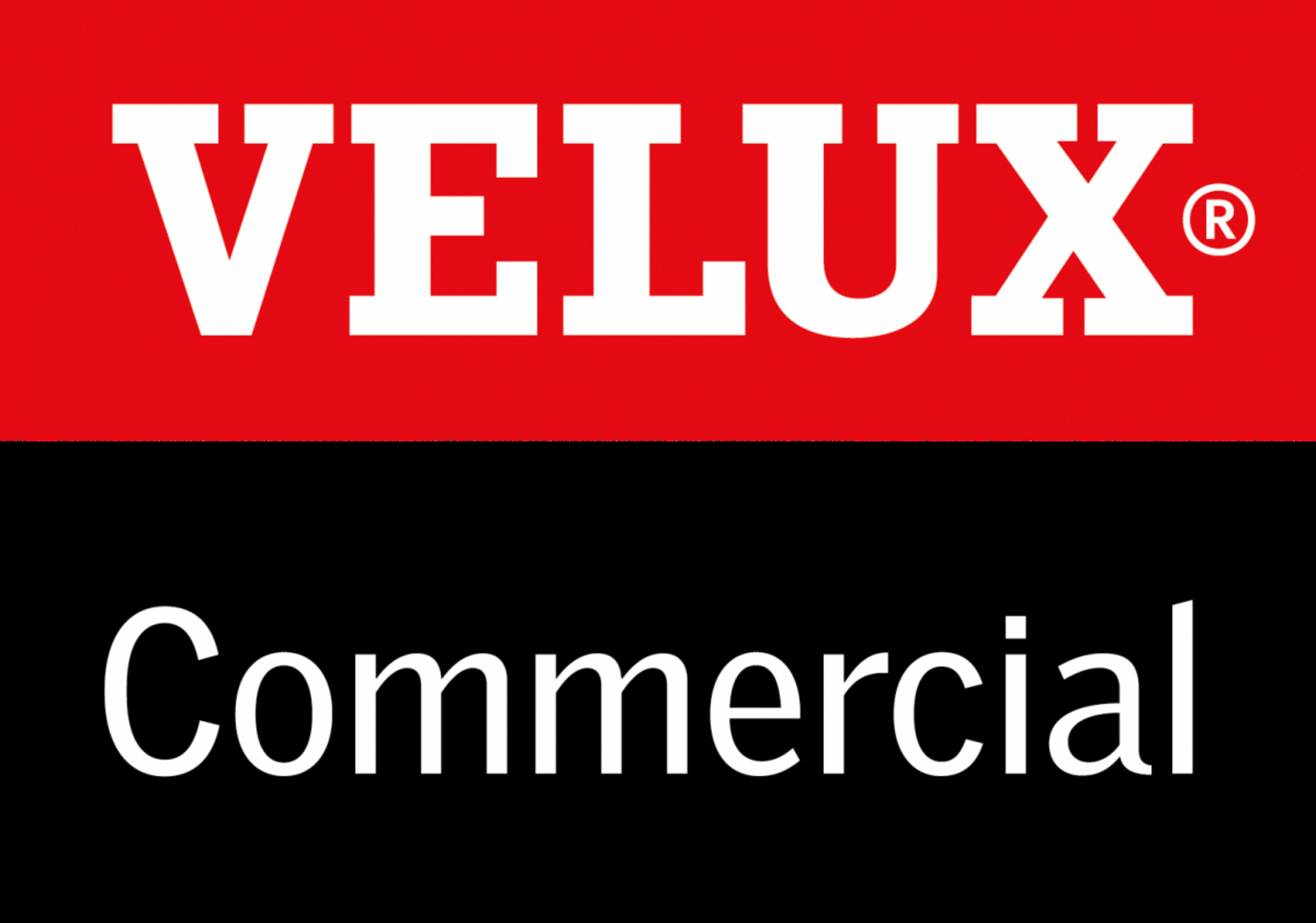 For over 75 years, the VELUX Group is the world leader in the manufacturing of residential skylights and is one of the strongest international brands in the building materials sector. With over 300 patents in skylight-design, VELUX is known for product innovation, quality and durability. For over a decade, VELUX Canada has been ramping up its commercial product line to serve the Canadian market better. Our commercial program includes the commercial Sun Tunnel tubular skylight, the revolutionary Dynamic and Energy Dome skylights and, more recently, the VELUX Modular Skylight (VMS), a prefabricated modular skylight designed in collaboration with Foster + Partners. VELUX continues to lead the residential industry with; The No Leak Skylight, Sun Tunnel skylights, roof windows, as well as a range of blinds, installation solutions and intelligent home controls. Whether your project is residential or commercial, offer your customers the innovation and quality they deserve at an affordable price. For more information visit velux.ca/professionals.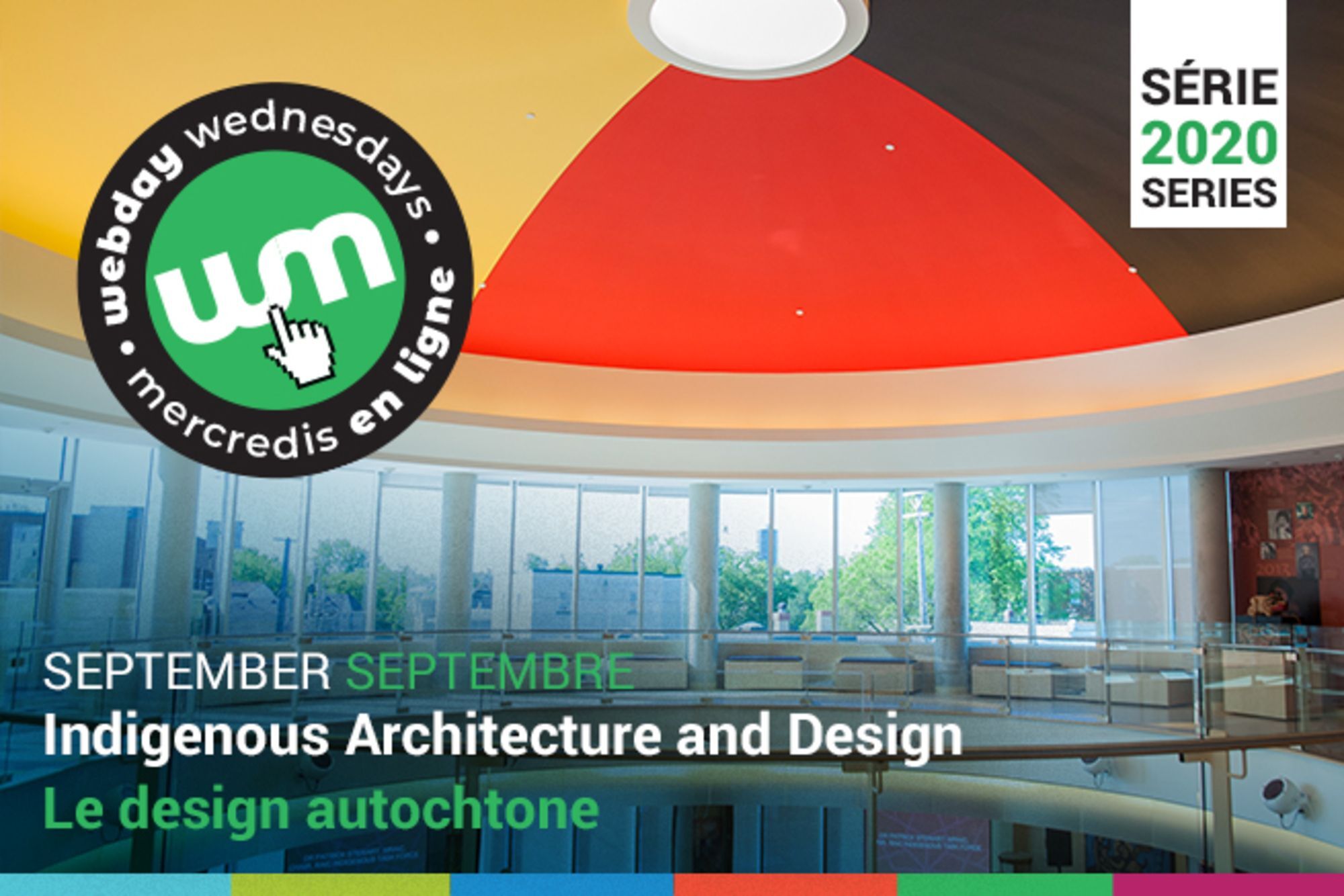 Indigenous Architecture and Design l Monthly Bundle
The September series of Webday Wednesday sets to honour the history, heritage, and diversity of Indigenous communities in Canada and their contribution to the profession. Through lectures and case studies this series will explore:

- How Indigenous architects continue to contribute to place-making in Canada; 
- Diversity of Indigenous design through history and communities;
- Indigenous-initiated architecture in Canada.
September 9 - NOT FOR US WITHOUT US: Pursuing Design with Indigenous Communities in a Good Way
Patrick R. Stewart (Nisga'a), PhD, M.Arch., B.Arch, BEDS, BA Architect AIBC, MRAIC, LEED AP | Adjunct Professor, McEwen School of Architecture, Laurentian University, SALA, University of British Columbia  
September 16 - Indigenuity 
Alfred Waugh, Architect AIBC, OAA, NWTAA, MRAIC, LEED AP | Owner/Principle, Formline Architecture
September 23 - Supporting Indigenous Initiated Architecture in Canada through the Architectural Curriculum
Alain Fournier, FRAIC, OAQ, OAA, ALBNL, AANB,AIBC, NWTAA | Architect, Managing Partner, EVOQ ARCHITECTURE
23 septembre - Soutenir l'architecture initiée par les Autochtones grâce au programme d'études en architecture
Alain Fournier, FRAIC, OAQ, OAA, ALBNL, AANB,AIBC, NWTAA | Architecte, Associé principal et Chef de la direction, EVOQ ARCHITECTURE
Septembre 30 - Indigenous Planning and Architecture: Thoughts on Practicing with an Open Mind
Dr. Daniel Millette, MASA, MA, PhD, RPA, RPP, MCIP | Adjunct Research Professor, Carleton University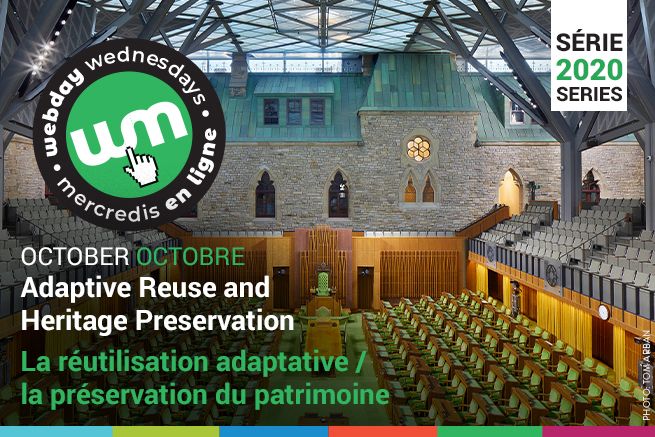 Adaptive Reuse and Heritage Preservation l Monthly Bundle
Discover the potential of Canada's existing building stock. The October Webday Wednesday series will explore how current techniques save existing buildings and compare how architects are using these techniques to bring new life to existing buildings through case studies. The October series will explore:
- Unpacking Heritage Conservation in Canada;
- Technology and techniques in preservation; and
- Safeguarding character-defining features of Canadian architecture.
October 7 - Digital Recording of Existing and Historic Buildings for Conservation
Mario Santana Quintero, P.Eng Limited License | Professor, Carleton University
October 14 - Structural Considerations for Heritage Buildings
Tom Morrison, Heritage Standing Inc.
October 21 - Case study: Monastère des Augustines 
Bernard Serge Gagné, OAQ | ABCP Architecture
Dany Blackburn, OAQ, AANB, Agrément professionnel LEED du Conseil canadien du bâtiment durable du Canada | Architecte associé, ABCP Architecture
21 octobre - Réhabilitation du Monastère des Augustines
Bernard Serge Gagné, OAQ | ABCP Architecture
Dany Blackburn, OAQ, AANB, Agrément professionnel LEED du Conseil canadien du bâtiment durable du Canada | Architecte associé, ABCP Architecture
October 28 - Designing for Historic Places:  Getting the Balance Right
Jerry Dick, Executive Director, Heritage NL
---

2019
January 2019 - Building Information Modeling (BIM)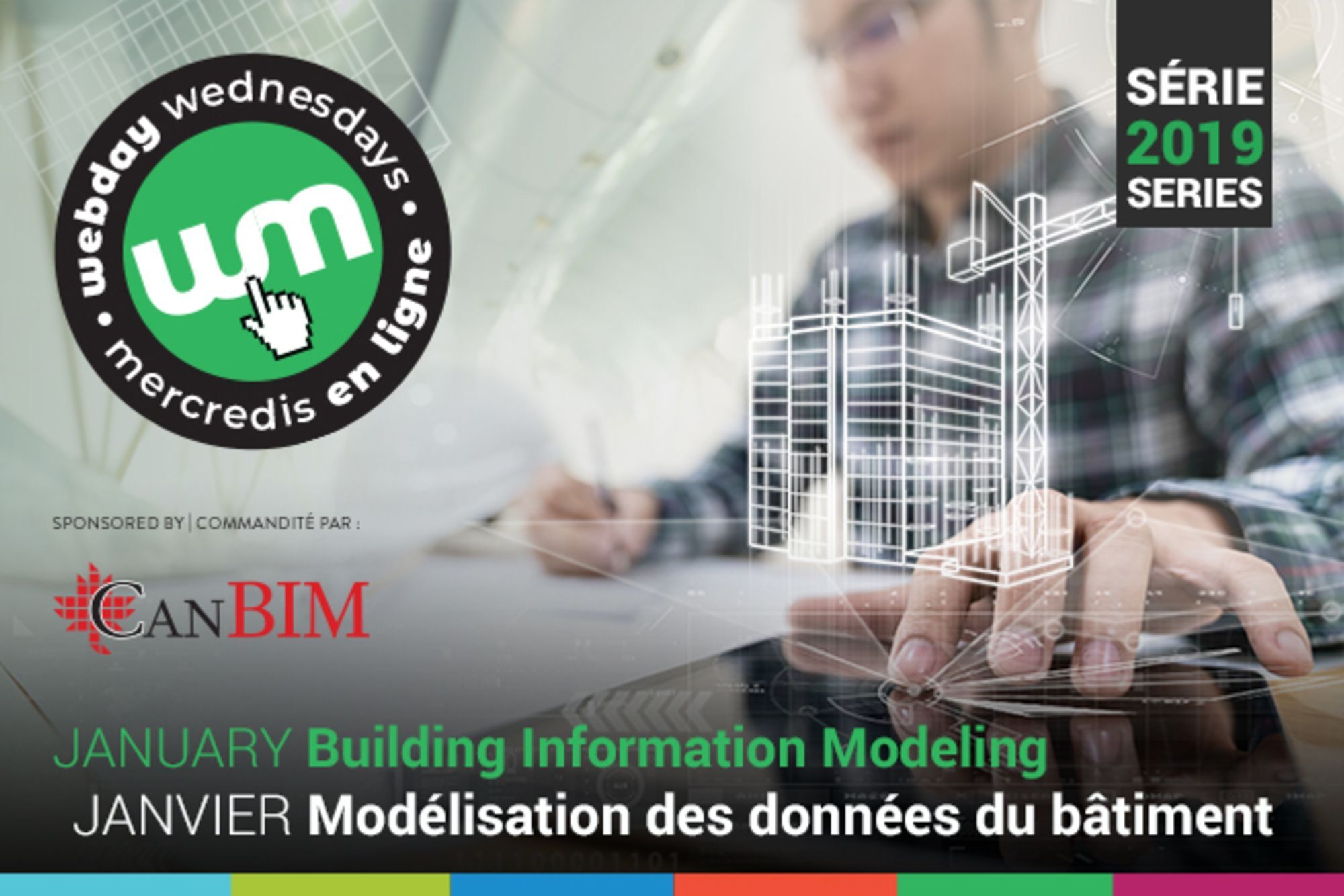 BIM Webinars
English Webinars
January 16 – INFORMATION FUSION: HARNESSING THE 'I' FOR LIFECYCLE DATA MANIPULATION
Brent Mauti, B.ARCH, OAA, AAA, LEED-AP, MRAIC, NCARB, Int. Assoc. AIA, CANBIM CP
IBI Group – Global Director, Design Technology
January 23 – DIGITAL BUILT GOVERNMENT OF CANADA: UNDERSTANDING THE DIGITAL TRANSFORMATION LANDSCAPE IN CANADA
Megan Beange, B.A.S.,M.Arch, Grad.Dip. Architectural Conservation, Specializing in BIM
Public Services and Procurement Canada, Government of Canada – National BIM Lead, Technical Services, Real Property Services
January 30 – BRACING FOR CHANGE: THE UNFORESEEN CHALLENGES OF A BIM TRANSFORMATION
Steve Nonis, OAA, AANB, MRAIC, LEED AP, CanBIM P3
Turner Fleischer Architects – Principal


French Webinars
January 30 - MDB ET RESPONSABILITÉ DE L'ARCHITECTE AUTOUR DU BIM : D'OÙVENONS-NOUS, OÙ ALLONS-NOUS ?
Anik Shooner
Menkès Shooner Dagenais LeTourneux Architectes – architecte
Pierre-Stéphane Poitras, s.e.n.c.r.l.
Gilbert Simard Tremblay – avocat
Thank you to our January Sponsor:

The Canada BIM Council serves as Canada's business voice for the architecture, engineering, construction, owner, operator and education community who are working collectively to adopt and implement digital technologies and practices.
buildingSMART Canada is the Canadian chapter of buildingSMART international and provides the appropriate home for Canadian BIM standards development and promotion of BIM awareness in Canada. 
---
---
February 2019 - Energy + Architecture

 
English Webinars
February 6 – FAST ENERGY MODELING IN EARLY DESIGN
Trevor Butler, PEng, CEng, LEED AP BD+C
archineers - CEO and President
February 13 – HIGHLY INSULATING, NON-COMBUSTIBLE ENCLOSURES AND 'THERM'
Stephen Pope, OAA, FRAIC, Assoc ASHRAE
CSV Architects – Sustainability Consultant
February 20 – NET ZERO BUILDINGS THE EASY WAY
Jacob Komar, PEng
Revolve Engineering Inc. – Principal and lead mechanical engineer
February 27 – NET ZERO ENERGY BUILDING: PROCESS DRIVEN DESIGN
Kevin Van Hartingsveldt, Dipl.T.(ARCH.), LEED AP, PMP
 mcCallumSather – Associate 
Kristen Yee Loong, P.Eng, LEED AP BD+C
RDH Building Science – Associate, Energy and Sustainability Specialist 
Thank you to our February Sponsor:
Owens Corning (NYSE: OC) develops, manufactures, and markets insulation, roofing, and fiberglass composites. Global in scope and human in scale, the company's market-leading businesses use their deep expertise in materials, manufacturing, and building science to develop products and systems that save energy and improve comfort in commercial and residential buildings. Through its glass reinforcements business, the company makes thousands of products lighter, stronger, and more durable. Ultimately, Owens Corning people and products make the world a better place. Based in Toledo, Ohio, Owens Corning posted 2017 sales of $6.4 billion and employs 19,000 people in 37 countries. It has been a Fortune 500® company for 63 consecutive years. 
---
March 2019 - Adaptive Reuse
English Webinars
March 13 – THE ROLE OF HERITAGE IN ADAPTIVE REUSE PROJECTS 
Michael McClelland, OAA AAA FRAIC CAHP   
ERA Architects – Principal
March 20 – ADAPTIVE RE-USE AS A CATALYST FOR SUSTAINABLE PLACEMAKING
Megan Torza, OAA, MRAIC, LEED AP BD+C
DTAH – Partner
March 27 – A CASE STUDY IN THE TRANSFORMATION AND REHABILITATION OF TWO LANDMARK COMMERCIAL BUILDINGS INTO NEW FACILITIES FOR THE HOUSE OF COMMONS
David Clusiau, B.E.S., B.Arch., OAA, FRAIC, LEED AP
NORR – Vice President, Architectural Design - Canada
April 3 – CONTEMPORARY INTERVENTIONS ON HERITAGE BUILDINGS (English presentation)
Stephan Chevalier + Sergio Morales
Chevalier Morales Architectes – Principals
French Webinars
April 3 – INTERVENTIONS CONTEMPORAINES SUR DES IMMEUBLES PATRIMONIAUX (French presentation)
Stephan Chevalier + Sergio Morales
Chevalier Morales Architectes – Principals 
---
April 2019 - Architectural Design Processes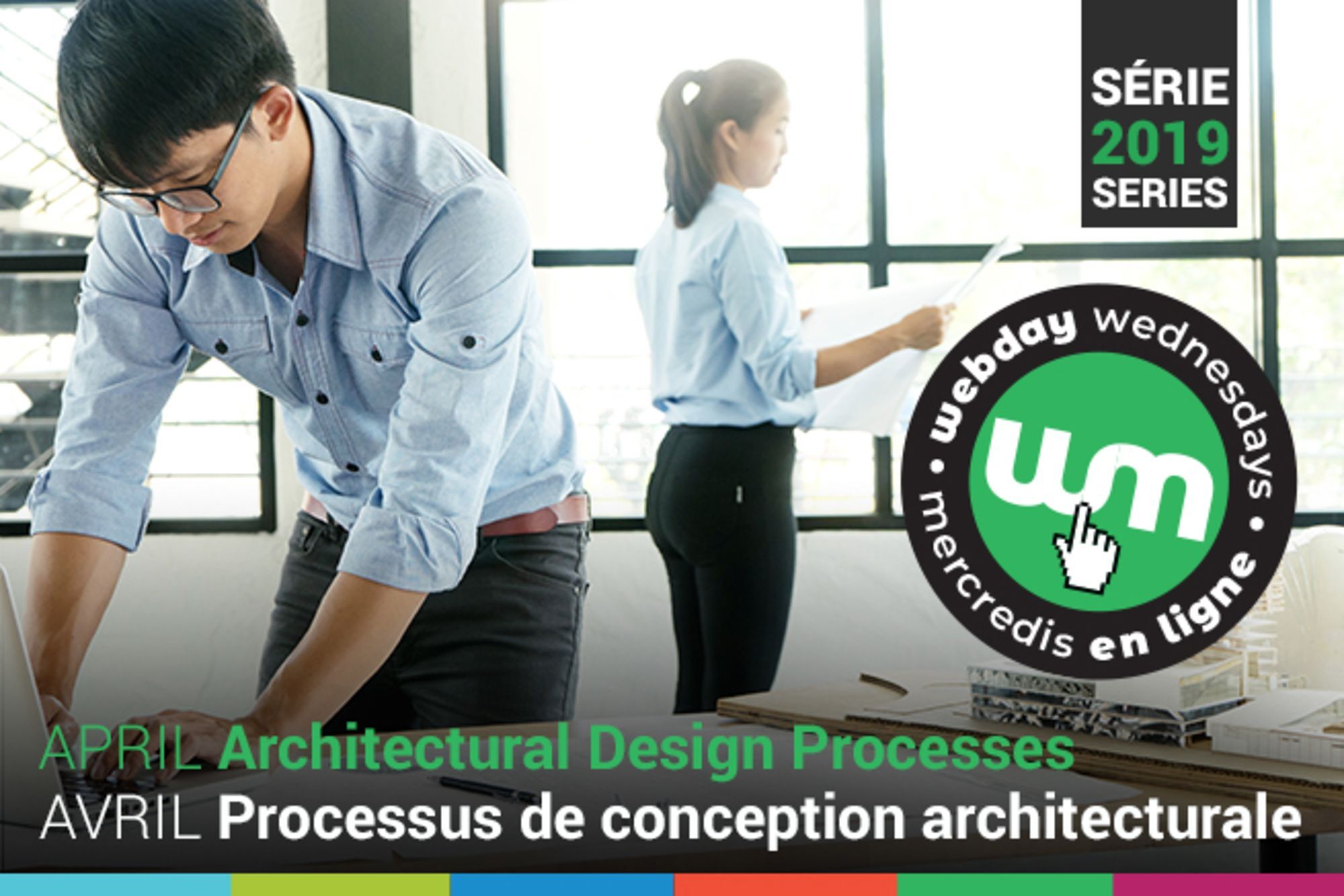 April 10 – EXPANDING CONTEXT: UNDERSTANDING USER NEEDS TO INFORM DESIGN 
Erin Corcoran,OAA
Gensler – Architect and Design Strategist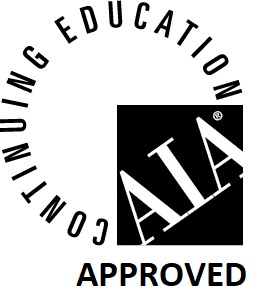 April 17 – RETHINKING COMMUNITY ENGAGEMENT FOR DESIGN
Paul Fast, MRAIC, Architect AIBC, AAA, OAA+ Marni Robinson, MSc, BA (Hons)
HCMA – Principal + Director of Community and Stakeholder Engagement
April 24 – CONVERGENCE OF ART AND ARCHITECTURE IN PRACTICE AND EDUCATION 
Andrew King, FRAIC, Prix de Rome
Lemay –Senior Partner + Design Principal
---
May 2019 - Advanced Building Envelopes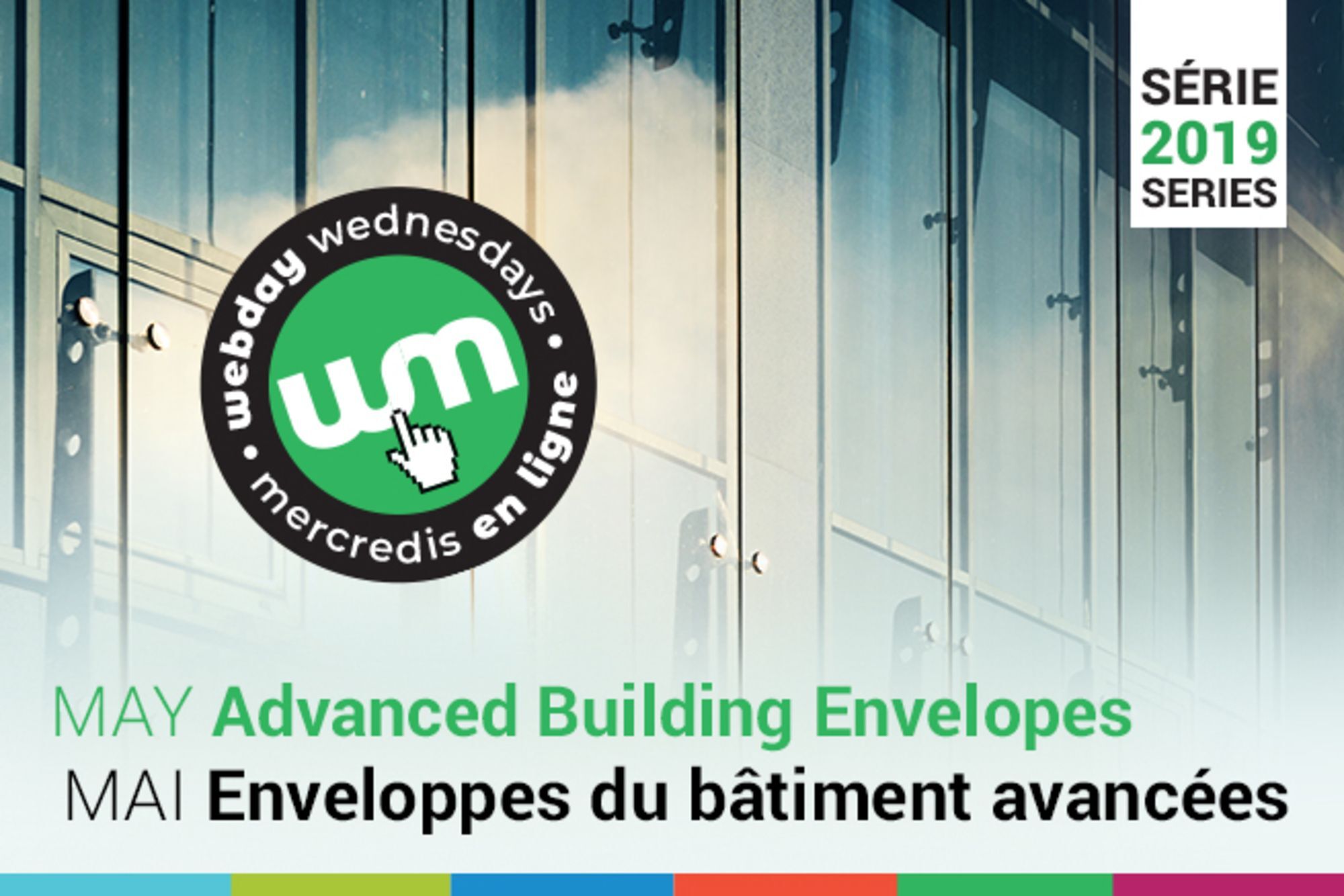 English Webinars
May 1 – S, M, L, XL –DIFFERENT ENVELOPES, SAME CRITERIA
Deborah Byrne, CPHD, CEng, BEng, MIEI
Director of Passive House Design, Kearns Mancini Architects 
May 8 – CHALLENGES AND OPPORTUNITIES OF REVITALIZING AGING FAÇADES
Rob Wood, P.Eng.
President, C3 Specialty Glazing Solutions
May 15 –  ADVANCED BUILDING ENVELOPES SIMPLIFIED: FOUR CONTROL LAYERS 
Kathleen Narbonne, MSc., Certified Passive House Designer, LEED Green Associate
Building Scientist, Sustainable - Architecture for a Healthy Planet
May 22 – AFFORDABLE MULTI-RESIDENTIAL PASSIVE BUILDINGS - LEARNING FROM EXPERIENCE
Emma Cubitt , MArch, OAA, MRAIC, LEED ®AP 
Principal, INVIZIJ ARCHITECTS INC. 
May 29 – TWO WALL ASSEMBLIES FOR PASSIVE HOUSE COLD CLIMATES
Stephen Pope, OAA, FRAIC, Assoc Member ASHRAE
Sustainability Consultant, CSV Architects
---
---
November 2019 - Wood Architecture + Construction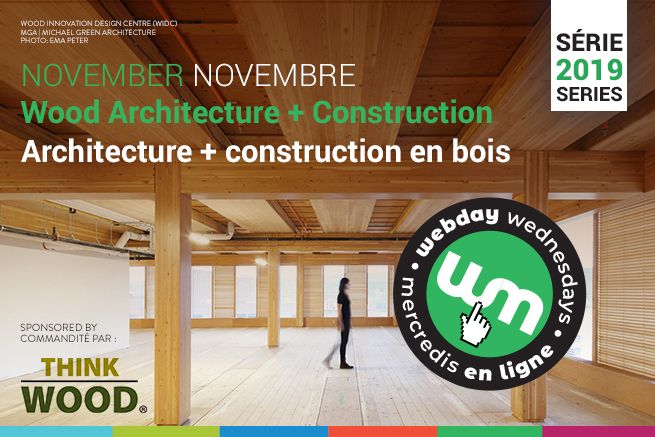 November 6 - WOOD BUILDINGS – MOVING TO MAINSTREAM IN CANADA
Angelique Pilon, PMP, LEED AP BD+C, Director, Urban Innovation Research, University of British Columbia
Penny Martyn, MRAIC, MAIBC, LEED AP, Green Building Manager, University of British Columbia
November 13 - FROM MASS TIMBER TO FREEFORMS: THE NEW AGE OF TIMBER CONSTRUCTION
Lucas Epp, BaSC Civil Engineering, P. Eng., Engineering & 3D Manager, StructureCraft Builders, Inc.
November 20 - THE ARBOUR: A NEW PARADIGM
Carol Phillips, B.E.S., B.Arch., OAA, MAIBC, AAA, NSAA, FRAIC, LEED AP, Partner, Moriyama & Teshima Architects
November 27 - MASS TIMBER AND MOISTURE PROTECTION 
Jesse Moore,  P. Eng, Building Science Engineer, RDH Building Science
Thank you to our November Sponsor: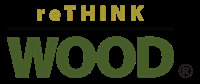 The Think Wood initiative is a coalition of interests representing North America's wood products industry and forest landowners, public and private. Think Wood's goal is to educate the community about the benefits of building with wood, including performance, cost & sustainability. Think Wood coordinates resources with associations, companies and research institutions, along with key delivery agents such as the Canadian and American Wood Councils, as well as WoodWorks programs. 
---
---
December 2019 - Marketing + Communications in Architecture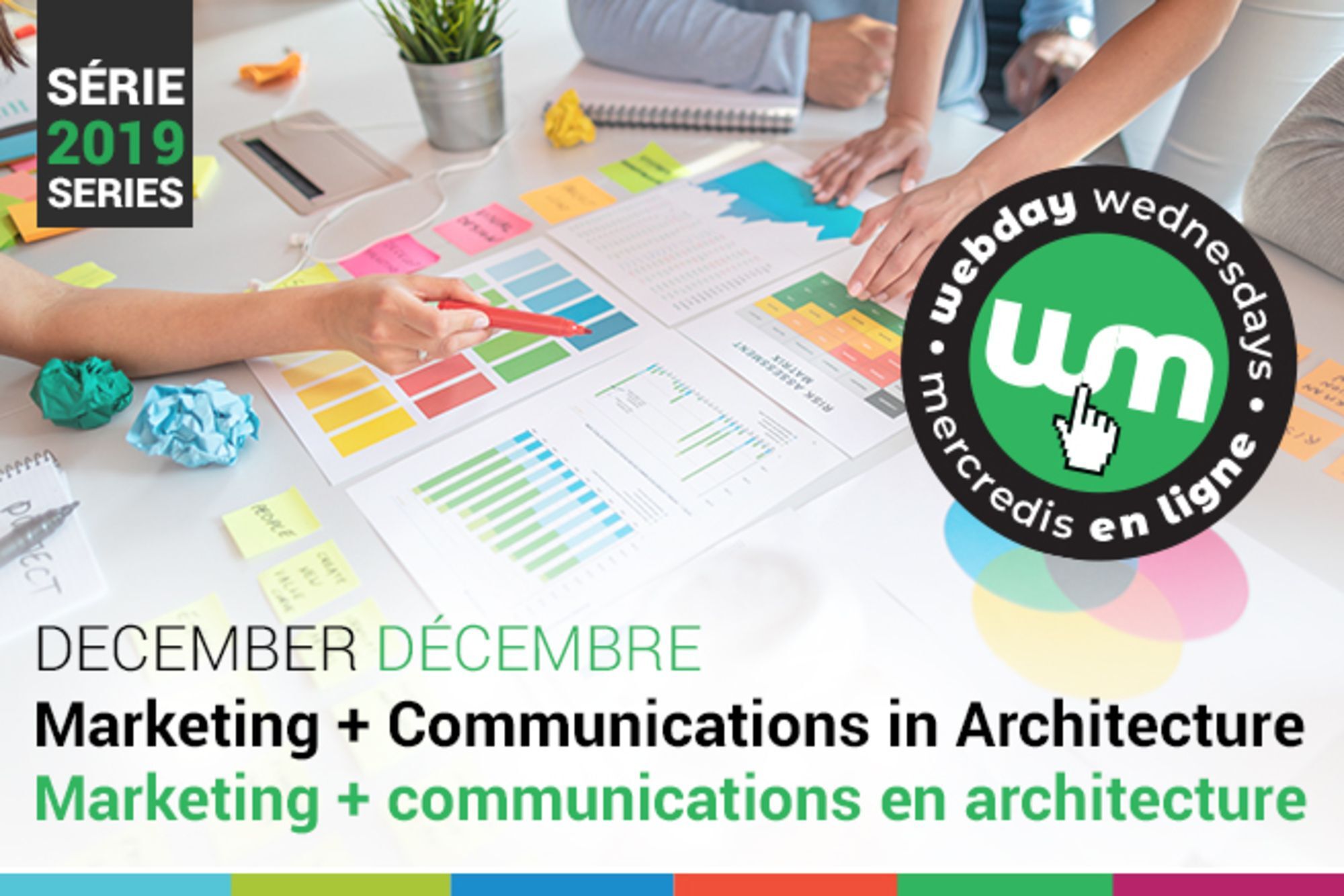 December 4 - SOCIAL MEDIA FOR ARCHITECTS
Shelley True, PMP, LEED AP BD+C
December 11 - KEYS TO BRANDING CONSISTENCY AND EFFICIENCY FOR ARCHITECTURE FIRMS
Cristina Kelly and Monika Meyer
December 18 - WRITING AND COMMUNICATIONS FOR ARCHITECTURE FIRMS
Catherine Osborne
For more information contact Camille Rivard: crivard@raic.org 
---
Click here to return to the Webday Wednesdays page.
---