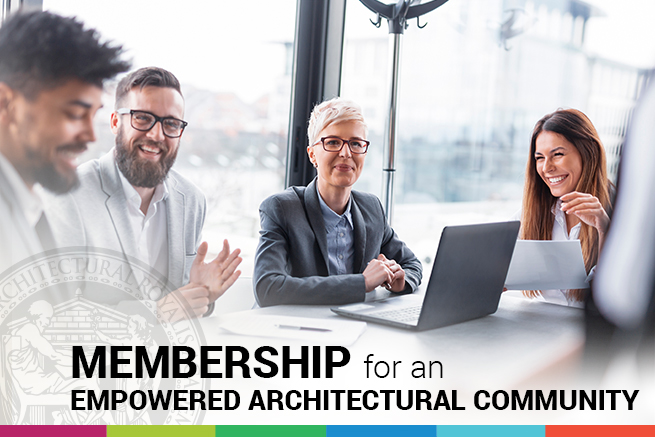 Join the RAIC to elevate your career, expand your knowledge and skills, enhance your network, and get great deals on essential products and services. Being a member of the RAIC means being part of a creative, engaged, and inclusive community that is building a strong future for architecture in Canada. 
The RAIC engages in many activities on behalf of architects and architecture in Canada. It also offers a wide range of valuable member benefits, services, and programs to help members achieve success. Find out how the RAIC can help you.


Advocacy
• Procurement Reform
• Fair fees and Contracts
• Qualifications-Based Selection
• Sustainability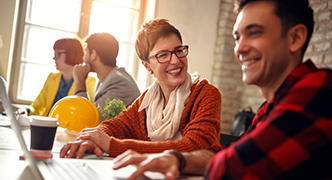 Practice support and continuous education
• Contracts, Documents, and Guides
• Annual Festival of Architecture
• Webinars
• Courses, Seminars, and Workshops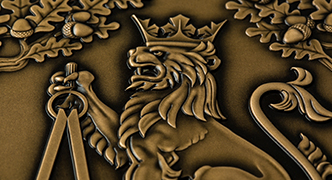 Promotion of excellence
• Raising the profile of architects and the value of design
• Canada's largest architecture awards program
• Public Outreach
RAIC membership provides numerous valuable benefits:



Professional Liability Insurance Program for Architects
As your profession evolves, it's important that your coverage does too.
BMS Canada Risk Services Ltd. (BMS) is the exclusive broker for RAIC's liability insurance program that includes Professional Liability and Business coverage designed to meet the unique needs of licensed architectural firms of all sizes. RAIC members have access to the following insurance products:
Professional Liability
Commercial General Liability
Office Insurance
Directors' and Officers' Liability
Builder's Risk & Wrap-Up
Cyber Security and Privacy Liability
Employment Practices Liability
Travel & Accidental Death & Dismemberment
Legal Services Package
---

Home and Auto Insurance with The Personal
The Royal Architectural Institute of Canada (RAIC) has partnered with The Personal—one of Canada's leading group insurance companies for over 40 years—to provide members with preferred group rates on home and auto insurance that are not available to the general public.
The RAIC chose The Personal for their excellent reputation, long-term commitment to their customers, and the benefits they can offer to members.
What this partnership means in addition to preferred rates:
Personalized coverage to fit your individual needs
Expert advice from licensed insurance advisors
24/7 emergency assistance if you ever need to make a claim
---

About the RAIC Continuing Education Program
The Royal Architectural Institute of Canada (RAIC) is the leading provider of high quality and engaging continuing education opportunities. RAIC Continuing Education programs give participants the skills and tools needed to run a successful architectural practice and build their career. For further information about the RAIC's continuing education program and each series. RAIC Members receive special pricing!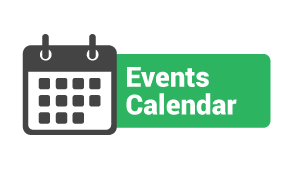 Discounts of up to 50% off on RAIC events including Professional Development programs, the annual Conference on Architecture, the RAIC Congress on Architecture, seminars, and lectures. You must be logged in to view and access the discounts when registering for events.
---

1-800-268-8970 for more information. * Canada only.

1-800-263-0678 for more information. * Canada only.

1-800-227-7368 for more information.

 

RAIC members get a six-digit corporate discount code to use when making reservations.

 

The RAIC is pleased to offer its members an exclusive travel and entertainment discount service. Savings may exceed 50%, and average 10-20% below-market on all hotels, car rentals and entertainment around the world. Any hotel, any car, any ticket, anywhere, anytime!

 

Uniglobe is RAIC's Corporate Travel Partner
---

Save on a GoodLife Fitness Membership
Corporate Membership Benefits:
Waived enrollment fee exclusive to corporate partners (regular fee $99+tax)
Corporate rate may be extended to one family member
State-of-the-art cardio equipment
Free weights and weight machines
Showers available
World-renowned Group Fitness classes (select memberships only)
Professionally trained staff to assist you in achieving your goals
24-hour locations (select Clubs only)
25% Savings on all membership types.
---

RAIC Connects – Join the conversation!
There's a new way for RAIC members to connect with each other and join the conversation! Launched this past October, RAIC Connects is a community-based, online venue for members to start discussions, share resources, and find events on topics and matters that affect them and the profession alike. The RAIC Member Community is a place to ask questions, get feedback, and share information in real-time with hundreds of other members.
---

RAIC Awards
The RAIC awards program is an opportunity to highlight achievements and be recognized in the Canadian architectural community, and offers a wide selection of annual and bi-annual awards that are open for submission in the Fall. This highly regarded awards program seeks to bring national and international attention to Canada's architects, architectural community and projects at the forefront of design excellence and responsible architecture today, in Canada or abroad. 
For the 2023 Annual Award season, RAIC members receive a 25% discount on all awards with submission fees.  

Printing and Marketing Services
RAIC members receive a 10% discount on select print and marketing products and services with Staples. 

RAIC members receive 10% off a paid subscription tier with Mortarr
Mortarr is a search engine for commercial construction and design. Find project inspiration, products, and service providers all on one platform. Mortarr was built to simplify and modernize the sourcing process for everyone involved in creating a commercial space. Companies and firms showcase their project and installation photos to be found by an audience of over 24,000 monthly searchers.
While it's free to use Mortarr as a search engine–and free to showcase your best commercial work– when your firm joins at a paid tier you will receive: 
Support: a dedicated customer success manager will help you build, maintain, and optimize your profile on Mortarr 
Lead Generation: each month, you'll get a report of the registered Mortarr users who are taking an interest in your work
Advertising: get your best work in front of your target audience with advertising options built into your annual subscription!

International Trade Council
The Royal Architectural Institute of Canada (RAIC) has partnered with the International Trade Council (ITC) to provide valuable business tools and resources to RAIC members. The ITC is a global association of national, state, and local chambers of commerce, government trade agencies, specialist industry organizations, and corporate members from 176 countries.
The RAIC is pleased to offer its members a discounted annual fee of $30 to join the ITC. Click here to find out more about ITC membership and its extensive benefits

RAIC members save up to 50% on the online store.
You must be logged in to your member account to access the lower member prices.
Save on products like:

Members get 10% off a subscription to NBS Chorus - a cloud-based specification platform.
NBS brings the power of digital specification to the Canadian market, through NBS Chorus – a global, cloud-based platform used by organizations of all sizes, from small architecture and engineering firms, to the largest global construction companies.  Chorus is an online specification platform, designed to help our customers get it right the first time.  It's easy to use and can be accessed anywhere at any time.  Eliminate the risk–arbitration and mitigation– of poorly written specs, be more efficient, collaborate internally and externally, write specifications faster while owning the intellectual property, and win more business.  NBS Chorus allows users to start from the most updated Canadian specifications with CMS (Canadian Master Specifications), NMS (National Master Specifications) or import your own custom specifications.
---
Books and Publications—Special offers for RAIC Members:
Get a 1-year print subscription to AZURE for only $25, plus taxes. That's 37% off the regular subscription rate and over 69% off the newsstand price!

*Offer available to Canadian and US addresses

 
 

Free subscription to Canadian Architect for Canadian residents. Subscription is automatically activated with membership.

 
 

Receive a 20% discount on all Kaplan AEC Education exam preparation materials for the Architecture Registration Exam (ARE).

 
 

Receive a 20% discount on Paperless products only (not including the Paperless amendments service).

 
 

Wiley creates and provides resources in architecture, landscaping, design and construction that help customers become more effective in the workplace and achieve career success. It brings to life the ideas and best practices of thought leaders to serve these communities worldwide. RAIC members enjoy 30% off Wiley Architecture books.

 
 
Architectural Record
The RAIC offers a discount on subscriptions to Architectural Record. Members receive a print subscription for $60 CAD (regularly priced $72 CAD), and a digital subscription for $48 CAD.
 
 

The MIT Press is pleased to offer RAIC and its members an ongoing discount on all MITP architecture titles.
---

Members post for FREE on the RAIC Job Board
The RAIC Job Board promotes career opportunities from across Canada and from around the world. If you are looking for the perfect candidate for a job at your firm, or looking for the next step in your career, check out the RAIC Job Board today.
Members can now add and edit job postings for FREE.
---
Annual member badge and signature banner
The RAIC is committed to providing members with the tools necessary to achieve their professional goals. Use an exclusive RAIC member badge and NEW signature banner to show that you are a proud member of the RAIC and support its exciting new strategic direction.
Share on popular social and professional networking sites, through emails, or your personal website.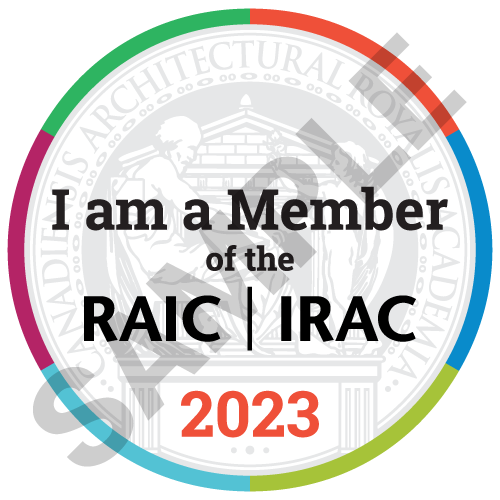 ---