Kitchen Perfection: A framework for aligning performance and style within modern kitchens
This session is free for members!
This webinar will be available to stream August 3!
Topics: Design / Construction
Length: 0.5 hours | What's included: Video, Quiz, Certificate of Completion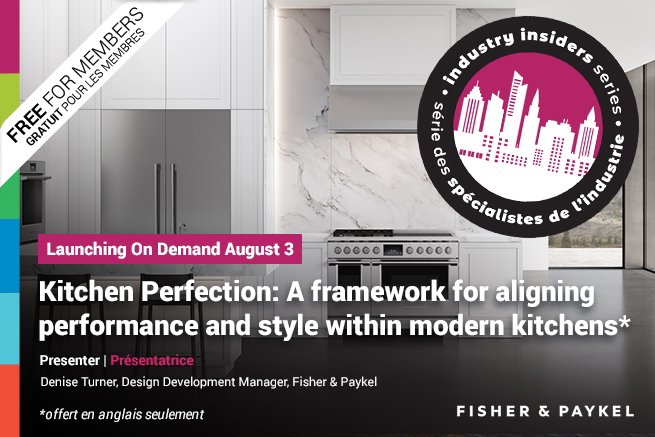 Developed by a team of industrial designers, architects, insight researchers, and specialist architecture + design brand experts, this educational module offers a fresh take on kitchen design. With particular focus on performance and style - and the tension between those - this presentation sets out a framework for Kitchen Perfection that can be adopted by any designer, working in any style, location or budget. 
This simple structure, complemented by case study examples to illustrate key points, will give you insight into how to break down the complexity of kitchen design into simple logic. This presentation does not tell you how to design, but rather provides the scaffolding that your creativity can sit within.
Learning Objectives
At the conclusion of this session, participants will be able to:
Articulate the three principles of kitchen design. 

Summarize the aesthetic differences of appliance styles and how they can reinforce or contrast with the kitchen style. 

Explain how the fit of appliances can impact the overall kitchen aesthetic. 

Recognize the role of temperature in both cooking and cooling appliances, and the impacts on performance. 
Subject Matter Experts: 
Denise has been in the Kitchen and Bath industry for over 15 years and previously owned and operated her own Paint and Décor Store in Mississauga Ontario.

Interior Design being her passion, she accepted an offer back in 2003 to join the distributor of Dupont Corian and later on Caesarstone quartz product working in the Specifier, Designer and Architect communities.

She has been on the board of the National Kitchen and Bath Association since 2004 and just completed her run as President.  At this years Annual Design Awards Gala, Denise was presented with the prestigious Hall Of Fame Award.

In 2013 Fisher and Paykel appliances offered her a position as the Design Development Manager and she has been there in that role ever since.  That role being the brand and relationship developer while providing education to the SDA community through various events as well as her involvement on the different association boards and or committees such as the Interior Designers of Canada, National Kitchen and Bath Association, Building Industry and Land Development, Hats On for Awareness and the Ontario Home Builders Association.