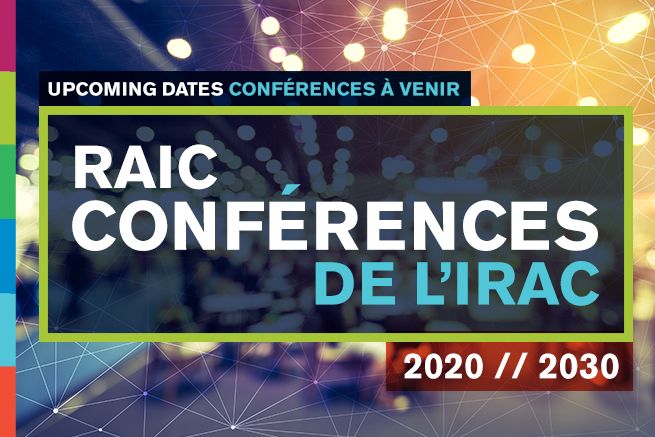 RAIC is pleased to announce confirmed dates and venues for its future conferences from 2020 to 2030.  Known until 2019 as the Festival of Architecture, the future RAIC Conference on Architecture will continue to be Canada's premier annual gathering for leaders and emerging talents in architecture and design, students, faculty, and allied professionals. It is the place for industry thought leaders to engage, strengthen our profession, and keep up to date with continuing changes in practice, from sustainability to digital transformation.
RAIC Conferences are tailored for work and educational success and feature high-quality learning sessions, including continuing education, tours, networking, and more. Participants at all career stages will take away insight, inspiration, and ideas for practical application.
The RAIC has been hard at work confirming dates and venues for its future conferences. Securing these dates in advance will allow members to plan ahead and book travel early, and it also means we can get you the best deals on facilities, tours, and accommodations.
"The RAIC's conference is the largest annual gathering of architecture professionals in Canada," says RAIC President Michael Cox. "Year after year, this event continues to raise the profile of Canadian architecture and foster excellence in the profession."
Mark your calendars and join us in Vancouver, Edmonton, Calgary, and Montreal for these outstanding events.
RAIC 2020 Virtual Conference 
Live broadcast June 4, 2020
Now available on-demand! 
On Demand Access
RAIC Conference 2021
June 5-9, 2021
Montreal, Quebec 
Now RAIC 2021 Virtual Conference on Architecture (June 2021)  
Click here to register!

Sponsorship and Virtual Exhibitor Showcase

Don't miss this chance to connect directly with industry leaders and experienced professionals. The entire program will be archived for on-demand access until December 31, 2022, allowing greater engagement with your advertisements and sponsorship while the content is available to members.
Download the sponsorship and Virtual Exhibitor Showcase Prospectus here.
RAIC Conference 2022
May 10-15
Vancouver, British Columbia

RAIC Conference 2023
May 2-6
Calgary, Alberta

RAIC Conference 2024
TBA- coming soon

RAIC Conference 2025
June 1-4
Montreal, Quebec

RAIC Conference 2026
May 5-9
Vancouver, British Columbia

RAIC Conference 2027
May 4-8
Calgary, Alberta

RAIC Conference 2028
TBA- coming soon

RAIC Conference 2029
June 3-6
Montreal, Quebec

RAIC Conference 2030
May 7-11
Vancouver, British Columbia