The time has come to renew your membership for the coming year, and we want to share what we've done in 2021 and what we are planning for 2022.  

In 2021, the RAIC entered a new frontier of innovation and modernization to better support its members and the built environment. Check out this recap of our recent activities. 

What's in store for the new year?
In 2022, we'll be continuing to modernize with a complete redesign of our website including the online member's portal and piloting a hybrid model for Conference. Stay tuned for exciting new developments as we launch a blog, build on a successful inaugural podcast series, and invest in some of the most significant advocacy issues in the profession including climate change, inclusivity, and advocating for architects to the Canadian government.  
The RAIC is proud to support the built environment and the extraordinary individuals who shape it. Thank you for being an RAIC member and for your ongoing enthusiasm for—as well as your commitment to—your profession.   
How to renew
Members can renew by logging into the RAIC member's portal and selecting the red renewal banner at the top right. The online renewal form will provide options to pay online using a credit card or request an email invoice to pay by cheque. If the red renewal banner is not visible and you need to renew your membership, please contact us at membership@raic.org or 613-241-3600 ext. 2000. 
Get your new and improved virtual gift bag for renewing by January 14, 2022. Learn more.

A virtual gift bag that keeps getting better!
The RAIC would like to share a virtual gift with you that includes free and discounted premium education programming for 2022. 
How do you qualify for this great offer? Simply renew your membership by January 14, 2022, and we'll send you an email with all the information you need to redeem the offer by January 31, 2022.
Have a look at how we've enhanced the virtual gift bag: 


Here is what is included in the virtual gift bag: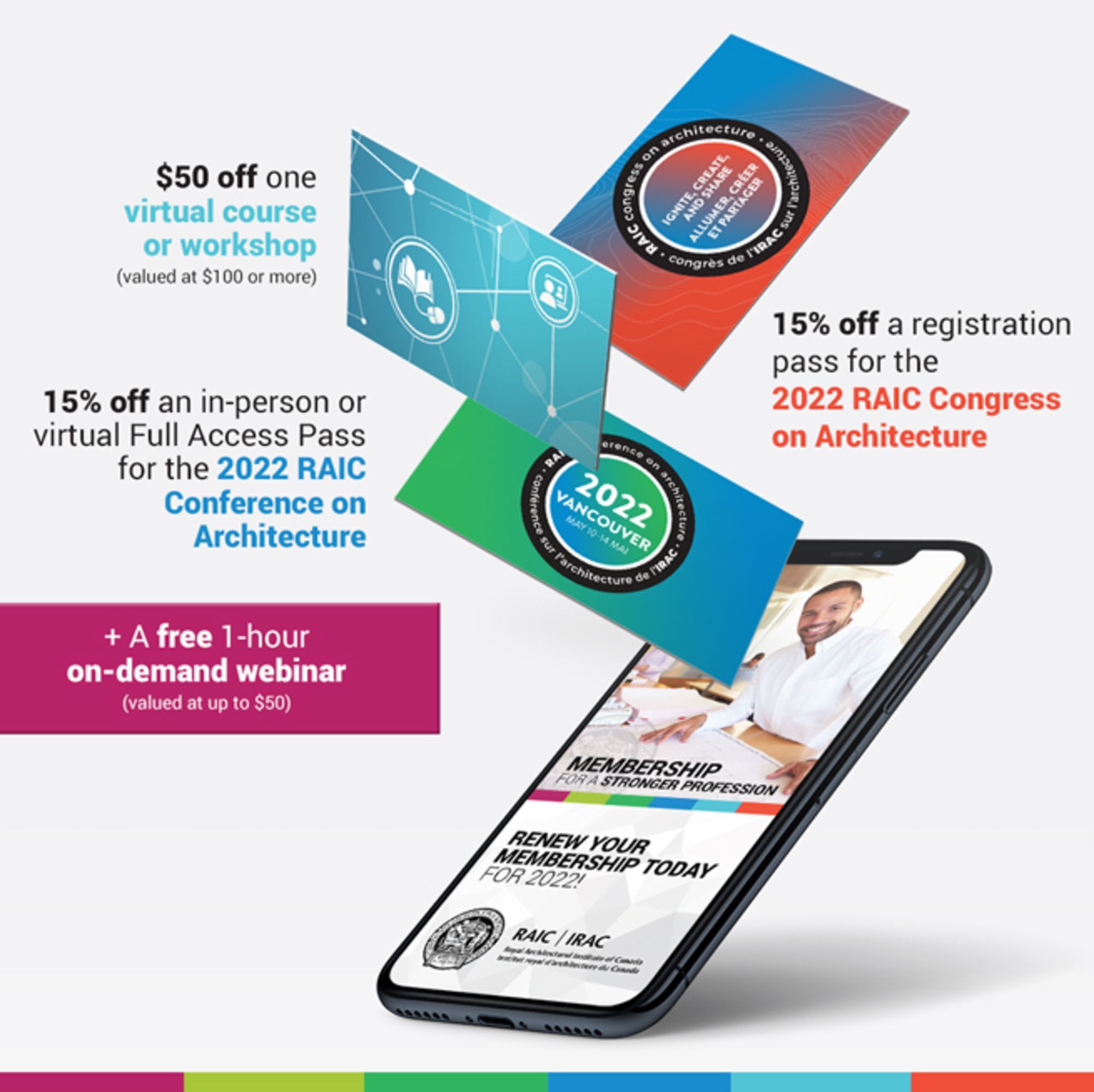 Terms of use:
Continuing education credit includes 1] $50 off one virtual course or workshop valued at $100 or more, 2] one free on-demand webinar (one hour) valued at up to $50, 3] 15% off one in-person or virtual Full Access Pass for the 2022 RAIC Conference on Architecture and 4] 15% off one registration for the 2022 RAIC Congress on Architecture.
To redeem your voucher at the time of registration for either a virtual course or workshop, please contact education@raic.org or call 1-844-856-7242 ext. 2007. The coupon codes for the on-demand webinar and 2022 Conference will be issued in an email before January 31, 2022. The coupon code for 2022 Congress will be distributed no later than two business days prior to registration launch.
The offers for the virtual course or workshop and on-demand webinar are redeemable only between January 1, 2022, and December 31, 2022. The discount on Conference 2022 must be redeemed by March 31, 2022, and the discount for Congress 2022 must be redeemed by August 31, 2022.
The offers presented in this gift bag cannot be combined with other offers or discounts provided by the RAIC, except for your standard member discount on RAIC products and services. A voucher must be used at the time of purchase or registration, this voucher has no cash value and cannot be transferred. 
Have questions about these offers? We will gladly assist you. Please contact the continuing education coordinator at education@raic.org or 1-844-856-7242 ext. 2007.
Follow us on social media for regular updates on membership and the RAIC.