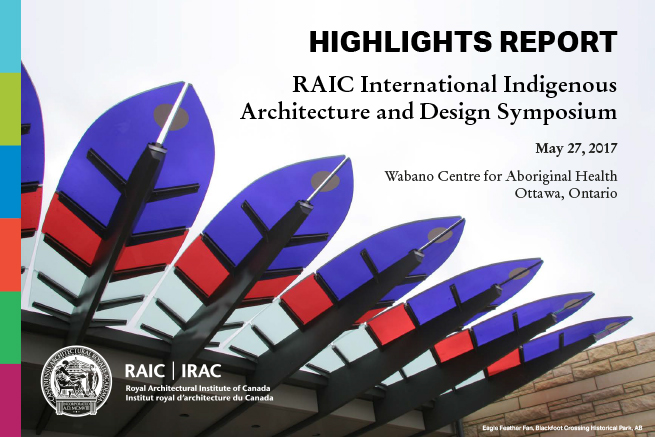 OTTAWA, November 29, 2018 – Royal Architectural Institute of Canada (RAIC) is pleased to announce that the Highlights Report of the first RAIC International Indigenous Architecture and Design Symposium is now available for download.
The richly illustrated 56-page report summarizes the presentations of more than 20 Indigenous architects, designers, and other professionals as well as students and interns from across Canada, the United States, Australia, and New Zealand. Jason Surkan and RAIC staff produced the Highlights Report.
Download images from the report
The symposium took place on May 27, 2017, at the Wabano Centre for Aboriginal Health in Ottawa, ON in conjunction with the RAIC annual Festival of Architecture. It was the first project undertaken by the RAIC Indigenous Task Force, whose purpose is to foster and promote Indigenous design and architecture in Canada in rural, Métis and Northern communities, First Nations and urban spaces and to advocate with and on behalf Indigenous communities. The symposium's theme was Reconciliation, Place-Making, and Identity.
"Too often First Nation, Métis, and Inuit capital projects are designed with minimal community involvement, and ultimately fail to meet community objectives for this reason," said Dr. Patrick Luugigyoo Stewart, MRAIC, chair of the RAIC Indigenous Task Force. "We need Indigenous architects, designers, and designs that will create long-term relevance, exemplify a respectful cultural and economic and environmental responsibility to sustainable development, and consider the reciprocal well-being and quality of life of the people. The time has come that First Nations/Metis/Inuit/federal/provincial/ municipal government capital projects not be done for us or without us."
Presenters spoke about a variety of design and other issues facing Indigenous communities across Canada and internationally. Overarching themes emerged, such as the inclusion of local Indigenous communities in the design process, incorporation of traditional design elements, the preservation of culture, and remembrance of history.
Members of Ngā Aho from New Zealand delivered a series of seven presentations which represented the diversity of Māori design practice. This national network of Māori design professionals seeks opportunities to raise awareness, increase knowledge, foster relationships, and develop capacity in Māori design and planning issues.
Among the presenters were Vancouver architect Alfred Waugh, MRAIC, a member of the Fond Du Lac (Denesuline) Nation of northern Saskatchewan, who spoke about cultural sensitivity and environmental responsibility.
Wanda Dalla Costa, an architect, scholar and member of the Saddle Lake First Nation in Alberta, focused on how Indigenous design can serve as a means of storytelling and cultural preservation.
Harriet Burdett-Moulton, FRAIC, a Nova-Scotia-based Métis architect with Inuit roots, described the importance of consultation with Indigenous communities when designing buildings so that the identity of the population is reflected in the final product.
"The RAIC is proud to have played a role in bringing together architects and design professionals from all over the world," said RAIC President Michael Cox, FRAIC. "As the symposium progressed, there was a growing awareness among us all that the issues we faced ran parallel, that we were on the same page," he added. "It is my hope that the momentum achieved by this event is not lost and that we may find an opportunity soon to reconvene and continue the conversation."
The feeling of optimism, energy, and momentum at the symposium inspired members of the RAIC's Indigenous Task Force, led by Douglas Cardinal, FRAIC, to submit a successful proposal to the Canada Council for the Arts to represent Canada at the 2018 Venice Biennale in Architecture. Their project, titled UNCEDED: Voices of the Land, was on public display from May 26 - November 25, 2018, at the international exhibition.
The symposium was made possible by through the generous support of sponsors from business, government, academia, and not-for-profit/non-governmental organizations.
About the RAIC
The Royal Architectural Institute of Canada (RAIC) has operated continuously since 1907 as the national voice for architects and architecture in Canada. Its mission is to advocate for excellence in the built environment, demonstrate how design enhances the quality of life, champion sustainability, and promote responsible architecture in addressing important issues of society.