National Urban Design Awards — Past Recipients
Urban design and architectural excellence play an important role in maintaining and enhancing the quality of life in Canadian cities.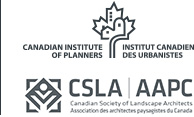 The Royal Architectural Institute of Canada, the Canadian Institute of Planners and the Canadian Society of Landscape Architects in cooperation with Canadian municipalities, wish to promote public and private awareness of that role. For this reason, an Urban Design Awards program has been established to recognize individuals, organizations, firms and projects that have contributed to the quality of life in our Canadian cities and their sustainability.