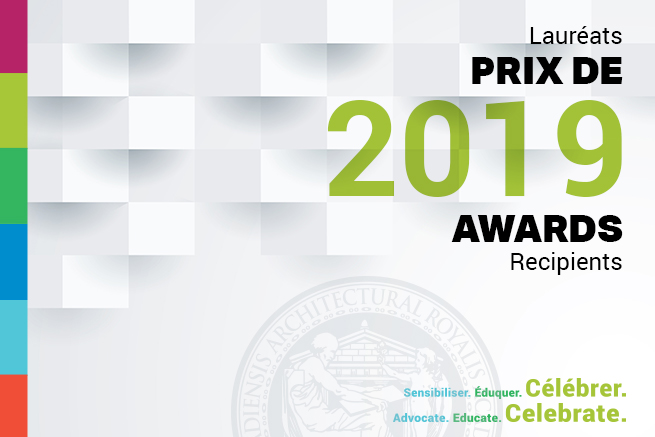 OTTAWA, June 5, 2019— The Royal Architectural Institute of Canada (RAIC) is pleased to announce the 2019 recipients of three awards that recognize excellence in architecture, service to clients, and contributions to the profession, education and community.
Young Architect Award – Ken Borton, of Winnipeg, MB and Jessie Andjelic, of Calgary AB.
Architectural Firm Award – LGA Architectural Partners, based in Toronto, ON.
Emerging Architectural Practice Award – UUfie, of Toronto, ON.
Click HERE for expanded descriptions, images, and project credits.
The annual awards will be presented at the RAIC Festival of Architecture in Toronto, taking place October 26 to 30, 2019. Sponsorship opportunities are available for the gala awards evening.
Young Architect
The RAIC Young Architect Award recognizes architects 40 years or younger for excellence in design, leadership, and service to the profession. The award is intended to inspire architectural graduates to become licensed and to strive for excellence in their work.
Ken Borton, MRAIC
Winnipeg, MB
In just 11 years at the Winnipeg firm 5468796, Ken Borton has been a design and project architect on various award-winning projects, including Bloc_10, James Avenue Pumping Station, Guertin Boatport, the Art Gallery of Greater Victoria design competition, as well as contributing to nearly all the office's projects. Borton has also taught and curated several architectural exhibits.
Jury Comments
"Kenneth has played an instrumental role in many of 5468796 Architecture's projects that have garnered awards and recognition across the industry and are developing the architectural landscape of Winnipeg. His contributions have been key in shaping the design direction and growth of the firm."
Jessie Andjelic, MRAIC
Calgary, AB
In 2013, Jessie Andjelic co-founded the SPECTACLE Bureau for Architecture and Urbanism in Calgary. She works as a design studio sessional instructor at the University of Calgary, regularly lectures on architecture and urbanism, mentors intern architects, and volunteers with various organizations. Exhibitions in the United States, Canada, the United Kingdom, Italy, Bulgaria, and Estonia have shown her work.
Jury Comments
"Jessie's approach is one that is uniquely visionary, proven by four competition wins in her short career. Her clear approach to the design process is scale-able and will be the kernel of excellence in larger projects to come and throughout her academic teaching career."
*
Architectural Firm
The RAIC Architectural Firm Award recognizes the achievements of a firm for its quality of architecture, service to clients, and innovations in practice. It also considers the firm's contribution to architectural education and professional organizations, as well as public recognition.
LGA Architectural Partners
Toronto, ON
Founded in 1989, the 40-person office has received numerous design awards including a Governor General's Medal in Architecture and an RAIC Award of Excellence for Innovation. The firm's contribution to education includes a scholarship for an Indigenous architecture student at Laurentian University, teaching, lecturing, and mentoring. The partners are Janna Levitt, FRAIC, Dean Goodman, MRAIC, Brock James, MRAIC, and Danny Bartman.
Jury Comments
"LGA's diverse portfolio represents a wide range of building types that are unified in their commitment to strengthening social objectives. Their community-minded approach, combined with innovative design strategies and a sensitivity to sustainability, makes their architecture both aspirational and impressive."
*
Emerging Architectural Practice
The Emerging Architectural Practice Award recognizes the principals of an emerging architectural practice that has consistently produced distinguished architecture. The award recognizes the quality of built work, service to clients, innovations in practice, and public recognition.
UUfie
Toronto, ON
UUfie is an interdisciplinary architecture studio founded in 2009 in Tokyo, Japan by Irene Gardpoit, MRAIC, and Eiri Ota. In 2013, they moved to Toronto. UUfie's work spans art, architecture, landscape, furniture, and product design. A recurring theme in their work is the natural world. Their projects have involved collaborators from Canada, France, the United Kingdom, Italy, and Japan.
Jury Comments
"UUfie is pushing the boundaries beyond Canada's borders and increasing the global profile of Canadian architecture. Their mix of international inspiration and style creates innovative designs that surprise and delight."
The jury members were:
David Pontarini, FRAIC – Founding Partner, Hariri Pontarini Architects, 2013 RAIC Architectural Firm Award, Toronto, ON
Gilles Saucier, FIRAC – Co-founder, Saucier+Perrotte Architectes, 2018 RAIC Gold Medalist, Montreal, QC
Luc Bouliane, MRAIC – Co-founder, Lebel + Bouliane, 2018 RAIC Young Architect Award, Toronto, ON
Samuel Oboh, PP/FRAIC – Principal, Architecture AECOM, 2015 RAIC President, Edmonton, AB
Rayleen Hill, MRAIC – Founder, Rayleen Hill Architecture + Design, (RHAD Architects), Halifax, NS 
About the RAIC
The Royal Architectural Institute of Canada is the leading voice for excellence in the built environment in Canada. Representing about 5,000 members, the RAIC advocates for excellence, works to demonstrate how design enhances the quality of life and promotes responsible architecture in addressing important issues of society.