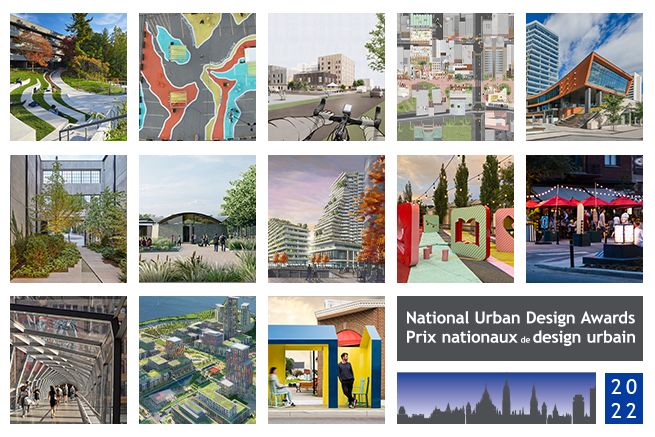 CSLA, CIP, and RAIC Announce Winners of 2022 National Urban Design Awards 
OTTAWA March 11, 2022 –Thirteen projects across Canada—each with a tremendous impact on the surrounding built environment—have been selected for the 2022 National Urban Design Awards.  
The winning projects range from public spaces, social housing research, community plans and more.  
The awards are a part of a two-tier program held in cooperation with Canadian municipalities.
The National Urban Design Awards program judged winners of the 2022 municipal awards and entries submitted at large.
The Royal Architectural Institute of Canada (RAIC), the Canadian Institute of Planners (CIP), and the Canadian Society of Landscape Architects (CLSA) are pleased to announce the   
2022 National Urban Design Award winners in the following categories:  
University of Toronto Scarborough Valley Land Accessible Trail (Toronto, ON)  
Schollen & Company Inc., Brown & Company Engineering, Moon-Matz Ltd., GeoTerre Limited   
This precedent-setting project exceeds the requirements of provincial accessibility legislation, providing an important link between the University Campus and the Highland Creek Valley corridor, a highly biodiverse Environmentally Significant Area. The trail offers all people access to nature in an equitable manner. The media has described the trail as "breathtaking" and a "new landmark" within the City of Toronto. The surrounding natural setting of the ravine is considered a "living laboratory" by the University of Toronto Scarborough Campus (UTSC) and supports natural sciences-based curricula. The trail establishes an environmental and accessibility legacy for the UTSC and greater community.  
Corner Commons (Toronto, ON)  
Jane/Finch Community and Family Centre  
Coordinated by the Jane/Finch Centre, Corner Commons is a temporary, free, and accessible public space. Installed for summer 2021, Corner Commons hosted a wide range of activities with local artists, resident leaders, grassroots groups, and various community organizations from the neighbourhood.  
As part of Perkins&Will's Social Purpose program, employees were given the chance to contribute to our communities in direct and personal ways. The members of the Toronto studio helped design, paint, and repurpose the corner of the Jane Finch Mall parking lot into a thriving community hub.  
Mobile Support as Shelter Support Infrastructure (Toronto, ON)  
Yongmin Ye, Michelle Li, and Edward Minar Widjaja  
Integrated Urbanism Studio  
Mobile Support as Shelter Support Infrastructure is an urban design project with the goal of constructing a mobile support system to serve the unhoused and precariously housed populations of Toronto. Homelessness is a dynamic issue where transportation is a major barrier to access services. Mobile Support as Shelter Support Infrastructure proposes a mobile support network accompanied by community-oriented interventions. The goal of this project is to provide people who are perceived as invisible and with no sense of dwelling in society a place with a permanent address.  
Filling Pieces - Hall's Lane Creative Studios (Kitchener, ON)  
Vincent Chuang and Zihao Wei  
This project envisions the future of Hall's Lane, in downtown Kitchener, as an active cultural corridor where artists can exhibit and create their work while the community engages and learns. Eight artist studios of varying types are located between Queen Street and Gaukel Street providing community building activities through workshops, tools, and events. The laneway in this proposal is re-explored as a pedestrian space where the process of creating art is unfolded through the architecture. By partnering with local grassroots organizations, this project builds from, and emboldens, the existing arts and cultural infrastructure in downtown Kitchener.  
True North Square (Winnipeg, MB)  
Capturing the unique spirit of Winnipeg, True North Square addresses its location with a climate-responsive design for a community-focused development. Creating towers of modest height responding to a central public square, the project prioritizes the pedestrian and seeks to repair the long-neglected fabric in which it is located. Product of a national competition, the project is active year-round, specifically focusing on transforming the character and lifestyle of the downtown. The ambitious public realm provides a myriad of amenities and open space to create a vibrant, 24/7, urban experience. The pedestrian-centric design also provides improved access to public transit and encourages active transportation.  
Montauk Montréal (Montreal, QC)  
A highly invested client and enthusiastic design team convinced a reluctant authority to proceed with this daring showroom retrofit. Open space and natural light are integral to the project. Four storeys were opened to a green courtyard by carving out forty feet from the building. Each long showroom floor is bookended by either a full height glass wall overlooking the garden or a four-storey light well to the north. A reclaimed brick façade and subtle detailing reinforce an idea of reimagined architectural ruin. With deceptive simplicity this project convincingly rejuvenates an otherwise forgettable building into a beautiful showroom gallery and urban jewel.  
Saugeen First Nation GZHE-MNIDOO GI-TA-GAAN (Creator's Garden and Amphitheatre) Master Plan (Southampton, ON)  
Indigenous Design Studio / Brook McIlroy Inc. and Saugeen First Nation  
The Saugeen First Nation Amphitheatre and Creator's Garden Master Plan will strengthen the community's long-term economic viability while supporting the recovery of land-based knowledge known to Indigenous Peoples for millennia. The project is a co-design between community members and an interdisciplinary team led by Indigenous architects and designers. The restoration of Saugeen First Nation's land surrounding the Amphitheatre is integral to the future success of the site, and supports the Garden's emphasis on medicine knowledge, land-based learning and traditional storytelling. This emphasis heightens the potential for future programming based around medicine knowledge from a health, healing, and a horticultural perspective.  
Plaza of Nations (Vancouver, BC)  
James KM Cheng Architects Inc  
Canadian Metropolitan Properties Corp. 
The project is centrally located in the False Creek waterfront area of Vancouver as part of the designated Entertainment District. It is also one of two last remaining undeveloped waterfront sites in Vancouver. The goal of the project is to provide a much-needed waterfront gathering place for a world-class waterfront city. The project serves many roles: as a destination, a connector, a portal, a foreground, as well as a backdrop to the skyline of Vancouver. Therefore, the project is designed to be experienced at various scales as a unique, lively destination with a diverse public realm.  
PARK PARK is a surface parking lot in Calgary transformed into a multi-use space for people and vehicles. A two-year tactical intervention, it views the vehicle as a guest in an otherwise neighbourhood-oriented urban room. The pedestrian-focused park/parking lot features a phone charger, bike pump, library, basketball hoop, hockey targets, skateboarding elements, and a hand-warming area. The space also offers places to sit, eat, gather, or trade goods during community events. Meanwhile, revenue generation is maintained as only five of the original thirty parking spots were surrendered to the reconfigured urban park… park.