Celebration of Advocacy
Posted: April 26, 2016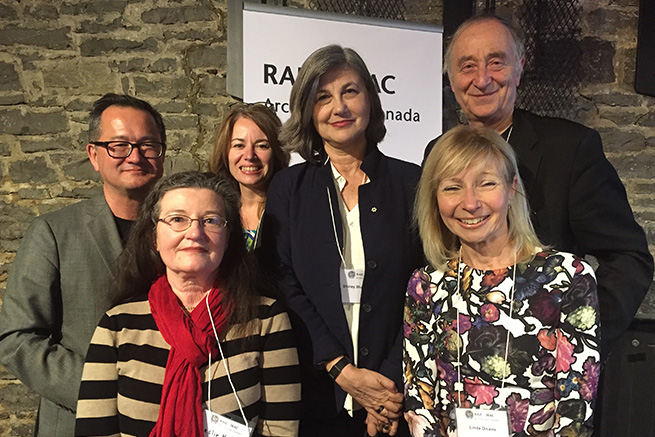 Left to right: Allan Teramura, President, Royal Architectural Institute of Canada / Leslie Maitland, Past-President and Vice-Chair of the Board, Heritage Ottawa / Kelly Mertl, Director of Community Initiatives, United Way Ottawa / Shirley Blumberg, Founding Partner, KPMB Architects / Linda Dicaire, Landscape Architect and Consultant in Cultural Resources Management / Barry Padolsky, Barry Padolsky Associates Inc., Architects.
About 70 people attended the RAIC Celebration of Advocacy that took place April 19 in Ottawa. The reception celebrated the successful outcome of the advocacy campaign that saw design and heritage organizations working together in the public interest.
Among the guests were RAIC members, national capital region architects, allied professionals and others with an interest in the built environment. The RAIC was a member of a coalition that campaigned for almost a year to persuade the former government to relocate the Memorial to the Victims of Communism from the judicial precinct. The coalition included the Canadian Society of Landscape Architects, the Canadian Institute of Planners, Heritage Ottawa, the Ontario Association of Architects, Canadian Architect magazine and individuals.
Guests heard from RAIC President Allan Teramura, FRAIC, Linda Dicaire, landscape architect and a former Chief of Development Review for the National Capital Commission and Shirley Blumberg, FRAIC.  Barry Padolsky, FRAIC, whose open letter to the Prime Minister was the catalyst for the outcry against the chosen location for the monument, also spoke. The surplus in the legal fund for the campaign was donated to the Ottawa United for Refugees fund dedicated to helping Syrian refugees resettle. Leslie Maitland, of Heritage Ottawa, presented the cheque to Kelly Mertl from the United Way.
"Our intervention stimulated a public discussion of urban design and national symbols that lasted for months which is, in itself, a remarkable achievement," said Mr. Teramura.