The Webday Wednesday Series, "Building Science and Envelope" examines innovative building envelope for multiple building typologies.
Five Key Quality Assurance Take-Aways that Every Architect Should Know – Lessons from Innovative Enclosures
Topics: Advanced Technology
Length: 1 hour
What's included: video, quiz, certificate of completion
This webinar is available to stream!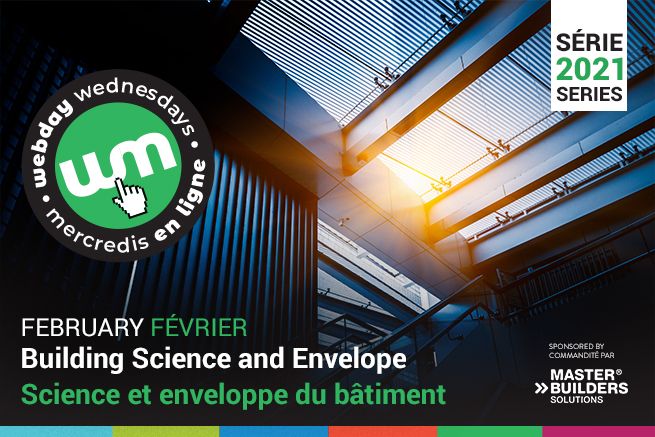 The design and construction of high-performance buildings, driven by Passive House, LEED and other energy efficient building programs is becoming increasingly popular across North America. As a result, the construction industry is starting to see many new and innovative building enclosures being incorporated into all building types. In addition to adaptations to building enclosure design, construction quality assurance procedures including building enclosure commissioning are increasingly being performed to confirm that the expected performance of the building and its component parts is achieved in practice. The intended result is a more thermally efficient, air-tight, and durable building. RDH will review our recommended best practice principles for building enclosure design, review, and testing. We will present three case studies to discuss lessons learned throughout the quality assurance process on buildings with innovative building enclosures.
Learning Objectives:
At the conclusion of this session, participants will be able to
Define quality assurance, quality control, and commissioning
Describe the role that building certification systems, such as Passive House, have played in popularizingbuilding enclosure quality assurance and closing the gap between actual versus modelled performance.
Differentiate the role of building enclosure quality assurance on prefabricated versus site-built enclosure systems.
Identify and implement key site quality assurance procedures during the design and construction of your next project.
Corporate Sponsor Master Builders Solutions
Subject Matter Expert
Kelsey Saunders
M.B.Sc., Certified Passive House Designer, LEED AP BD+C
Building Scientist, RDH Building Science Inc.
Kelsey has been working as a building scientist for over 7 years. Sheprimarily actsas a building enclosure consultant on high performance new construction projects at RDH's Toronto office, providing enclosure design review and consulting during early-stage design, as well as detailed drawing and submittal review, construction field review, and on site airtightness and water testing.
Pricing A-La-Carte
Member: $50 / Non-Member: $75
Intern Member: $35 / Intern Non-Member: $50
Student: $25 (must be an RAIC student associate member) 
Buy 5 webinars and save 10% on your order!
Buy 10 webinars and save 25% on your order!
This webinar is part of a series! See more like this here.
Disclaimer
Cancellation/Refund:Your access begins as soon as payment is processed. Please note, a refund is only available if you cancel within 5 business days of your initial order, and you have not accessed any content. An amount equal to *10% of the registration cost will be retained as an administration fee. Should you cancel after 5 business days, your payment is non-refundable. There are no exceptions to the cancellation/refund policy. Webinars and courses are not transferable.
The RAIC reserves the right to cancel registrations for individuals who sign-up for the wrong category (member or non-member). Please select the correct membership category when registering to avoid interruption of service. Log into your member account to access member pricing. If you have any questions about which category to register for, please contact the RAIC education administrator at education@raic.org
Instructions:
Access RAIC webinars in 3 easy steps:
REGISTER online through the RAIC Store
LOG IN to the RAIC Learning Management System (LMS)
ACCESS courses on your personal Education Dashboard
For more information watch the RAIC Learning Management System video. If you need assistance, please contact the RAIC education administrator at education@raic.org