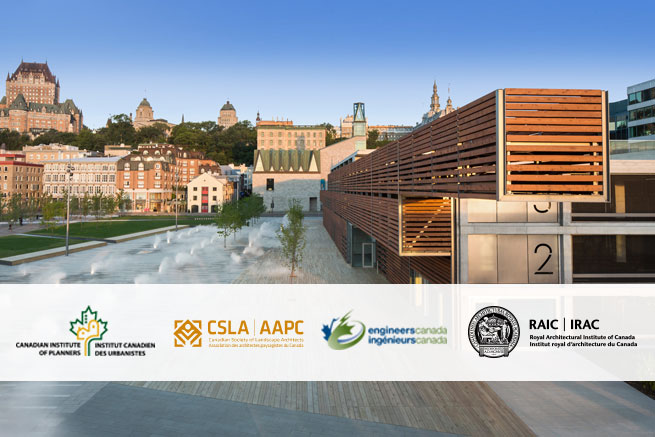 Ottawa, October 30th, 2018 - The Canadian Institute of Planners (CIP), the Canadian Society of Landscape Architects (CSLA), Engineers Canada and the Royal Architectural Institute of Canada (RAIC) are pleased to announce the signing of a Letter of Understanding.
Through this Letter of Understanding, they have agreed to continually seek opportunities for cross-over, cross-promotion, the sharing of resources and the transfer of knowledge. These include but are not limited to:
Hosting speakers from other associations and inviting staff and Board members to attend conferences held by each of the respective association;
Inviting members from other associations to participate in certain committees, especially on those committees which exist in each association;
Collaborating on advocacy initiatives involving the promotion of our professions, such as considering adopting each other's position papers on briefs when interests align and contributing to research;
Holding regular meetings between Executive Directors or CEOs and relevant staff to discuss common issues and areas of collaboration as well as considering planning a summit of each association's Executive Directors or CEOs and senior leaders every two years;
Ensuring that each association receives each other's magazine, annual report, bulletin and press releases.
For many years, these associations have worked together to mutually benefit the allied professions they serve. This Letter of Understanding will ensure that their relationship continues and strengthens, as they explore more – and enhanced – opportunities for exchange and collaboration particularly in responding to today's pressing issues. Each association strongly believes that this will no doubt be of benefit to all their members and their respective professions and be of benefit to society.
About the CIP
The Canadian Institute of Planners (CIP) works on behalf of over 6,900 planning professionals nationally and has served as the voice of Canada's planning community since 1919. CIP advocates for planners nationally and internationally and provides membership services that help planners advance in their careers.
 
About CSLA
The Canadian Society of Landscape Architects (CSLA) is a professional organization with landscape architect members, associate (or intern) members and student of landscape architecture members. As the voice of the profession in Canada, the CSLA is an advocate for its members on issues such as urban design, urban renewal, sustainable development, climate change and cultural heritage.
About Engineers Canada
Engineers Canada upholds the honour, integrity, and interess of the engineering profession by supporting consistent high standards in the regulation of engineering, encouraging the growth of the profession in Canada, and inspiring public confidence. For over 80 years, we have worked on behalf of the provincial and territorial associations that regulate engineering practice and license the country's 295,000 members of the engineering profession.
 
About the RAIC
The Royal Architectural Institute of Canada (RAIC) has operated continuously since 1907 as the national voice for architects and architecture in Canada. Its mission is to advocate for excellence in the built environment, demonstrate how design enhances the quality of life, champion sustainability and promote responsible architecture in addressing important issues of society.