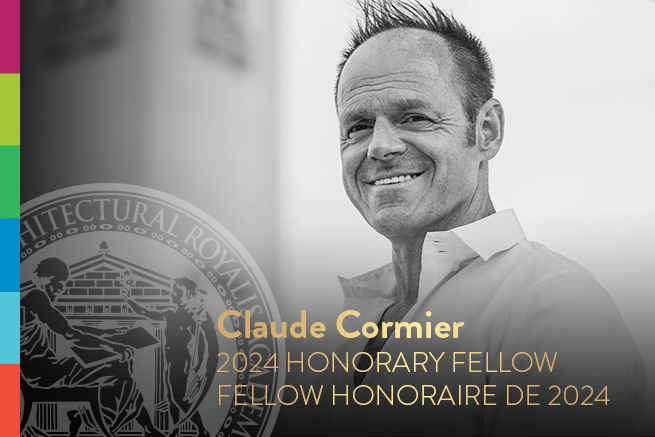 FOR IMMEDIATE RELEASE
OTTAWA, September 19, 2023 – Landscape architect Claude Cormier passed away at his Montreal home on September 15 at the age of 63. Cormier was known for designing some of Canada's most beloved and critically acclaimed public spaces.
Cormier was a talented and cheerful designer who created long-lasting and popular public spaces with boldness, sincerity, leadership, and creative problem-solving skills. He had an innate ability to bring joy and humour to every situation and person he encountered.
The Royal Architecture Institute of Canada (RAIC) is deeply saddened by the loss of such a prominent figure in the field. To honor his immense contributions, the RAIC released news early that Cormier would receive an Honorary Fellowship at the upcoming 2024 Conference.
An Honorary Fellow of the RAIC College is an Honorary Member of the RAIC who has achieved international professional eminence or has rendered distinctive service to the profession or the community at large, nationally or internationally.  Honorary Fellowship is a lifelong recognition and represents one of the most prestigious honors bestowed by the RAIC upon a non-Member.
Comment from the Officers of the College of Fellows:  
"Claude's innovative designs and contributions to the industry have been a source of inspiration for many of us over the years. Recognizing his contributions would not only celebrate his life and achievements but also serve as a testament to the enduring power of visionary design in the architectural community and society at large." 
Claude had an impressive educational background, having studied History & Theory of Design at Harvard University, Landscape Architecture at the University of Toronto, and Agronomy at the University of Guelph.
In 1995, he founded Claude Cormier Architectes paysagistes in Montreal, which evolved into Claude Cormier et Associés (2011) and now CCxA (2022). The firm has had the opportunity to work on significant public projects in Montreal, Toronto, and the USA, and has been honored with over 100 awards. In 2010, Harvard University's Graduate School of Design organized an exclusive retrospective exhibition of the firm called "Erratics".  
In 2009, Cormier was awarded the Ordre National du Québec knighthood, the highest honor in the province for individuals who contributed to Quebec's development and leadership. Cormier was also recognized as an Emerging Voice for North America by the Architectural League of New York and as one of 14 international designers advancing the design field by Fast Company Magazine.  
In 2022, Phaidon Press invited the firm to be featured in a publication as one of the world's top 30 Landscape architects. A book dedicated solely to the work of Claude Cormier and his team, titled "Serious Fun - The Landscapes of Claude Cormier," written by Marc Treib and Susan Herrington, has been published by Oro Editions in 2021. 
Cormier's professional and global community contributions have left a lasting legacy. For more information on his many achievements, please visit Canadian Architect.
Citation, Elsa Lam, FRAIC Nominator:
"Landscape architect Claude Cormier's acclaimed designs have made a profound contribution to the practice of contemporary landscape architecture, and to the quality of Canada's public realm. Cormier is known for his bold thinking, creative problem solving, and inspiring leadership, evidenced in projects including Sugar Beach, Berczy Park, and Love Park in Toronto, and Place d'Youville, Dorchester Square, and Clock Tower Beach in Montreal. He was a close collaborator with architects in works including The Ring in Montreal, Evergreen Brickworks in Toronto, and the Ottawa Holocaust Memorial. His presence and the works he created exhibit profound sincerity, generosity, and joy"
About the RAIC 
The Royal Architectural Institute of Canada (RAIC) is a not-for-profit, national organization dedicated to representing architects and architecture since 1907. The RAIC is the only national voice for excellence in the built environment in Canada focused on providing Canada's architectural community with the tools, resources, and education to elevate their practice. The RAIC is committed to showcasing how design enhances quality of life, while advocating for important issues of society through responsible architecture. The RAIC's purpose is to create a better world for all by empowering Canada's architectural community. Through our work, the organization envisions a strong architectural community that is valued and empowered to create change. The RAIC's national office is based in Ottawa with a growing federated chapter model. Current chapters and networks are based in British Columbia, Alberta, and Nova Scotia.