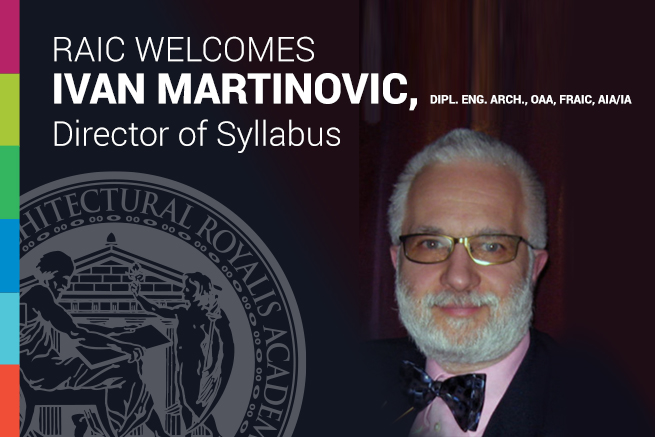 OTTAWA September 17, 2020–The Royal Architectural Institute of Canada is pleased to welcome Ivan Martinovic, Dipl. Eng. Arch., OAA, FRAIC, AIA/IA to the RAIC operational team as the incoming Director of Syllabus, effective September 10, 2020, and reporting to the Vice President of Corporate Affairs.

Ivan is an architect with over thirty-five years of experience. He holds a professional architectural engineering degree from the University of Belgrade, former Yugoslavia. He has extensive experience in a variety of building projects throughout Canada and abroad. Ivan worked with several medium and large architectural practices before establishing his own Toronto-based practice in 2001.

Ivan is actively involved as a volunteer in various professional and community organizations at provincial and national levels. He has been a Committee member of several OAA Committees over the last twenty years. He was a Board member of the Canadian Architecture Certification Board for two terms, holding positions of Treasurer, Vice-President and President. Ivan received the G. Randy Roberts Service Award from the Ontario Association of Architects in 2012 and was named a Fellow in the College of Fellows of the Royal Architectural Institute of Canada in 2013.

Ivan is currently a sessional instructor in the Department of Architectural Science of Ryerson University and an instructor in the School of Continuing Studies of the University of Toronto.
Ivan's involvement with the RAIC Syllabus program began in 1999 as a mentor in the Toronto Design Studio. Over the next two decades he also acted as a national Design Theory Course examiner and the Ontario Provincial Coordinator. He is looking forward to contributing further to the program in his new role as Director of the RAIC Syllabus program.

There will be a period of transition with the incoming and outgoing Director of the program, Don Ardiel, with a full transition to the role as of October 1, 2020. You can reach Ivan at syllabusdirector@raic.org.
About RAIC Syllabus
The Mission of the RAIC Syllabus is to provide architectural education nationally through practical experience and courses of study for aspiring and current members of the profession, and members of the public with a personal interest in architecture.
About the RAIC
The Royal Architectural Institute of Canada (RAIC) is a not-for-profit, national organization that has represented architects and architecture for over 100 years, in existence since 1907. The RAIC is the leading voice for excellence in the built environment in Canada, demonstrating how design enhances the quality of life, while addressing important issues of society through responsible architecture. The RAIC's mission is to promote excellence in the built environment and to advocate for responsible architecture. The organization national office is based in Ottawa with a growing federated chapter model. Current chapters and networks are based in British Columbia, Alberta and Nova Scotia.