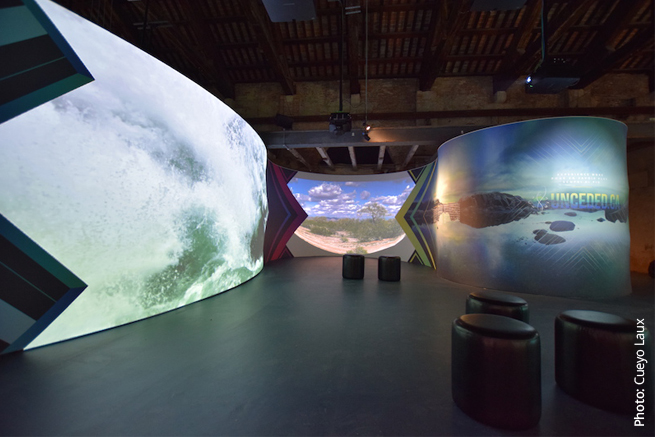 Ottawa, May 2, 2019 — The Royal Architectural Institute of Canada (RAIC) welcomes the opening on May 3 of UNCEDED: Voices of the Land and the opportunity to view this extraordinary exhibition at the Canadian Museum of History in Gatineau, QC.
"UNCEDED: Voices of the Land is a deeply thoughtful work presented as Canada's contribution to the Venice Biennale in Architecture for 2018," said RAIC President Michael Cox, FRAIC.
"It responds beautifully to the overall wish for the Biennale to reveal architecture's capacity to bring additional and unexpected generosity to each project beyond what is called for by functional purpose."
Led by RAIC Gold Medalist Douglas Cardinal, FRAIC, most of the project's 18 architects and designers are members of the RAIC Indigenous Task Force.
"The RAIC is proud of the encouragement it has given to Indigenous architects in Canada," said Mr. Cox. "We are also proud to have been able to host some of the early meetings of the task force that led to this remarkable initiative."
The RAIC Indigenous Task Force was established in 2016 at the RAIC Festival of Architecture in Nanaimo, BC. Its purpose is to promote and foster Indigenous design in Canada and to advocate alongside Indigenous communities. It currently has about 25 members who are Indigenous or who work in Indigenous contexts, including architects, designers, academics, intern architects, and architectural students.
The first project of the task force was the RAIC International Indigenous Architecture and Design Symposium. It took place in Ottawa as part of the 2017 RAIC Festival of Architecture and attracted more than 150 delegates from as far away as New Zealand and Australia.
The feeling of optimism, energy, and momentum at the symposium inspired members of the task force to submit their successful proposal to the Canada Council for the Arts to represent Canada at the 2018 Venice Architecture. UNCEDED: Voices of the Land, was on public display from May 26 to November 25, 2018, at the international exhibition.
As the first Canadian entry to Venice to be shown in Canada in its entirety, UNCEDED runs until March 22, 2020, at the Canadian Museum of History in Gatineau, QC.
 
About the RAIC
The Royal Architectural Institute of Canada is the leading voice for excellence in the built environment in Canada. Representing about 5,000 members the RAIC advocates for excellence, works to demonstrate how design enhances the quality of life and promotes responsible architecture in addressing important issues of society.