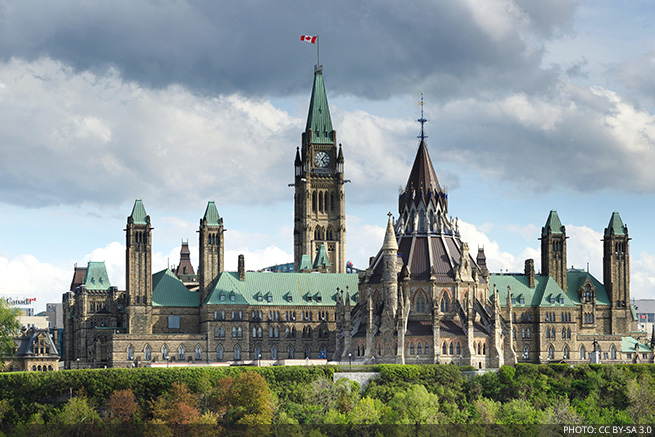 OTTAWA, March 23, 2016 – The exceptional investments announced in the federal budget on Tuesday give architects the opportunity to shape a built environment that can improve the quality of life of Canadians and effect positive environmental change, says the Royal Architectural Institute of Canada (RAIC.)
The broad scope of the budget – from the science of climate change to building codes; from the preservation of heritage structures to the creation of future landmarks – provides the raw material to design healthy, safe and sustainable communities that can reach their full potential in all respects.
"It is encouraging to see much-needed investment in basic infrastructure as well as spaces for education and health care, especially in First Nations communities," said RAIC President Allan Teramura, FRAIC.
"We're also pleased that the budget recognizes the importance of the building sector in achieving Canada's climate change objectives," he said.
Across Canada, a renewal of places and services such as public transit, affordable housing, cultural and recreational buildings, child-care centres, family-violence shelters, and environmental infrastructure carries the potential for a more equitable society and engaged citizenry.
The government's commitment to the design, construction and rehabilitation of green, climate-resilient buildings and infrastructure promises to not only protect the environment but also create jobs, improve health, promote Canadian technology and reap energy savings
"Further development of energy codes is crucial to reducing carbon emissions," added Mr. Teramura. "Retrofitting the existing building stock to meet more ambitious energy conservation targets should be a priority for Canada."
Patrick Stewart, MRAIC, chair of the RAIC's Task Force on Sustainable Indigenous Communities and a member of the Nisga'a Nation praised the government's "wisdom in budgeting much-needed investment in basic infrastructure, education and health care in First Nation, Metis and Inuit communities.
"However, if these investments are to be successful, the process of implementing them must be one that involves the authentic and meaningful participation of community members,"he said. "These projects are an opportunity to reinforce Indigenous identity, and can be an important step on a path to reconciliation."
Budget items related to the built environment and design. For full details on the federal budget, please see http://www.budget.gc.ca/2016/home-accueil-en.html
Highlights of Social Infrastructure initiatives include funding for:
national parks, small craft harbours, federal airports, VIA Rail stations and maintenance centres and border infrastructure;
new affordable housing units and renovation of existing affordable housing, including energy and water efficiency retrofits;

construction, repair and adaption of affordable housing for seniors;
construction and renovation related to improving physical accessibility and safety for people with disabilities;

renovation and construction of arts and heritage facilities:

National Historic Sites Cost-Sharing and expanding it to include heritage lighthouses and railways;
construction of a new collection and conservation centre for the Canada Science and Technology Museum; the renewal of the National Arts Centre's performance venues; and repairs to the National Gallery of Canada, including its iconic windows.

repairs and retrofits for government properties and buildings, as well as the greening of government operations.
Highlights of initiatives for Indigenous Communities include funding for:
expanded and enhanced health facilities in First Nations communities;
housing needs on reserve and in Inuit and northern communities;
repairs and renovations of Indigenous early learning and child care;
construction of cultural and recreational communities on reserve;
renovations to and the construction of new shelters for victims of family violence in First Nations communities.
Highlights of Green Infrastructure Include funding for:
Natural Resources Canada to deliver energy efficiency policies and programs, including improved energy efficiency standards and codes for buildings;
integration of climate resilience into building design guides and codes;
a new Post-Secondary Institutions Strategic Investment Fund to enhance research and commercialization facilities on Canadian campuses, and projects that improve environmental sustainability;
Environment and Climate Change Canada to advance the Government's domestic climate change objectives through science, data reporting, policy and regulations.
ABOUT THE RAIC
The Royal Architectural Institute of Canada is the leading voice for excellence in the built environment in Canada, representing about 5,000 members. The RAIC advocates for excellence in the built environment, works to demonstrate how design enhances the quality of life and promotes responsible architecture in addressing important issues of society.