For 43 years, the Royal Architectural Institute of Canada (RAIC) has safeguarded a medal inscribed with the name Pierre Elliott Trudeau.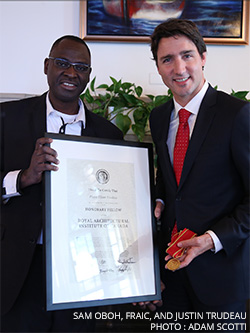 The medal was finally presented on January 26, 2015 to his son Justin Trudeau, leader of the Liberal Party of Canada. The presentation by RAIC President Sam Oboh, FRAIC, took place in Mr. Trudeau's office on Parliament Hill.
Mr. Trudeau said he was "touched" and expressed his appreciation to the RAIC.
"It is an honour to return this medal to the family of a former Prime Minister of Canada who was so dedicated to improving the health and identity of Canada's built and natural environments," said RAIC Executive Director Ian Chodikoff, FRAIC.
"Many of us came of age during Mr. Trudeau's leadership as Prime Minister. We grew up in a time where we were reminded that big thinking and big visions often result in great improvements in our society through architecture and urban design," said Mr. Chodikoff.
"Trudeau understood the value that architecture plays in contributing to healthy communities, cultural institutions and educational facilities," he said. "He remains a model for advocacy in the built environment and this achievement is what the RAIC and its members strive to achieve every day."
The story of the medal goes back to 1972, when the board of directors of the RAIC awarded an Honourary Fellowship to then-Prime Minister Pierre Trudeau.
However, the Prime Minister was unable to attend the 1972 Convocation of Fellows to accept the honour because he was travelling abroad.
Since then, the medal has been used as a spare for convocations. Fellows who forgot their medals were permitted to borrow it for the evening. Over the years, it became an informal tradition for some Fellows to draw inspiration from wearing the medal bearing Trudeau's name. It reminded them of the importance of being committed to evolving the identity of the Canada through its built environment .
An Honourary Fellowship is one of the highest honours the Institute can bestow upon a non-architect.