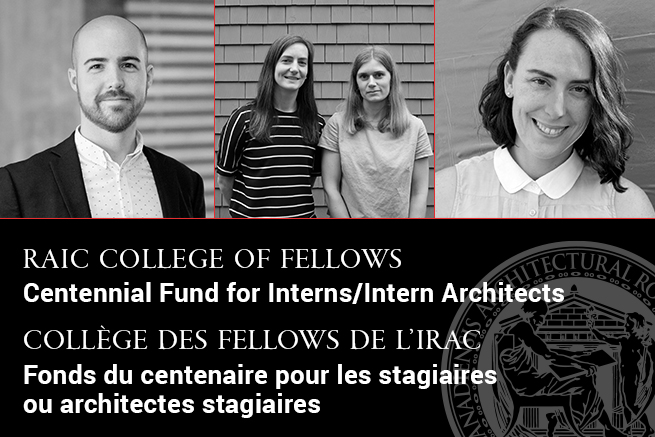 The RAIC Foundation is pleased to announce the recipients of its annual bursary, the College of Fellows Centennial Fund.
This $5,000 scholarship for interns or intern architects was created with donations from members of the College of Fellows and of the Royal Architectural Institute of Canada. It supports a deserving individual or group that has made significant contributions to the profession at an early stage of their career.
The jury noted that it was impressed with the high quality of submissions and the outstanding letters of recommendation received this year. They unanimously agreed that the 2019 College of Fellows Centennial Fund be divided equally among three submissions - two individuals and one team. The winners are Jennifer Davis, MRAIC, of Toronto, ON; Aaron Pollock, MRAIC, of Winnipeg, MB; and a team consisting of Adrienne Gerrits, MRAIC, and Amber Kilborn, MRAIC, both of Halifax, NS.
Jennifer Davis, MRAIC

Jennifer Davis is a Toronto-based intern architect with the Ontario Association of Architects.

She has received numerous awards and grants from institutions such as the Canadian Centre for Architecture, Canada Council for the Arts, the Graham Foundation for Advanced Studies in the Fine Arts (Chicago), and the Ontario Association of Architects. Jennifer has contributed articles to publications such as Canadian Architect and Edge Condition (UK) and has spoken publicly at venues such as the Ryerson University Department of Architectural Science and the Toronto Public Library.

 

"I am honoured to be recognized by the RAIC for contributing to the profession during the early stage of my career... With the funds, I look forward to catalyzing an intergenerational knowledge exchange between women in Canadian architecture and documenting their experiences 'for the record' to strengthen the profession and promote it to a broader public."
 
 
Adrienne Gerrits, MRAIC and Amber Kilborn, MRAIC

Adrienne is an intern architect and university instructor living in Halifax, NS. In 2018, she took part in a work exchange at Tezuka Architects in Tokyo, Japan, winner of the 2017 Moriyama RAIC International Prize for their Fuji Kindergarten project. Adrienne currently practices at Lydon Lynch Architects in Halifax.

 

Amber Kilborn is an intern architect and architecture instructor in Halifax, NS. Over the last four years, she has worked on high-end residential projects at Omar Gandhi Architect andlater with Nicholas Fudge Architects. She also has two years' experience as a sessional instructor at Dalhousie University's school of architecture, instructing at both a masters and undergraduate level with an emphasis on climate change and equality.

 

Adrienne and Amber are the driving force behind a project called REPOP!, an initiative that promotes the representation of visible minorities in architectural renderings. The database would be accessible to local and national design communities to strengthen the connection between people and unbuilt architecture.

 

"We are honoured for REPOP! to be jointly chosen for this year's RAIC Centennial Fund. We look forward to engaging students and our community to promote inclusion and sensitivity in the digital representation of architecture."

 
 
Aaron Pollock, MRAIC

Aaron Pollock in an intern architect in Winnipeg, MB. He was recently nominated as one of CBC Manitoba's Future 40, cited as "represent[ing] the future of architectural practice in Manitoba."

Aaron holds many positions in the architecture community such as the intern representative for the Manitoba Association of Architects, and board member of the Young Construction Leaders of Manitoba, a branch of the Winnipeg Construction Association.

 

"The award has given me the opportunity to celebrate and showcase the city of Winnipeg, which has been an inspiring environment to promote the value of urban design and architecture in our community."
This bursary is just one of many sponsored by the RAIC Foundation, which is dedicated to supporting the next generation of Canadian architects and their valuable contribution to the quality of communities and community life across Canada. Please support the RAIC Foundation with a monthly donation at www.raicf.ca.