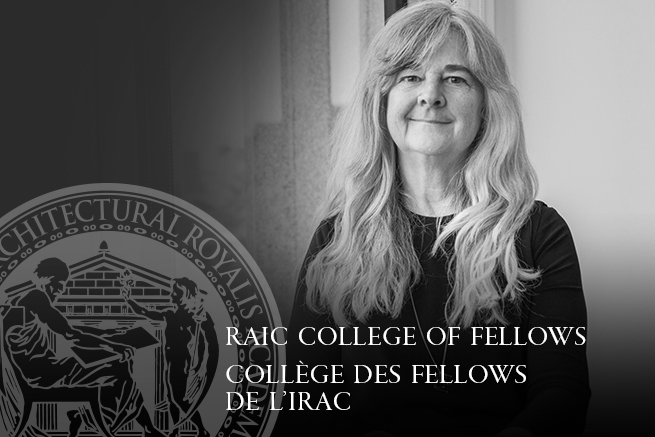 OTTAWA April 21, 2020–Susan Ruptash, a Toronto-based architect and Fellow of the Royal Architectural Institute of Canada, has been elected Chancellor of the RAIC College of Fellows for a three-year term beginning June 2020. Ruptash is the first woman elected as Chancellor in the history of the College of Fellows.
Ruptash succeeds Diarmuid Nash—a fellow architect based in Toronto—who began his term in 2017.
"I am honoured, humbled, and happy to have been elected as the next Chancellor of the College," said Ruptash.
"I am a firm believer in diversity and equity, and I hope to help the College become more representative of the many exceptional leaders in the RAIC and in our profession. As representatives of the leaders in our profession, the College has a huge role to play in advocating and promoting excellence in the built environment. In particular, it is time for a clarion call to demand better responses to climate change, including more resilient and flexible design and a bigger emphasis on healthy environments. I hope to be a part of this change."
Susan brings a lifelong passion for creative problem solving to her pursuit of designing built environments that can be used and enjoyed by everyone, regardless of age or ability.
"I have had the pleasure of working with Susan during her tenure on the RAIC Board," said RAIC President John Brown, FRAIC. "She brings a wealth of experience to the Chancellors position that will help chart the next phase of development for the College."
Joining Quadrangle in 1988, Susan was appointed a principal in 1999 and served as Managing Principal from 2008 to 2017, where she was responsible for the overall management of the firm. Susan stepped back from fulltime work in 2018 and continues to advise Quadrangle on strategic and business matters.
Following her passion for inclusive and universal design, Susan used her expertise in accessibility to help create positive independent living environments for seniors and persons with disabilities. Susan was a co-founder of AccessAbility Advantage, a joint venture between Quadrangle Architects Limited and March of Dimes Canada that offered expert services to assist businesses in complying with standards being introduced by the Accessibility for Ontarians with Disabilities Act (AODA). That venture led to the formation of Human Space, a world-class accessibility consultancy.
In 2006, Susan was honoured by her peers with induction into the College of Fellows of the Royal Architectural Institute of Canada. In 2014, she received the G. Randy Roberts Service Award from the Ontario Association of Architects for her service to the profession. In 2015, Susan proudly accepted the award recognizing Quadrangle as one of Canada's 50 Best Managed firms, an award renewed every year since.
About the College of Fellows
The mission of the College of Fellows, founded in 1941, is to strengthen and reinforce efforts of the Royal Architectural Institute of Canada (RAIC) in its endeavor to enhance and develop the profession of architecture.
The College of Fellows formally recognizes members and distinguished laypersons who have made outstanding contributions to the profession. Fellowship in the RAIC is an honour conferred on members singled out for their contribution to research, scholarship, public service or professional standing to the good of architecture in Canada, or elsewhere.
Fellowship is bestowed for life and is one of the highest honours the Institute can confer upon a member.
About the RAIC
The Royal Architecture Institute of Canada (RAIC) is a not-for-profit, national organization that has represented architects and architecture for over 100 years, in existence since 1907. The RAIC is the leading voice for excellence in the built environment in Canada, demonstrating how design enhances the quality of life, while addressing important issues of society through responsible architecture. The RAIC's mission is to promote excellence in the built environment and to advocate for responsible architecture. The organization national office is based in Ottawa with a growing federated chapter model. Current chapters and networks are based in British Columbia, Alberta and Nova Scotia.