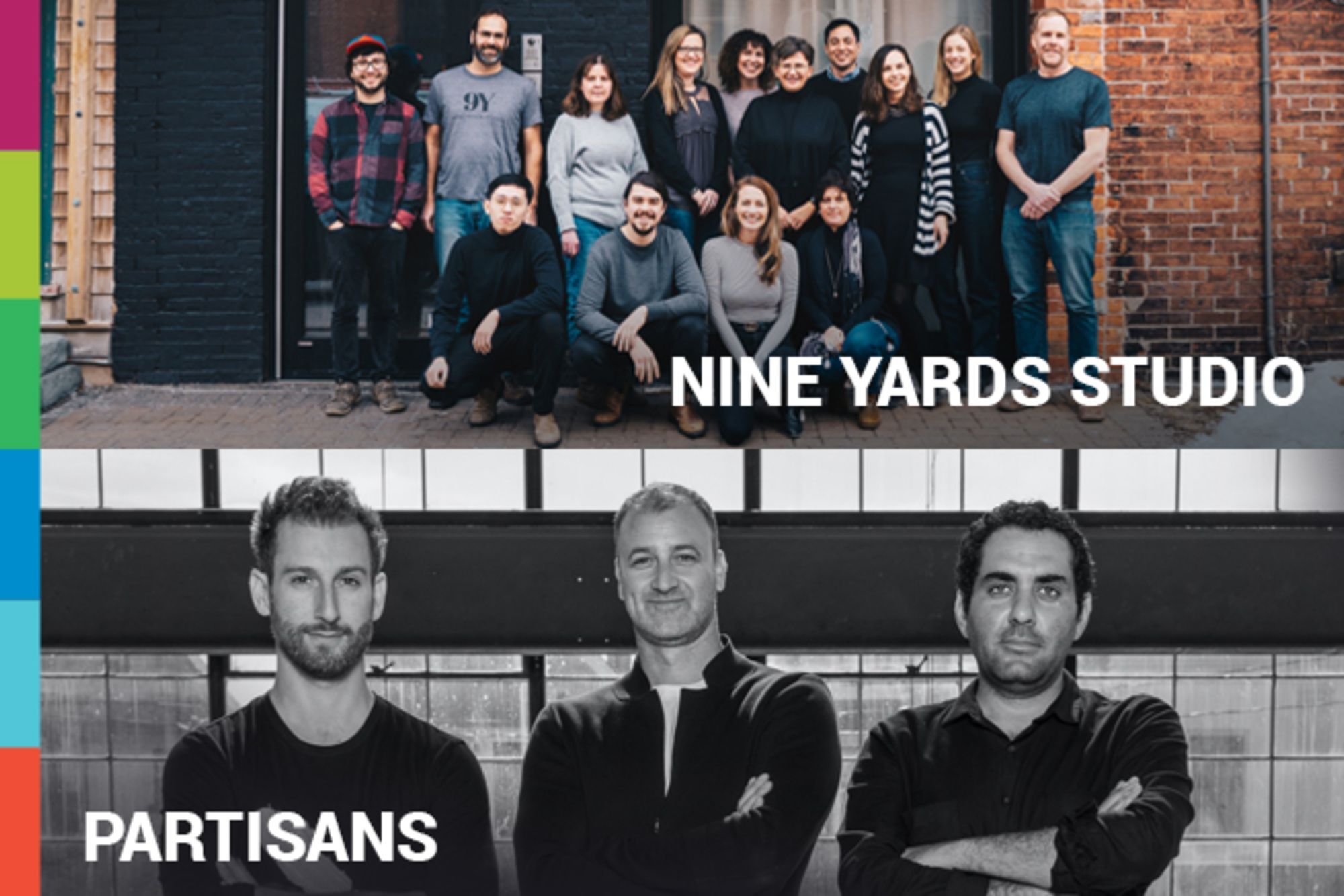 OTTAWA, April 16, 2020–The RAIC is honoured to announce that two firms have been selected for the Emerging Architectural Practice Award. PARTISANS, a Toronto-based architecture studio, and the Charlottetown's Nine Yards Studio are the recipients for 2020.
The RAIC Emerging Architectural Practice Award was established to recognize the achievements of burgeoning practices—for the quality of their built work, service to their clients, innovations in practice and public recognition. Eligible firms need to be practicing and licenced in Canada, and they can be no more than 10-years-old. This is to celebrate exciting new voices entering the architectural landscape of Canada.
Founded in 2017 by architects Silva Stojak and Shallyn Murray, Nine Yards Studio (9Y) is a multidisciplinary design studio that works with clients at all levels of the design process. Their name demonstrates a commitment to the many facets of design and truly defines the philosophy that great design can and should enhance the surroundings of their community in Prince Edward Island. The multidisciplinary nature of the firm allows them to provide clients with a wide range of design services including architecture, interior design, object/furniture design, graphic design, branding, and custom art installations.
The firm's founders and principal architects, Stojak and Murray—both together and as individuals—have been advocates for the architecture profession and for fostering positive development in the community. They have both served as committee members on the Architects Association of PEI (AAPEI) Board and Silva served as the President of this organization from 2016-2018. Both partners act as mentors to intern architects in the community and are committed to the education and training of architecture students that are circulating on their work-term curriculum every semester. Last year, they created the 'Nine Yards Studio Scholarship' at the Dalhousie School of Architecture for master's students who show a commitment to their community.
The following is a small selection of their recent projects—heavily lauded both in architecture and other design disciplines:
The River Cabins
Fundy Amphitheatre
Periscopes in the Park
Annual Installation at Art in the Open  
People's Ping Pong Project
"The jury felt that Nine Yards Studio's submittal revealed an admirable dedication to community through the promotion of architecture, craft, and design which is uniquely representative of the place in which they live and practice.," said the 2020 jury in a collaborative statement. "The quiet elegance of their work is rooted in the context of Prince Edward Island. At the forefront, the realizations of the studio are extremely playful within a critical discourse. The studio is an active leader in the profession through their work with BEAA (Building Equality in Architecture, Atlantic)."
PARTISANS is an award-winning Toronto-based architecture studio that specializes in the integration of design and technology, invention and programming, and culture and creative services. Founded in 2012 by Alex Josephson and Pooya Baktash—and later joined by Jonathan Friedman in 2014—the firm is guided by the spirit of one idea: the freedom to design.
PARTISANS works across scales, programs, and types—from the design of objects and furniture, to single-family homes, restaurants, hotels, high-rise office buildings, multi-unit residential buildings, affordable housing, transit stations, and urban visions. Their strategic decision to forgo programmatic or typological specialization comes from the importance that they place on both innovation and partnerships.
By valuing and heavily investing in creativity, research, risk-taking, technology, invention, and prototyping they know they can find problems and responses to new challenges.
In their design process, PARTISANS combines new-world technologies with old-world craftsmanship. Using advanced digital modelling and rapid prototyping technologies, as well as hand-drawing, photography, and sculpture, they mobilize a range of unique methods to combine thoughtful design with technological innovation and context-specific solutions. These practices help hone goals and aspirations while ensuring high fidelity to the concept all the way through to implementation and construction.
A selected portfolio of PARTISANS' notable projects include:
The Union Station Revitalization, Toronto, ON
Bar Raval Toronto, ON
Grotto Sauna, Georgian Bay
Quetzal, Toronto, ON
"The firm's projects are original, powerful, and evocative. Capable of thinking at all scales from interiors to city planning, the works speak to a vision for the future that is free-minded and innovative," said the Jury. "Outspoken advocates for the quality of architecture as a social vehicle is evidenced by the beloved spaces they have crafted."
Due to the cancellation of the 2020 Conference because of the COVID-19 pandemic, PARTISANS and Nine Yards Studio will be honoured as award recipients at the RAIC 2021 Conference on Architecture in Montreal, QC.
The composition of the 2020 jury is:
Diarmuid Nash, PP/FRAIC Chair of the Jury
Moriyama & Teshima Architects
Rami Bebawi, MRAIC
KANVA
Quebec, QC
Pat Hanson, FRAIC
gh3
Toronto, ON
Jessie Andjelic, MRAIC
SPECTACLE
Calgary, AB
Omar Gandhi, MRAIC
Omar Gandhi Architect
Halifax, NS
Shelley Craig, FRAIC
Urban Arts Architecture
Vancouver, BC 
About the RAIC
The Royal Architecture Institute of Canada (RAIC) is a not-for-profit, national organization that has represented architects and architecture for over 100 years, in existence since 1907. The RAIC is the leading voice for excellence in the built environment in Canada, demonstrating how design enhances the quality of life, while addressing important issues of society through responsible architecture. The RAIC's mission is to promote excellence in the built environment and to advocate for responsible architecture. The organization national office is based in Ottawa with a growing federated chapter model. Current chapters and networks are based in British Columbia, Alberta and Nova Scotia.