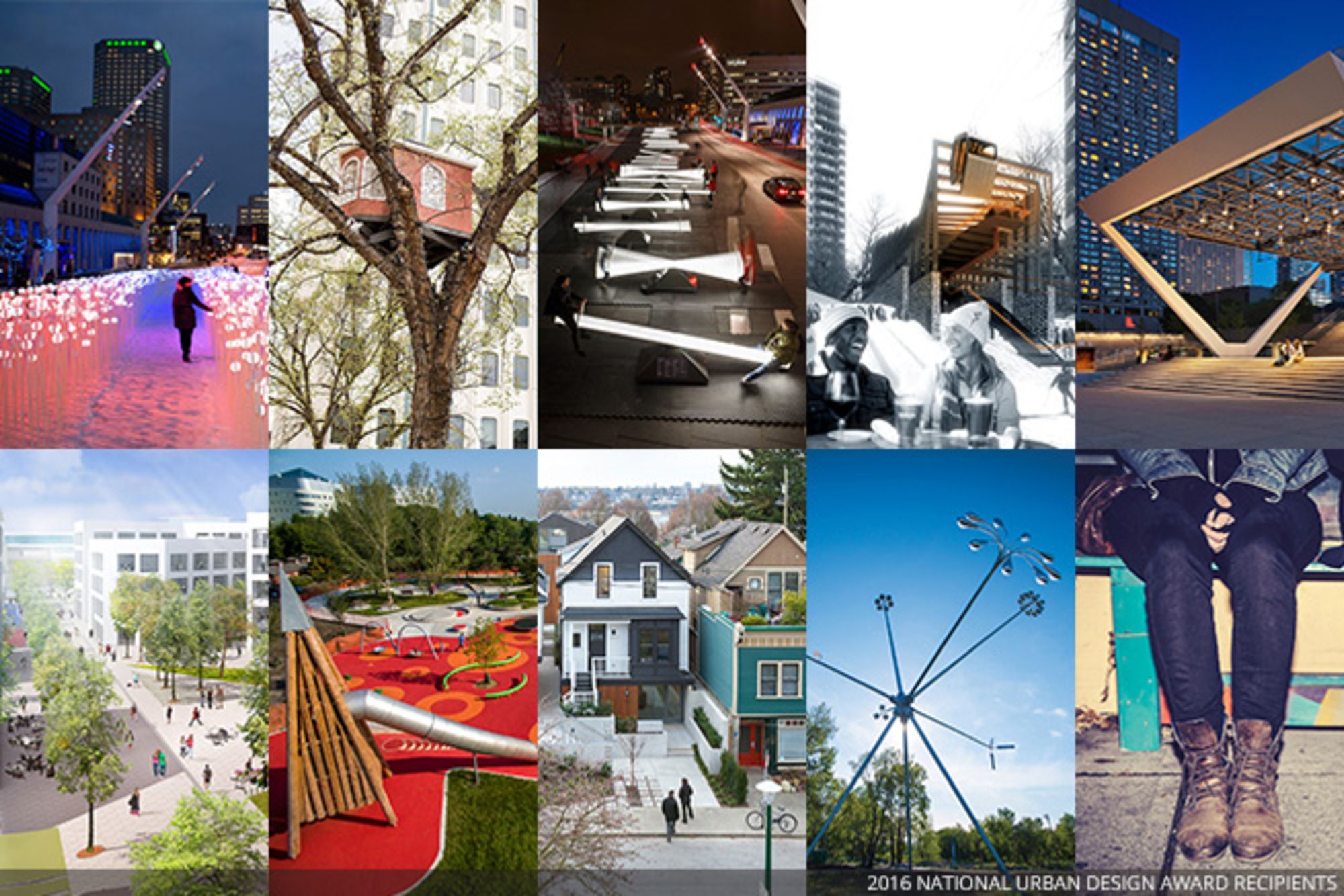 Calgary, Edmonton, Hamilton, Ottawa, Toronto, Montreal, Quebec City, Saskatoon, Vancouver
OTTAWA, April 11, 2016 — Nine cities across Canada "have been enriched by the addition of remarkable urban design initiatives," says the jury of the 2016 National Urban Design Awards.
"The quality of the submissions this year was impressive," said the three-member jury. "These unique solutions displayed a refreshing inventiveness and a strong commitment to the overarching objective of urban design to respond to and enhance the immediate surroundings and wider community."
The winning projects range from urban infill to renewed public spaces and playful installations.
The awards are part of a two-tier program held in cooperation with Canadian municipalities. The National Urban Design Awards program judged winners of the 2015 municipal awards and entries submitted at large.
The awards will be presented during the RAIC's Festival of Architecture to be held in Nanaimo from June 8-11.
Click HERE for descriptions and downloadable images.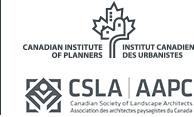 The Royal Architectural Institute of Canada (RAIC), the Canadian Institute of Planners (CIP), and the Canadian Society of Landscape Architects (CLSA) are pleased to announce the 2016 National Urban Design Award winners in the following categories:
Civic Design Projects
Nathan Phillips Square Revitalization (Toronto, ON)
PLANT Architect Inc. | Perkins + Will Canada in Joint Venture, with Hoerr Schaudt Landscape Architecture and Adrian Blackwell Urban Projects
"…a successful revitalization of a civic heart that draws people in with an enduring, timeless, restrained intervention."
Community Initiatives
The Bench Project (Calgary, AB)
Developers: anonymous
Designers: anonymous
"This project offers a new and vibrant interpretation of this basic piece of public furniture and cuts directly to what community initiated urban design should be."
Student Projects
Impose (Edmonton, AB)
Brad Comis, Sebastian Sauve-Hoover, Danielle Soneff of Threshold Art and Design working with Jesse Sherburne
"...evokes thoughts of human habitat and urban wildlife while making a connection to the built fabric."
Regenerating Rossdale (Edmonton, AB)
Michael Zabinski, Designer
"…a thought provoking reclamation of an artifact of a previously polluting industry. It is a powerful statement of urban renewal."
Urban Architecture
Union Street EcoHeritage (Vancouver, BC)
SHAPE Architecture Inc.
"…achieves an elegant solution that is both simple and profoundly important in creating a precedent for infill densification."
Urban Design Plan
Technopôle Angus - Phase II (Montreal, QC)
Provencher_Roy
"The design creates a public realm with high degree of pedestrian connectivity and permeability."
Urban Fragments
Entre les Rangs (Montreal, QC)
KANVA
"…inviting, educational and playful."
Impulse (Montreal, QC)
Lateral Office / CS Design
"… innovative and playful and brings people out into the city."
The following are recognized with Special Jury Awards:
Sustainable Development Award
St. Patrick's Island Park (Calgary, AB)
Calgary Municipal Land Corporation
"…a positive example of how design processes can educate community members about sustainability."
Small or Medium Community Urban Design Award
Kinsmen Park (Saskatoon, SK)
space2place design inc.
"…a fun, exciting and unique design that leads the way in public engagement."
Certificates of Merit are awarded in the following categories:
Civic Design Projects
Lansdowne Park (Ottawa, ON) PFS Studio
"…successfully achieves feelings of leisure, space and delight."
Urban Architecture
Queen Richmond Centre West (Toronto, ON) Sweeny&Co Architects Inc.
"The old brick buildings successfully became assets for the new design rather than barriers to its execution."
Urban Design Plans
University of Ottawa Campus Master Plan(Ottawa, ON) University of Ottawa/ Urban Strategies Inc.
"The campus master plan uses classic urban infill to create strong pedestrian connections that repair the campus and successfully overcome topographical challenges."
Urban Fragments
Quartier des spectacles (Montreal QC) Partenariat du Quartier des spectacles
" While this body did not officially enter the urban design competition, its programming for this annual competition has been so critical in facilitating the award-winning designs that they merit acknowledgement as important agents of successful urban design."
 
Limoilou dans la rue (Quebec QC) Groupe A / Annexe U
"This project takes a number of under-utilized parking spaces and animates them with a simple and elegant design. The materials are modest and the execution is effective."
Community Initiatives
Gore Pedestrianization Initiative; Veterans' Place (Hamilton, ON) The MBTW Group
"This previously moribund series of spaces were effectively rediscovered and animated with high quality pedestrian spaces."
The jury:
Carl A Knipfel, MRAIC, RPP, architect, and planner,  principal architect/ designer at Lankinhouse Design, Toronto, ON;
Franc D'Ambrosio, MRAIC, architect, principal at D'AMBROSIO architecture + urbanism, Victoria, BC;
Joanne Moran, CSLA: landscape architect, board member of Canadian Society of Landscape Architects,senior project manager at the City of Ottawa.
ABOUT THE RAIC
The Royal Architectural Institute of Canada is the leading voice for excellence in the built environment in Canada, representing about 5,000 members. The RAIC advocates for excellence in the built environment, works to demonstrate how design enhances the quality of life and promotes responsible architecture in addressing important issues of society.
ABOUT THE CANADIAN INSTITUTE OF PLANNERS
The Canadian Institute of Planners (CIP) is the national voice of Canada's planning profession. Since 1919, CIP has been dedicated to the advancement of responsible planning throughout Canada. CIP has a membership of more than 7,800 professional planners. It collaborates with provincial planning institutes and associations to promote professional standards, training and certification, as well as best practices in planning across Canada. Visit www.cip-icu.ca.
ABOUT THE CANADIAN SOCIETY OF LANDSCAPE ARCHITECTS
The Canadian Society of Landscape Architects (CSLA) is a professional organization with over 1,800 landscape architects as members represented by provincial and territorial associations plus academic programs across the nation. The CSLA is an advocate for its members on issues such as urban renewal, sustainable development and cultural heritage. www.csla-aapc.ca