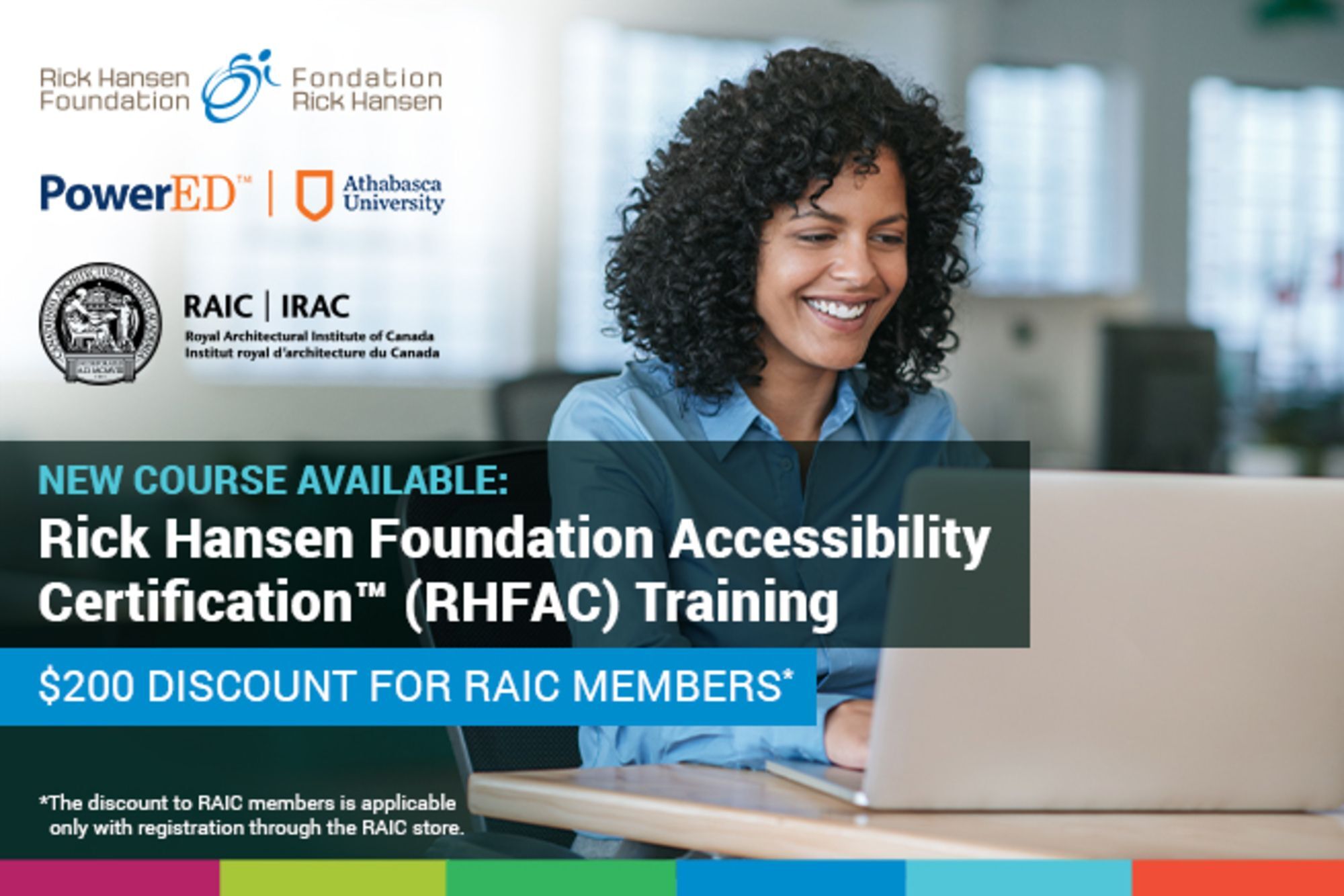 For Immediate Release
May 19, 2022
(Ottawa) May 19, 2022 - In honour of Global Accessibility Awareness Day, the Royal Architectural Institute of Canada (RAIC) is proud to announce a collaboration with the Rick Hansen Foundation (RHF) and PowerED™ by Athabasca University to expand capacity of accessibility certification training for the architectural community. 
In Canada, almost 50 percent of adults have or have experienced a permanent or temporary physical disability or live with someone who has. No matter the cause, each of us will experience disability at some point in our lives and will need our communities to be accessible so that we can continue to participate and live full lives.
The RAIC is committed to providing the architectural community the tools and resources they need to create a better world for all. We are pleased to partner with the Rick Hansen Foundation to bring the Rick Hansen Foundation Accessibility Certification™ (RHFAC) Training to the RAIC community. The online course provides participants with the fundamental skills and knowledge required to rate a site using the RHFAC.
"Focused on our new purpose to create a better world for all, the partnership with Rick Hansen Foundation, whose mission is to create a world where everyone can go everywhere, is extremely well-aligned with both organizations. It is our responsibility to build and design with accessibility and inclusivity as an underpinning value and principle," states John Brown, FRAIC, President of the RAIC. "This program is one small step that we can all take together in creating a more inclusive world moving forward."
RHFAC Training courses are offered three times per year, delivered online in partnership with PowerED™ by Athabasca University.  PowerED™ is an entrepreneurial unit within Athabasca University and builds on the university's rich history of online learning, flexibility, and accessibility. 
The RHFAC Training course is 10 weeks in length and requires 6-8 hours of study per week. RAIC members will receive a $200 discount on fees and earn continuing education units (CEUs) towards their designation. 
"The RHFAC course can change the way participants experience the built environment, and help them identify barriers they didn't notice before.  It's a bridge that communicates the realities of lived experience to industry professionals. We're grateful to partner with RAIC and Athabasca University to bring this course to professionals in the architectural community who will help lead this critical change in design culture," states Doramy Ehling, CEO of the Rick Hansen Foundation. 
"We're so pleased to be part of a collaboration that will bring this valuable professional designation to members of the RAIC," says Dr. Peter Scott, President of Athabasca University. "Athabasca University and PowerED™ are proud to be part of this expanded effort to build and design accessible, inclusive spaces everywhere and support the work of the Rick Hansen Foundation."
RHFAC is a rating system that helps both building owners and tenants measure the meaningful accessibility of their sites and promotes increased access through the adoption of Universal Design principles. Qualifying for an RHFAC Professional designation will provide you with the knowledge and practical skills needed to rate a building for its overall accessibility under the RHFAC program. The digital course includes a unique variety of enriched content including virtual fieldwork interactives, a mix of videos, activities, readings, assessment tools, and peer discussions – all offered in a coached digital environment.
The online course facilitator will host multiple virtual classroom sessions to discuss rating exercises and for learners to present site ratings. Upon successful completion of the Rick Hansen Foundation Accessibility Certification™ Training, students are eligible to write the online exam, administered by CSA Group, to become a designated RHFAC Professional. Once individuals obtain their RHFAC Professional designation, they are eligible to be publicly listed on the RHFAC Professional Directory.
"This course has helped me advance my specialization in inclusivity and social impact related to the built environment by expanding my knowledge of accessibility and universal design. It has helped me see our surroundings in a new, crucial light." Fiona Jones, BA&Sc, M.Arch., Social Impact + Strategy Coordinator, HCMA Architecture + Design
The next course runs January 30 to April 9, 2023. 
RAIC members save $200 and can access the full course for $2,300 + applicable taxes. The course is also available to others for $2,500 + applicable taxes. Visit the RAIC website for more information and to register for RHFAC Training. 
ABOUT THE RICK HANSEN FOUNDATION
The Rick Hansen Foundation was established in 1988 following the completion of Rick Hansen's Man in Motion World Tour. For over three decades, RHF has raised awareness, changed attitudes and removed barriers for people with disabilities. Visit www.rickhansen.com to learn more. 
ABOUT RAIC
The Royal Architectural Institute of Canada is a not-for-profit, national organization dedicated to representing architects and architecture since 1907. The RAIC is the only national voice for excellence in the built environment in Canada focused on providing Canada's architectural community with the tools, resources, and education to elevate their practice. The RAIC is committed to showcasing how design enhances quality of life, while advocating for important issues of society through responsible architecture. The RAIC's purpose is to create a better world for all by empowering Canada's architectural community. Through our work, the organization envisions a strong architectural community that is valued and empowered to create change. The RAIC's national office is based in Ottawa with a growing federated chapter model. Current chapters and networks are based in British Columbia, Alberta, and Nova Scotia.
ABOUT ATHABASCA UNIVERSITY
Athabasca University (AU) is one of the world's foremost and fastest-growing online and open education institutions, serving over 43,000 students across 87 countries. AU is the second-largest university in Alberta. AU offers online bachelors, masters, and doctorate programs alongside online courses for both personal learning and professional development. It is uniquely founded on the principles of flexibility and openness, giving students control over their studies so they can learn whenever and wherever it is right for them. For more information, visit the Athabasca University website. 
CONTACT INFORMATION
Diane Wessman
Vice President Operations
dwessman@raic.org