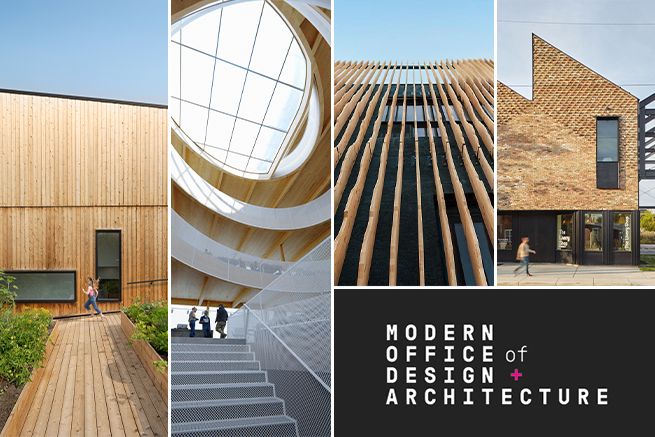 OTTAWA, April 8, 2022 – The RAIC is honoured to announce that Modern Office of Design + Architecture, a Calgary-based firm, is the recipient of the Emerging Architectural Practice Award for 2022.   
The Emerging Architectural Practice is awarded to an emerging Canadian architectural practice that shows exceptional promise for contributing significantly to the future of Canadian architecture. The award recognizes the early career achievements of the practice, considering six core areas: quality of architecture, quality of professional services, innovations in practice, contributions to the profession, exemplary approaches to sustainability, and the support and advancement of social justice.
Founded in 2013 by architects Ben Klumper and Dustin Couzens, Modern Office of Design + Architecture (MODA) is a Calgary-based practice working across the fields of architecture, urbanism, landscape and design.
MODA is committed to advancing an architectural agenda through their built and conceptual work, dedicated research and teaching appointments at Calgary's SAPL1. They practice along a diverse spectrum of project types and scales, approaching every project with a calculated mix of wonder and seasoned experience. They seek out contemporary issues through which a desire to catalyze the ambiguous gaps between the discipline of architecture and its professional practice figures prominently. MODA demonstrates this through their dedication towards design advocacy, volunteering, committee duties, lecturing, teaching, and the projects undertaken by the studio. While small in scale and approach, the firm feels passionately that 'design' should be accessible to all and packaged in a way that isn't intimidating or elitist.
MODA's broad and inclusive approach to practicing architecture has resulted in a number of important and carefully considered works. They respond to social and environmental crises with thoughtful studies, meticulous material choices and attentive projects that delight us with dynamic forms and enticing spaces. They are leading the way, always embedding sustainability into their exceptional design projects in innovative and creative ways.
MODA brings an incredible sense of energy and passion to all facets of their practice, whether it be built work, conceptual proposals, teaching, mentoring, or social engagement. They have significantly contributed to the discourse on the impact of architecture, giving their audience hope for a brighter future ahead. - Jury Comment
Susan Ruptash, FRAIC, Architect, OAA, Principal Emerita, Jury Chair
Anne Bordeleau, PhD, OAQ, MRAIC
Anya Moryoussef, BES, March, OAA, MRAIC
Brigitte Shim, FRAIC
Carol Belanger, M.Arch, Architect, AAA, FRAIC, LEED AP
Jack Kobayashi, Architect AIBC MWNTAA
David Covo, OAQ FRAIC, Professional Advisor
Click here to view the Media Kit 
About the RAIC 
The Royal Architectural Institute of Canada (RAIC) is a not-for-profit, national organization dedicated to representing architects and architecture since 1907. The RAIC is the only national voice for excellence in the built environment in Canada focused on providing Canada's architectural community with the tools, resources, and education to elevate their practice. The RAIC is committed to showcasing how design enhances quality of life, while advocating for important issues of society through responsible architecture. The RAIC's purpose is to create a better world for all by empowering Canada's architectural community. Through our work, the organization envisions a strong architectural community that is valued and empowered to create change. The RAIC's national office is based in Ottawa with a growing federated chapter model. Current chapters and networks are based in British Columbia, Alberta, and Nova Scotia. https://www.raic.org/
For more information:
Katie Russell
communications@raic.org
613-695-4727