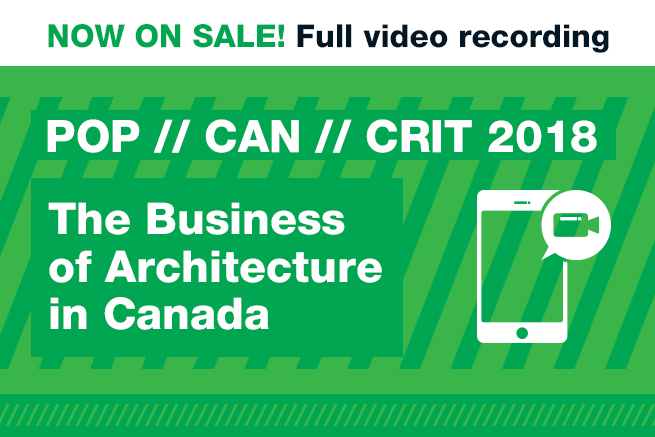 Missed your chance to see POP // CAN // CRIT 2018: The Business of Architecturelive? Want to re-live the day's engaging discussions and lively debates?
A full recording of the event is now available for purchase through the RAIC Store.
Gain access to 6.5 hours of content on panels including: Architecture Speak, The Art of the Business of Architecture, Women in Architecture / Women in Business, From Education > Internship > Practice, and a Roundtable on the Future of Architectural Practice in Canada.
Stream online until October 25, 2019and then join us for next year's event, in Toronto and online, October 26, 2019!
SPECIAL INTRODUCTORY AND MEMBER PRICING!
Don't miss your chance to get special intro and member pricing, now until November 5.
POP // CAN // CRIT is also happy to announce that it will be partnering with the RAIC as an official event at the 2019 Festival of Architecture. POP // CAN // CRIT 2019will take place at the Design Exchange in Toronto on Saturday, October 26, 2019 and will focus on The Education and Emergence of the Architect in Canada. We hope to see you in Toronto or online! To learn more visit the POP // CAN // CRIT website.