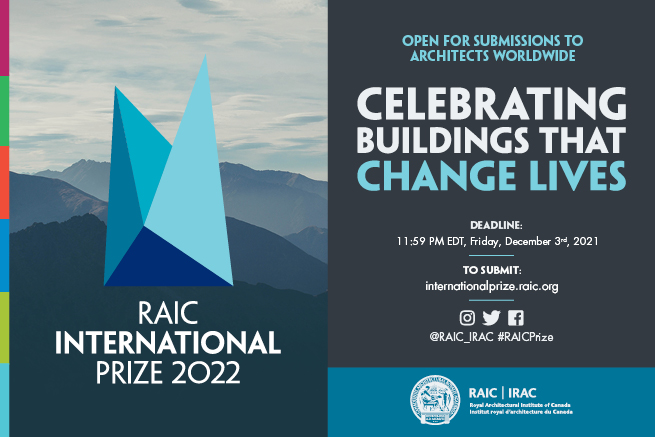 OTTAWA August 4, 2021– The Royal Architectural Institute of Canada (RAIC) is pleased to begin accepting submissions for the 2022 RAIC International Prize.  The Prize, awarded every two years, celebrates architecture that is judged to be transformative within its societal context and emblematic of the human values of respect and inclusiveness.  
Architects, teams of architects, and architect-led collaborations are invited to submit a building or a related group of buildings that has been completed, occupied and in use for at least two years prior to the entry deadline. The deadline for receipt of submissions for the 2022 RAIC International Prize is December 3, 2021.
Additional information on the Prize and the submission guidelines can be found at https://internationalprize.raic.org/ 
"We are proud to host a remarkable, globally focused-award like the RAIC International Prize. Through the socially minded projects of both the Prize winner and the submissions, the International Prize showcases the excellence of community oriented and uplifting design." – John Brown, FRAIC, RAIC President  
"The RAIC Foundation is a proud collaborator of the RAIC International Prize and Scholarships program, now in its 4th edition. It has been truly inspirational, both for students of architecture in programs across Canada and for architects around the world." – Stuart Howard, PP/FRAIC, RAIC Foundation Chair
The winner is selected in an open, juried competition. An international jury of experts will consider a range of criteria in the evaluation of submissions and intends to include site visits to shortlisted projects as part of the selection process. Winners receive a handcrafted sculpture by Canadian designer Wei Yew, who creates a new and different interpretation of the Canadian landscape for each edition of the Prize.
The jury members are: 
Susan Ruptash, FRAIC, Jury Chair, Principal Emerita, BDP Quadrangle 

Alfred Waugh, MRAIC, Owner | Principal, FORMLINE ARCHITECTURE   

Amale Andraos, Hon. FRAIC, Co-founder of WORKac 

Diarmuid Nash, PP/FRAIC, Partner, MORIYAMA & TESHIMA ARCHITECTS 

Farida Abu-Bakare, MRAIC, Project Director, Accra, Adjaye Associates 

Peter Busby, FRAIC, Global Design Principal, Perkins&Will 

Sasa Radulovic, FRAIC, Co-founding Partner, 5468796 Architecture 

Talbot Sweetapple, FRAIC, Partner, MacKay-Lyons Sweetapple Architects 

WH Vivian Lee, Director, Master of Architecture Program, Daniels Faculty of Architecture, Landscape, and Design, University of Toronto 

David Covo, FRAIC, Professional Advisor, Associate Professor and past Director (1996-2007) of the Peter Guo-hua Fu School of Architecture at McGill University 
About the RAIC International Prize   
In 2013, Canadian architect Raymond Moriyama FRAIC CM, the Royal Architectural Institute of Canada (RAIC) and the RAIC Foundation created the Moriyama RAIC International Prize to share Canadian architectural values with an international audience and celebrate architecture that is socially and culturally transformative. In 2019, it was renamed the RAIC International Prize, and in 2021, the monetary award was removed in order to align the terms of reference of the Prize with the RAIC's Honours and Awards programs. The RAIC and the RAIC Foundation are deeply indebted to Raymond Moriyama for his original vision of an award that promotes social equity, respect, and inclusiveness in architecture, and for his support in its creation.  

   

About the RAIC   

The Royal Architectural Institute of Canada (RAIC) is a not-for-profit, national organization that has represented architects and architecture for over 100 years, in existence since 1907. The RAIC is the leading voice for excellence in the built environment in Canada, demonstrating how design enhances the quality of life, while addressing important issues of society through responsible architecture. The RAIC's mission is to promote excellence in the built environment and to advocate for responsible architecture. The organization national office is based in Ottawa with a growing federated chapter model. Current chapters and networks are based in British Columbia, Alberta and Nova Scotia.   

   

About the RAIC Foundation   

The RAIC Foundation is committed to advancing excellence and knowledge in Canadian architecture that ensures a vibrant place for architecture in Canadian Society. Foundation trustees oversee the RAIC Foundation Awards established by bequests from members of the Institute, in addition to other programs.