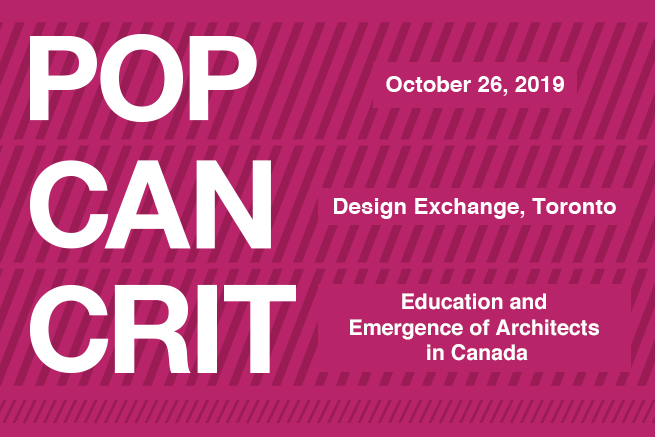 OTTAWA, Sept. 3, 2019– This year's edition of Canada's national architecture symposium – POP // CAN // CRIT– is headed to Toronto in October with a focus on the experiences of architecture students, interns, and emerging professionals.
POP // CAN // CRIT 2019: Education and Emergence of Architects in Canada is a full-day seminar on Saturday, October 26 at the Design Exchange at 234 Bay Street. Registration is open now.
The Royal Architectural Institute of Canada (RAIC) is proud to presentPOP // CAN // CRIT 2019 as an official event of the RAIC 2019 Festival of Architecture, which takes place in Toronto from October 26 to 30. The RAIC acknowledges the generous support of venue partner Design Exchange, media partner Spacing Magazine, and valued sponsors.
Media are invited to attend the fourth edition ofPOP // CAN // CRIT as itbuilds on the successes of previous events in Ottawa (2016), Toronto (2017), and Vancouver (2018). For media requests, please contact Brynne Campbell at bcampbell@raic.org.
Full event information, including panel descriptions, can be found at festival2019.raic.org/pop-can-crit-2019/.
This year's attendees will be eligible to receive RAIC continuing education Certificates of Attendance.
HIGHLIGHTS
Fifteen speakers and moderators from across the country will discuss and debate topics related to the education, emergence, and support of architecture students, interns, and young professionals in Canada.
Panel 1: The Student // The Intern will look at current methods of architectural education; the importance of practice-based learning at both the undergraduate and graduate levels; the value of mentorship and support in the intern experience; and the potential disconnect between architectural education, the internship process, and professional practice.
Panel 2: The Architectwill shift the discussion from the student or intern to the professional practice of architecture. It includes advice for newly licensed interns on shaping a career path; the areas of support currently available for building a career or practice in architecture; and the need for established practitioners to support emerging architects.
Panel 3: The Alternatewill explore other opportunities available to those with a professional degree, background, or experience in architecture including critical and art-based practices, alternative or tangential careers related to architecture, and the role of the Ph.D. in supporting architectural research and the practice.
The symposium will conclude with a roundtable on The Future of Architectural Practice + Education in Canada.
SPEAKERS
Stephan Chevalier, Associate Architect, Chevalier Morales Architectes, Montreal
Toon Dreessen, FRAIC, President and Architect, Architects DCA, Ottawa
Heather Dubbeldam, FRAIC, Principal, Dubbeldam Architecture + Design, Toronto
Zahra Ebrahim, Client Leadership, Doblin, Toronto
Ksenia Eic, MRAIC, Architect, Taylor Architecture Group; RAIC Emerging Practitioners Committee, Ottawa
Omar Gandhi, MRAIC, Architect and Owner, Omar Gandhi Architecture, Halifax
Sascha Hastings, Independent Arts Producer, Curator, Writer and Editor, Toronto
Andrew King, FRAIC, Senior Partner and Design Principal at Lemay, Adjunct Professor at McGill School of Architecture, Montreal
Elsa Lam, FRAIC, Editor, Canadian Architect, Toronto
Lisa Landrum, MRAIC, Associate Dean (Research), Associate Head, Associate Professor, Department of Architecture, University of Manitoba, Winnipeg
Ana Maria Llanos, Architect and Principal, Diamond Schmitt Architects, Vancouver
Ivan Martinovic, FRAIC, Architect, Archdesign Group Limited, Toronto
Sergio Morales, MRAIC, Associate Architect, Chevalier Morales Architectes, Montreal
Richard Sommer, MRAIC, Dean, University of Toronto John H. Daniels Faculty of Architecture, Landscape, and Design, Toronto
John Stephenson, FRAIC, Architect, FORM Architecture Engineering, Thunder Bay
ABOUT POP // CAN // CRIT
POP // CAN // CRITis an annual national architecture symposium that acts as a resource, educational tool, and opportunity to share experiences and ideas related to architecture within a Canadian context. The event promotes excellence in architecture through constructive, critical, professional, and academic discourses on contemporary professional practice and its peripheries. PCC is an edgy, lively, and provocative platform for architects, design professionals, academics, and the public ⎼with diverse viewpoints ⎼to openly discuss, debate and advocate for the future of architectural practice in Canada.