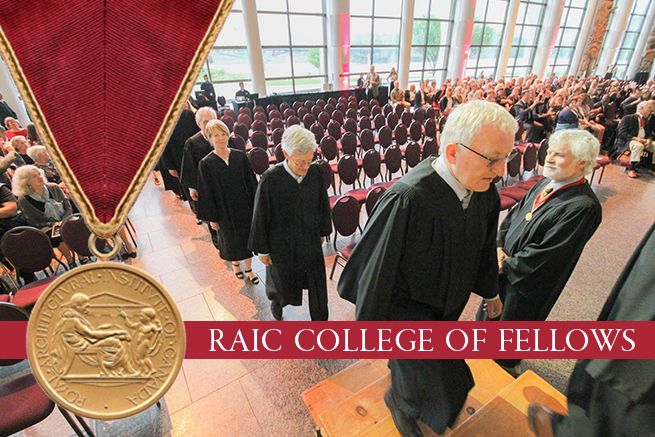 Athabasca, Calgary, Halifax, London, Montreal, Ottawa, Peterborough, Saint John, Thunder Bay, Toronto, Vancouver, Victoria, Winnipeg
OTTAWA, April 18, 2018 – A Toronto specialist in culinary education; the project architect for Vancouver's largest transit-oriented development, a Calgary-based aviation design expert, and a Quebec architecture policy champion are among the Canadian architects to be named 2018 Fellows.
The College of Fellows of the Royal Architectural Institute of Canada (RAIC) bestows Fellowship to RAIC members in recognition of outstanding achievement. Criteria include design excellence, exceptional scholarly contribution, or distinguished service to the profession or the community.
Representing Canada coast-to-coast, the 40 new Fellows come from Athabasca, AB; Calgary, AB; Halifax, NS; London, ON; Montreal, QC; Ottawa, ON; Peterborough, ON; Saint John, NB; Thunder Bay, ON; Toronto, ON; Vancouver, BC; Victoria, BC; Winnipeg, MB, as well as London, England.
They include:
Ryan Bragg, of Perkins + Will in Vancouver, who led the design of Marine Gateway, a mixed-use development in Vancouver that integrates transit and is recognized for sustainability;
Nathalie Dion, of Montreal, who, as President of the Quebec Order of Architects, has steered a public conversation and campaign for the establishment of a Quebec architecture policy;
Philip Hastings, of Toronto, whose firm Gow Hastings Architects has completed more than 250 projects at colleges and universities, and is known for innovation in culinary arts studies;
Janice Liebe, of DIALOG in Calgary, whose broad experience includes playing a leading role in expansions and redevelopments at the international airports of Calgary, Edmonton, Ottawa, and Kelowna.
See the full list below. Photos and citations are available from the RAIC.
Fellows will be inducted at the College of Fellows Convocation, which takes place during the RAIC/AANB Festival of Architecture in Saint John, May 30 – June 2.
In addition, the College of Fellows will induct four Honorary Fellows:
Diébédo Francis Kéré,a Berlin-based architect from Burkina Faso, will deliver the keynote address at the convocation ceremony on May 31. With projects across Africa, and in Europe, China and India, Kéré is known for combining traditional building techniques and materials with modern engineering methods.
Odile Decq, of Paris, is an award-winning French architect, urban planner and academic, who recently started a school of architecture. Her portfolio ranges from art galleries and museums to social housing and infrastructure. Decq will speak at the RAIC Foundation Luncheon on May 31.
William J. Stanley III, of Atlanta, Georgia is an American architect, a trailblazer for architects of African descent and a community leader.
John R. Sorrenti, of Mineola, New York, is an American architect who has made a significant contribution to the associations and boards that make it possible to be an architect.
Atlantic

K. Gregory Murdock, Saint John,NB

Talbot Sweetapple, Halifax,NS

 

Quebec

Vikram Bhatt, Montreal

Alain Compéra, Montreal

Nathalie Dion, Montreal

 

Ontario

Peter Berton, Toronto
Kelly Buffey, Toronto
Peter Ronald Clewes, Toronto
Maria Denegri, Toronto
Andrew Ivo Frontini, Toronto
Antonio Gómez-Palacio, Toronto
H. Bradford Green, Thunder Bay
Philip Hastings, Toronto
Elsa Lam, Toronto
William P. Lett Jr, Peterborough,
Drew Mandel, Toronto
John Raymond Peterson, Toronto
Honorata Pieńkowska, Ottawa
Darija K. Scott, Toronto
James Irwin Sheffield, London
Susan Speigel, Toronto
John K. Stephenson, Thunder Bay
Gordon C. Stratford, Toronto
R. Shane Williamson, Toronto

Manitoba

George Cibinel, Winnipeg
David Francis Lalama, Winnipeg

 


Alberta

Arup Kumar Datta, Calgary
Janice Lynne Liebe, Calgary
Douglas James MacLeod, Athabasca
C. Walker McKinley, Calgary
Linus Murphy, Calgary

 


British Columbia

Ryan Bragg, Vancouver
Wojciech Maurycy Brus, Vancouver
Shelley Craig, Vancouver
Francesco D'Ambrosio, Victoria
Greg Johnson, Vancouver
Christine Lintott, Victoria
Stuart E. Lyon, Vancouver
Jennifer A. Marshall, Vancouver

 


International

Kevin P. Flanagan, London, England
 
ABOUT THE RAIC
The Royal Architectural Institute of Canada is the leading voice for excellence in the built environment in Canada. Representing about 5,000 members the RAIC advocates for excellence, works to demonstrate how design enhances the quality of life and promotes responsible architecture in addressing important issues of society.