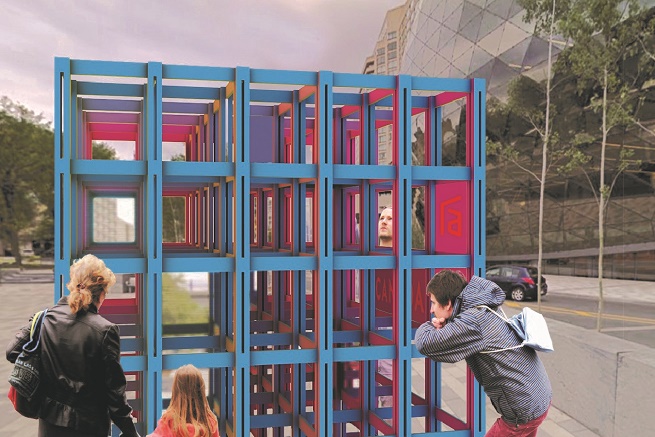 A project called Analogous Space by a team of intern architects from Ontario has been named winner of the 2017 Urban Marker competition, presented by the RAIC Emerging Practitioners and sponsored by Stantec.
The purpose of the competition was to create a unique physical marker to signal and celebrate events and locations of the 2017 RAIC / OAA Festival of Architecture. The festival takes place May 24-27 in Ottawa, aligning with Canada's 150th anniversary and celebrating the architecture of our past and looking forward to the future.
The winning team is composed of interns Elaine Chau and Kristina Seo. Analogous Space speaks through the languages of colour, movement and play. The construct is a simple matrix of frames that forms a basic cube with analogous colour schemes along the three major axes. A series of reflective and opaque signage panels are inserted throughout the open framework creating an optically complex yet formally simple object. The play of similarity and difference speaks to the inclusivity and diversity of our nation celebrating Canada's many faces.
From the entries received, the jury unanimously selected Analogous Space as the winner. They were impressed with the simple, strong form that, upon closer inspection, reveals itself as a rich interaction of light and movement. The Urban Marker will be constructed of dimensional lumber while integrating a strong colour scheme, LED lighting and a mix of transparent and reflective inserts.
The jury was comprised of:
Omar Gandhi – NSAA, MRAIC, Principal, Omar Gandhi Architect
Emmanuelle van Rutten – OAA, MRAIC, Director, Moriyama & Teshima Architects
Jason Robbins – MAA, MRAIC, Founding Member, StorefrontMB
Heather Dubbeldam – OAA, MRAIC, Principal, DUBBELDAM Architecture + Design
Michael Moxam – OAA, MRAIC, Vice President Architecture, Stantec Architecture
ABOUT THE RAIC EP
The RAIC Emerging Practitioners is a group of volunteer students, interns and recently licensed Architects brought together to connect and strengthen the voice of emerging practitioners across Canada in order to serve, inspire and advocate for their continued professional growth on the path to licensure. RAIC EP will serve as a link and provide a sense of continuity in the professional development of emerging practitioners from students in an academic setting through to becoming licensed members of the architectural profession.
ABOUT THE RAIC
The Royal Architectural Institute of Canada is a voluntary national association, representing 5,000 members. The RAIC advocates for excellence in the built environment, works to demonstrate how design enhances the quality of life and promotes responsible architecture in addressing important issues of society.