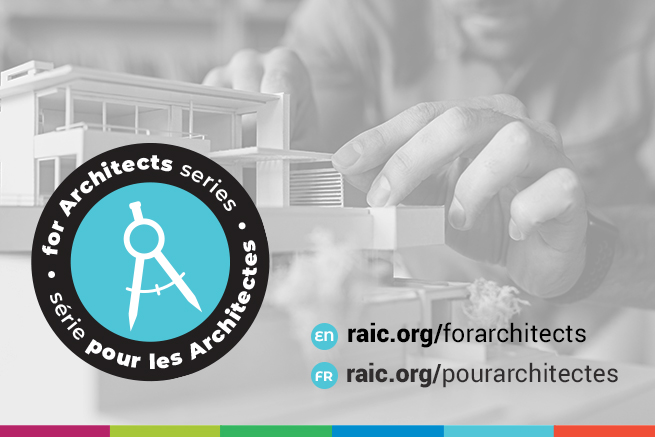 As a seasoned architect you're juggling a lot – office finances, employee retention, client relationships, and succession planning. You're managing projects and expanding your skills and knowledge. The …for Architects Series includes a curated set of courses custom designed for architects to build their practice and career. The RAIC has engaged industry leaders to develop courses aimed at advancing the success of professional in design and construction.
Gain the tools and the confidence for practice success
Participate in engaging and collaborative workshops
Benefit from custom-designed courses by industry leaders working with architects
Network with peers and industry professionals
New ConEd Modules:


---
Financial Management for Architects Course
Financial Management for Architects course is RAIC's most popular virtual workshop, specially designed for architects, sole proprietors, intern architects, engineers and managers. 
This two-day course will lay a framework for understanding the financial and accounting operations, processes and concepts, needed to run and lead a sustainable architecture business. Participants will gain knowledge for efficient financial management when it comes to owning, operating, and managing an architectural practice.  
The RAIC's Marketing for Architects  - Fundamentals of Marketing is Available to Stream!
In  Marketing for Architects course you'll learn the fundamentals of marketing, business development, networking and how to apply them directly to your practice. This course equips architects and firm owners with successful marketing and business development strategies. Learn how to:
Create a marketing plan focused on your ideal client and designed to deliver your business objectives.
Communicate your brand message and unique value to clients, referrers and your team.
 
Introduction to Successful Accessible Design
Introduction to Successful Accessible Design introduces the concepts and applications of inclusive design as it applies to Canadian architecture and its built environment. Students will analyze the impacts and conflicts of accessibility in society, built form, and the development industry. In addition to learning the basic terminology and concepts, and having access to the latest resources, they gain practical experience including being able to spot the barriers that surround us as well as apply new skills in real-life applications of accessibility.
Watch a short introductory video here
Project Risk Management
Project Risk Management for Architects has been designed by drawing on bodies of knowledge of Risk Management, Project Management, and Architectural Practice. 
A structure is then created that is relevant to architectural practice and outlines an easy to follow process for managing risk during projects.
Watch a short introductory video here
Construction Contract Administration and Field Review
An architect administers the construction contract on behalf of both the client and the contractor during construction through services known as Construction Administration and Field Review (CCA & FR). These services are those prescribed in standard construction contracts, such as the CCDC 2, and are divided into office functions and field functions. This course explores the theoretical and practical aspects in performing the CCA and FR, including preparations leading to this phase, as well as best practices.
Watch a short introductory video here
---
The health, safety, and well-being of our staff, instructors and participants is very important to the RAIC. As such, the RAIC continues to offer all Continuing Education events in a virtual format until December 31, 2021.  
To subscribe to the RAIC mailing list, please click here.