SOSA X RAIC Present: Spotlight South Asia
Length: 1.5 hours
What's included: webinar, quiz, certificate of completion
This is a recording of the live virtual event from May 25, 2022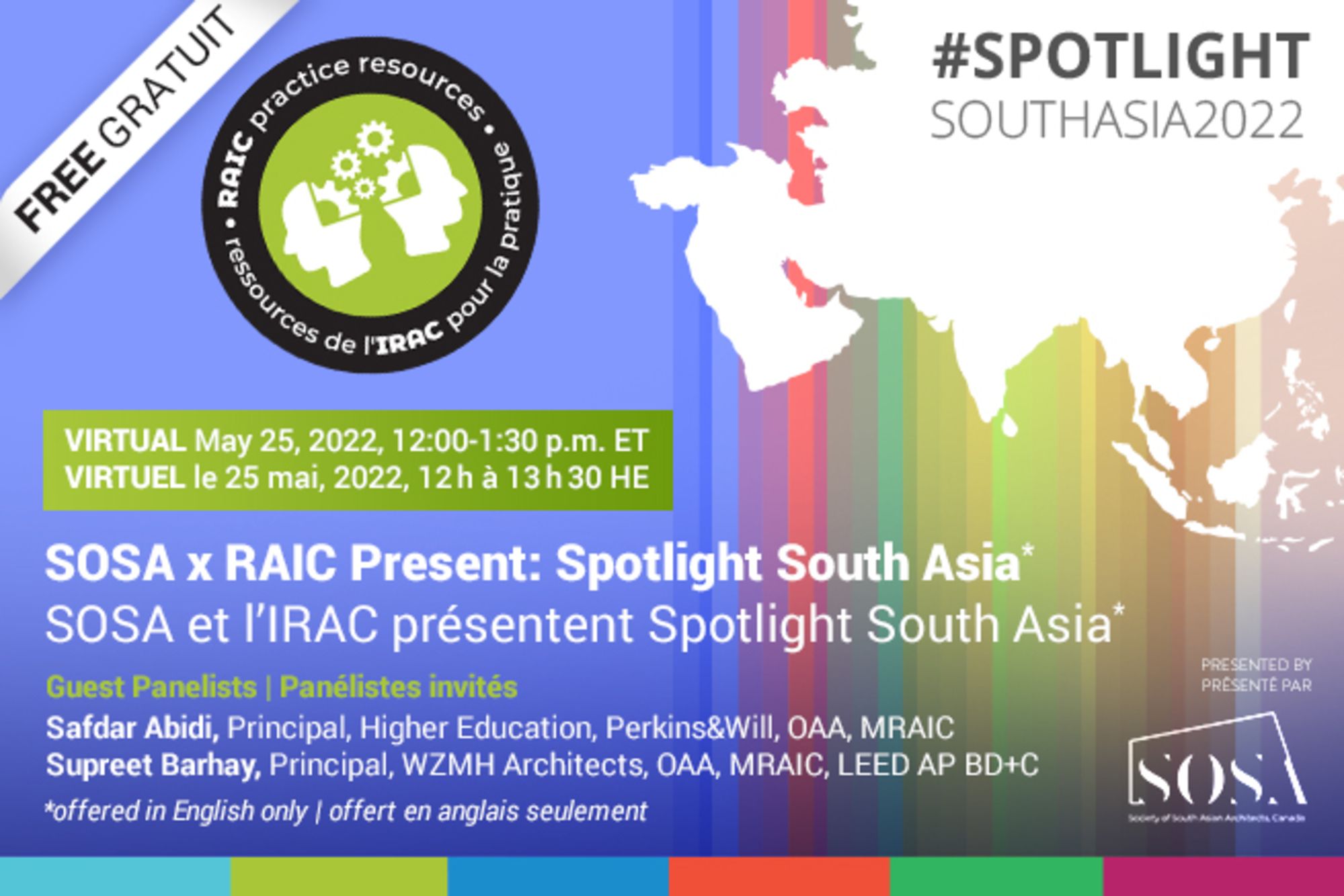 This is the recording of the live virtual event from May 25, 2022
RAIC and SOSA (Society of South Asian Architects, Canada) are pleased to present Spotlight South Asia, a roundtable discussion and Q&A session with Safdar Abidi, Principal, Higher Education, Perkins&Will and Supreet Barhay, Principal, WZMH Architects. The webinar will present the speakers' professional journeys and challenges they faced along the way, while providing insights to young professionals and new immigrants. The discussion will also feature SOSA's Executive Team and explore the commonalities and uniqueness among their experiences. 
Society of South Asian Architects, Canada (SOSA) is the first community-based not-for-profit organization that represents the interests of South Asian architects and design professionals by embracing and advocating a culture of diversity, equity, and inclusion in the professions of architecture and design. SOSA's goal is to support communities by creating opportunities for mentorship, education, networking, and outreach.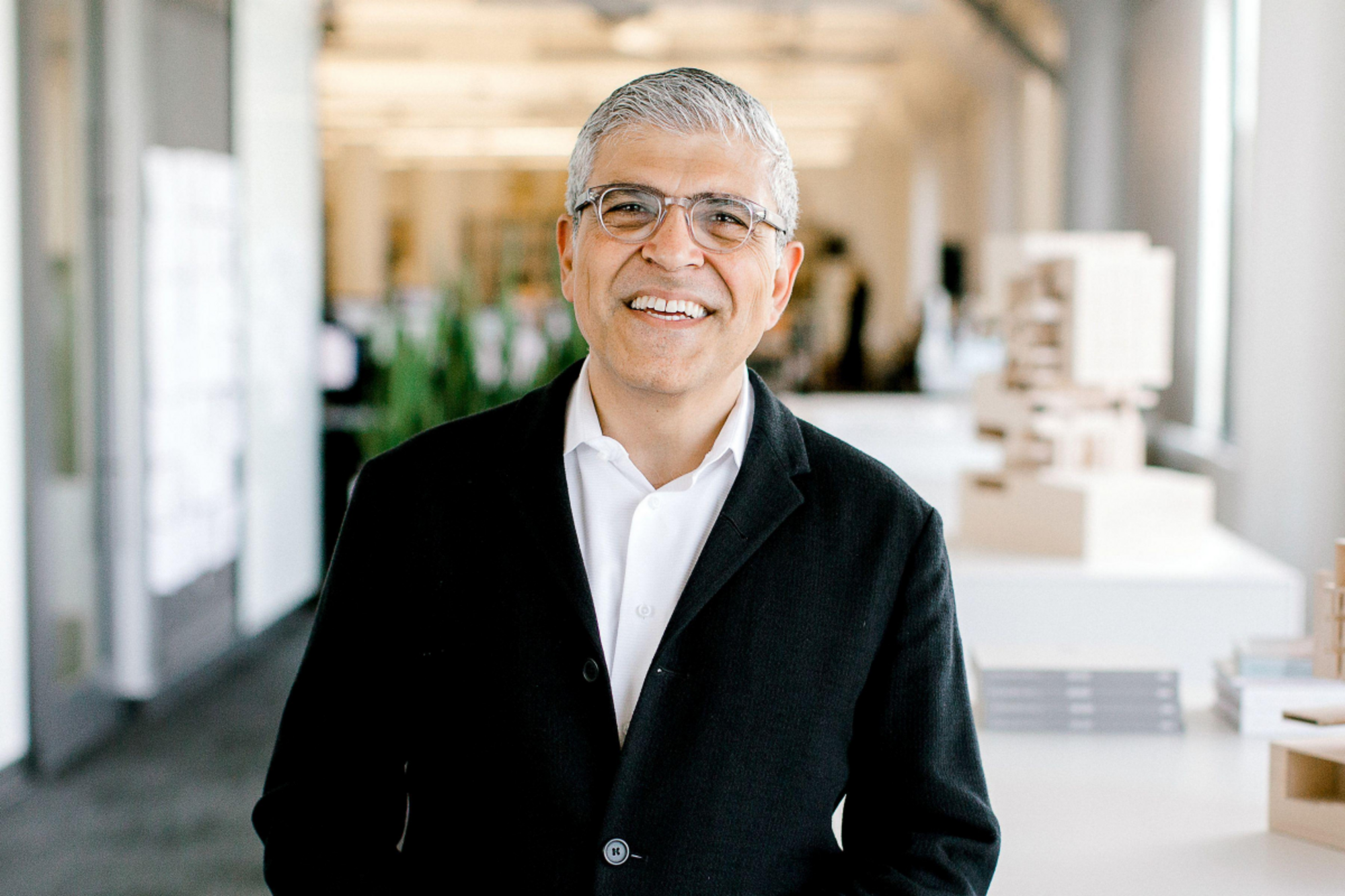 Safdar Abidi, OAA, MRAIC 
Principal, Higher Education, Perkins&Will
Born and raised in Karachi, Pakistan, Safdar's formative influences and interests were inspired by a father who was a rationalist and pragmatist, and a mother who loved literature, poetry, and classical music. His family also deeply valued Eastern history and tradition, along with an appreciation of Western and a variety of other cultures. Safdar's undergraduate degree was in Civil Engineering. He studied architecture at the graduate level. Architecture offered the ideal and obvious synergy of all the influences in Safdar's life. 
Safdar's multi-cultural world view began the day he arrived in the United States, as a university student in leafy New Hampshire, and continues to evolve as he lives and works in both academic and design worlds. As his journey with architecture progresses, the beauty of built form and its manifestation in the richness of human culture continues to inspire and bring joy to Safdar's daily experience.  
Safdar has specialized in design and strategic consulting services for post-secondary institutions over the last 10 years. As part of Perkins&Will's Global Higher Education practice council and regional leader for Higher Education in Canada, Safdar works closely with colleges and universities to continually deepen his understanding of their priorities and processes. He is passionate about collaborating with clients to "connect the dots" and develop creative strategies to enrich the student experience, elevate institutional identity, and maximize value for investments in campus projects. While leading client engagement, business development, design, or project management, Safdar guides project teams to pursue process and design solutions that are positive, future focused, and deeply responsive to the unique culture and mission of each client. Currently, Safdar's practice and client engagement is deeply focused on how design can respond to the post pandemic reveal of social inequity, Canada's truth and reconciliation initiative and the climate crisis.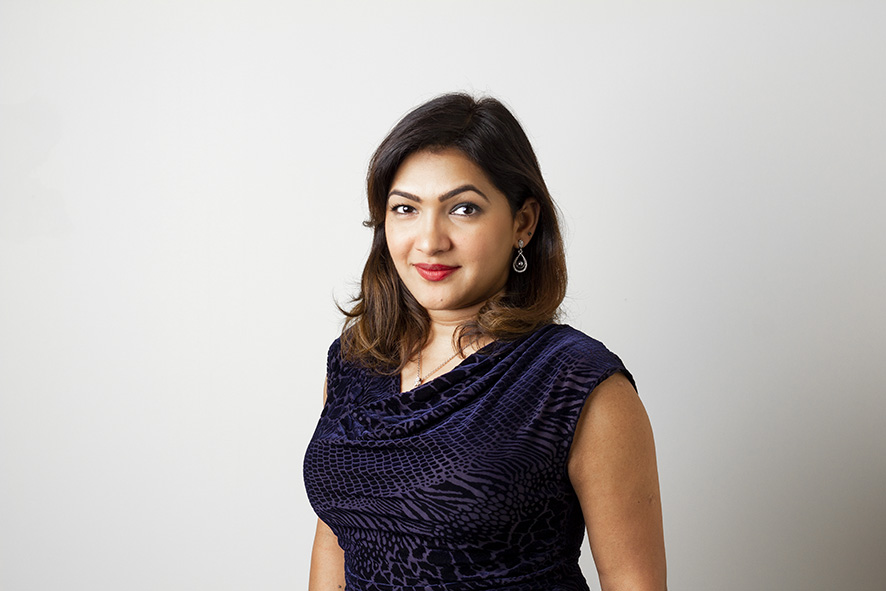 Supreet Barhay, OAA, MRAIC, LEED AP BD+C   
Principal, WZMH Architects
Born and raised in New Delhi, India, Supreet has always been an ambitious and determined person from the time she first started school. Her love of travel and architecture (which includes the work of Laurie Baker, B.V. Doshi, Charles Correa and Raj Rewal and Louis Khan) influenced her decision to become an architect.  
Supreet currently holds Bachelor of Architecture from Bangalore University in India and a Master of Building Engineering and Management from New Delhi School of Planning and Architecture in India. 
Initially, Supreet was apprehensive as to whether she could succeed at a career in architecture. Concerned that her education in India wouldn't be attractive to North American firms, Supreet considered obtaining a second Master's Degree in the United States. After moving from India to Florida, Supreet was fortunate to get an opportunity with Guy Butler Architect in Orlando, which paved the way forward to achieving her dream. In the years since, Supreet moved to Canada in 2006 and joined Pellow + Associates in Toronto where she spent 9 years as a project manager and project architect, until the firm's merger with WZMH Architects in 2015. Having been promoted to principal in 2019, Supreet now leads the retail team at WZMH and is involved in many of the firm's key retail, residential and mixed-use projects. With more than 20 years of experience, Supreet has been involved with various projects that range in size, type, and complexity from new shopping centres to major renovation of existing shopping centres as well as new mixed-use and residential buildings. She has actively been involved in all phases for each project which range from predesign, design, site plan approvals, construction documents to contract administration and project close-out - this enables her to manage client commitments and expectations consistently. As the retail industry was deeply affected by the pandemic, Supreet has been engaged with her team on an initiative called 'The Future of Retail' which explores ideas and shifting architecture in the retail industry.  
Supreet is a LEED® Accredited Professional (BD+C) and brings her sensitivity in green and sustainable design to every project, regardless of LEED certification. Supreet is also a part of the WZMH Mentorship Committee that provides a framework for career development, support and guidance for interns, designers, technologists, and recent graduates. 
Learning Outcomes
By the end of this session, participants will be able to…
1. List benefits of an equitable, diverse, and inclusive workplace.
2. Describe how an individual's culture and journey can influence their work style.
3. Discuss the future of the architectural profession considering the changing cultural environment in Canada.
4. Identify approaches to acquire and begin ones first architectural job in Canada.
 
Continuing Education Webinar Disclaimer