This on-demand covers the National Building Code of Canada Part 9, and is designed to aid participants prepare for the ExAC Exam!
NBCC Part 9 Housing and Small Buildings
Topics: NBCC
What's Included: *videos, quiz, certificate of completion
This on-demand course is available to stream!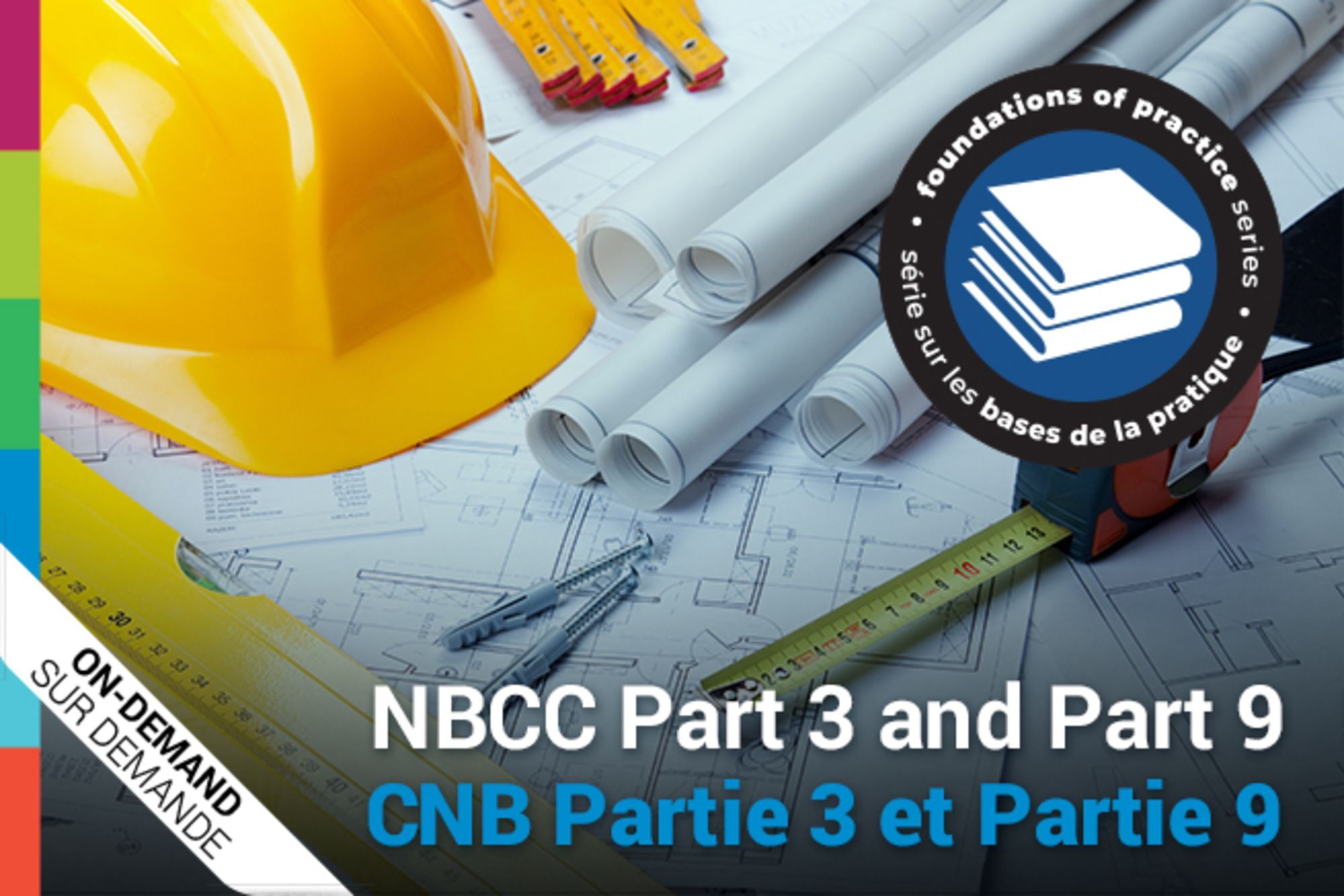 The National Building Code of Canada Part 9 is designed to engage the participant in the learning process by organising the course into modules, with self-study and sample project applications with interactive Question and Answers, to check learner knowledge acquisition. 
The modules will be presented in four sessions over two days.  At the end of the training, the participant will be able to understand and apply the National Building Code of Canada 2015 Edition (NBCC) Part 9 provisions to small buildings and houses.
Learning Outcomes:
At the conclusion of this on-demand course, participants will be able to
Familiarize themselves with the terminology of the NBCC in general and in Part 9 

Interpret and apply the min provisions of the NBC to the design, construction and occupancy of small buildings and houses

Apply the prescriptive standards and acceptable solutions of NBCC Part 9 related to structural design, materials, health and safety, fire protection and life safety. 

Describe the requirements for achieving design compliance using alternative solutions, as set out in NBC Division A and in Subsection 1.1.2. of Division B of 

Identify Code objectives and functional statements associated with prescriptive requirements
Outline
The learning modules are specific to:
NBCC code structure and Parts

Terms and Definitions

Classification of buildings as Part 9 buildings

Fire walls and fire separations

Fire resistance determination

Spatial separations and exterior walls construction

Design of areas, spaces and special structures

Health and safety provisions

Means of egress

Fire protection and life safety 

Material specifications 

Building Envelope 

Structural provisions 

Thermal efficiency 
Reference Materials:
Reference materials for this course, include the 2015 National Building Code of Canada (2015) Volumes 1 and 2 in addition to the training course power point presentation which can be downloaded once registered for the course. 
The format for the virtual training delivery is a combination of:
Online course delivery by the instructor, and

Reading of the reference material,

Online knowledge check exercises.  
Individuals will need to have both volumes of the 2015 NBCC as references for the courses. 
Subject Matter Expert
Amal Tamim, M.Sc. FPE
 
Disclaimer 
 
The ExAC was developed to test the minimum standards of competency acquired by an Intern during the Internship period, to ensure both public safety and the professional and skilled delivery of architectural services. It is adopted by all the Canadian Licensing Authorities. These webinars are not endorsed by the Committee for the Examination for Architects in Canada. 
Cancellation/Refund: Your access begins as soon as payment is processed. Please note, a refund is only available if you cancel within 5 business days of your initial order, and you have not accessed any content. An amount equal to *10% of the registration cost will be retained as an administration fee. Should you cancel after 5 business days, your payment is non-refundable. 
The RAIC reserves the right to cancel registrations for individuals who sign-up for the wrong category (member or non-member). Please select the correct membership category when registering to avoid interruption of service. Log into your member account to access member pricing. If you have any questions about which category to register for, please contact the RAIC education administrator at education@raic.org  
Instructions:  
Access RAIC webinars in 3 easy steps: 
REGISTER online through the RAIC Store 
LOG IN to the RAIC Learning Management System 
ACCESS courses on your personal Education Dashboard