This live session is designed to support those studying the NBCC in preparation for the Examination for Architects in Canada (ExAC)* exam.
Ask An Expert - NBCC Edition: Live Q & A Session 
Foundations of Practice Series
Topics: Practice, Building Code
Length: One 1-hour live Q&A session
What's included:  Live Q&A session
Date and Time:  August 24, 2023, 1pm - 2pm ET
Registration Closes: August 17, 2023 at 5pm ET
This session will not be recorded.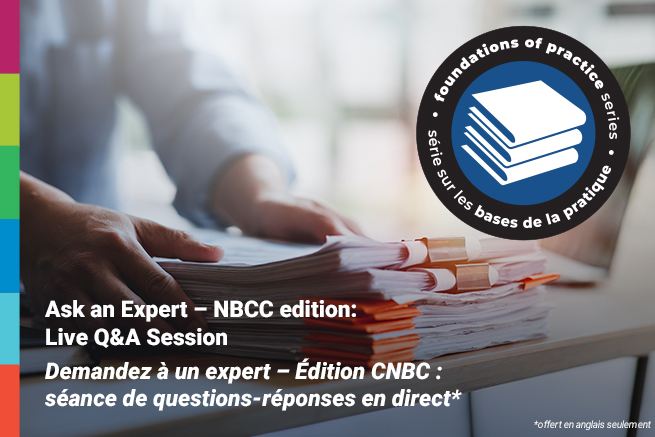 Event Description:  Join an expert for a Q&A sessions where you'll have the opportunity to ask questions and hear what other participants want to know. These live virtual sessions are designed to support individuals in preparation for the Examination for Architects in Canada (ExAC) exam. The session will refer to both volumes of the 2015 NBCC. Registrants can submit questions ahead of time and ask questions in person. 
Subject Matter Expert
Eddy LaRocque, M. Eng, P. Eng, Ing. 
Eddy is a Principal Engineer with Jensen Hughes. Spanning over 42 years, his professional career covers a broad range of international and local work in both the public and private sectors. He has been an Authority Having Jurisdiction (AHJ) in two major cities in Canada and has extensive domestic and international experience in fire protection engineering and code consulting across industry such as residential, commercial, aeronautical, industrial, nuclear, energy storage facilities and highly protected risk facilities. He is experienced in assessing fire and building code compliance, evaluating and designing fire detection and suppression systems, developing fire hazard assessments, fire response needs analysis, and conducting third party reviews and facility audits of fire protection inspection, testing, and maintenance programs, and fire program audits. He is nationally known in the fire protection industry, having served on National Fire Code, National Building Code, NFPA, CSA and CAFC Standards committees, as well as provincial building and fire code committees. Eddy has been active on OIQ (Quebec) and APEGA (Alberta) Practice Standard Committees.
IMPORTANT: Each session requires a minimum of 10 registrants in order to run. If the session does not reach the 10-person minimum, the session will be cancelled. When registration closes the RAIC will reach out to registrants and let them know if the 10-person minimum has been reached. If it has not been reached, registrants will be offered a refund or the ability to switch their registration to one of the upcoming sessions in August, September, or October. 
RAIC also offers an asynchronous NBCC course available in eight 2-hour online learning sessions. This is an interactive, highly engaging course that can be taken at the participant's pace. More details available here!
If you are currently registered in the NBCC course bundle, this session is free! Check the course page on the LMS for details!