Whether you're seeking courses on ExAC prep, national building code, contracts, law, or business, the RAIC Foundations of Practice Series is the place to start.
Students, interns, and newly licensed architects can build a strong foundation for their careers with webinars, workshops, and online courses specially designed for the needs, schedules, and budgets of upcoming professionals.
The RAIC Foundations of Practice Series will set you apart with:
flexible and accessible learning opportunities
peer-to-peer networking opportunities
support with important career milestones
access to industry experts and knowledge
curated content unique to the new professional
The RAIC is Canada's authoritative source of education and resources.  Position yourself for opportunities and advance your career with the RAIC Foundations of Practice Series.
As always, RAIC members enjoy discounts or free access.
RAIC Emerging Practitioners (EP) Webinars and Events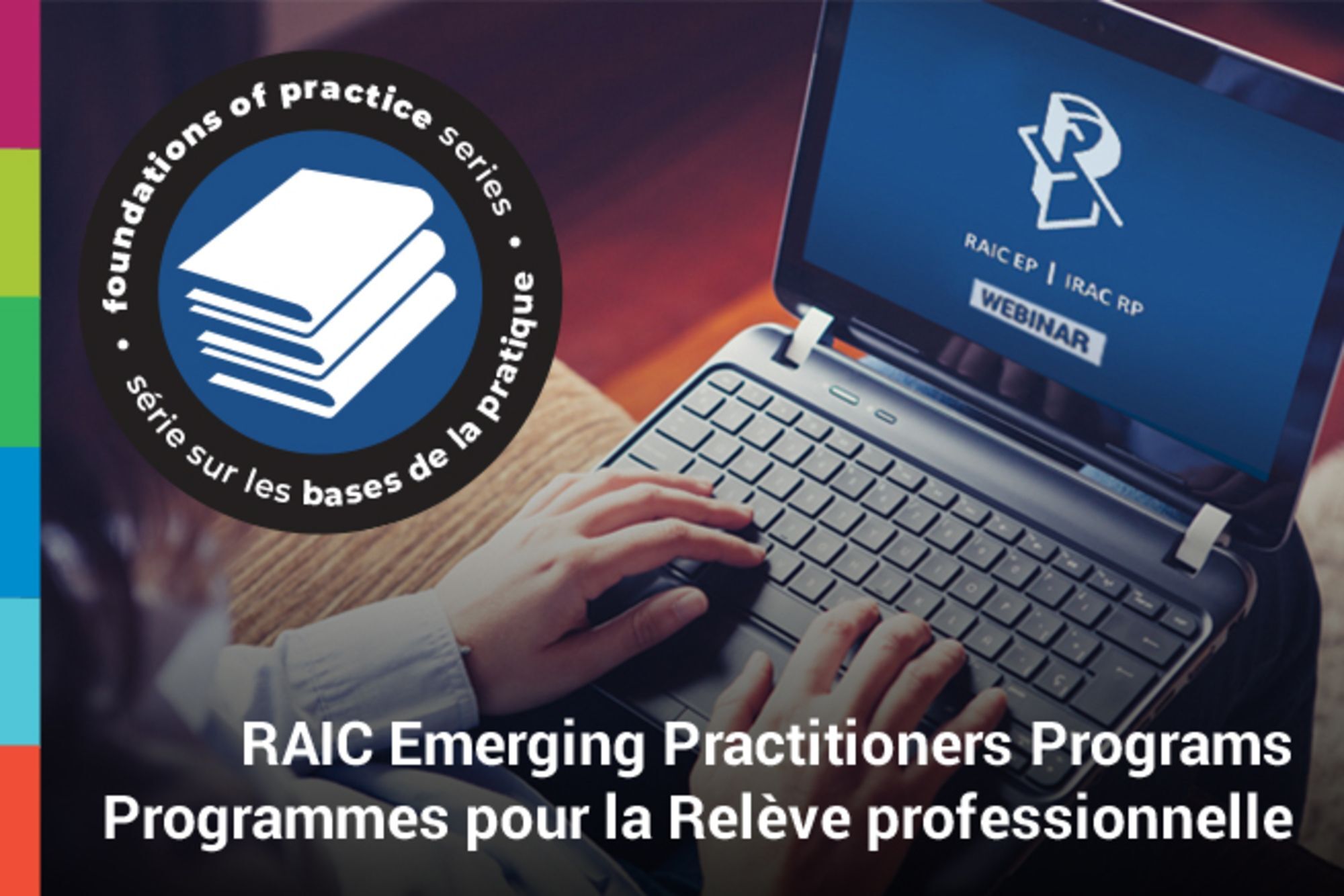 PAST EVENTS
RAIC EP Bidding & Contract Award and Contract Admin Webinar 2019
Saturday, April 13 and Sunday, April 14 - Live in Toronto and Online (REGISTRATION IS NOW CLOSED)
Your success in the 2019 ExAC exams is important not only to your career but to the profession; this is why the RAIC Emerging Practitioners group have developed a comprehensive and interactive Contract Administration live webinar and lecture session with CA expert, CHOP contributor, and experienced instructor Jim Mansfield and Senior Contract Administrator, Michael Paquette. This advanced course goes beyond the reference materials into the practical application of the procedures and theory giving you insights to Bidding & Contract Award and Contract Administration you could not learn by studying alone. Learn more.
In-person venue provided by: KPMB Architects
KPMB Architects is an award-winning, internationally recognized Canadian practice. It is notable for its unique hybrid form of architecture and practice, developed to respond to our multi-cultural, dynamically changing world. This is manifested in the diversity of the portfolio for culture, education, healthcare and paradigm shifting climate responsive design. 
RAIC EP National Building Code Webinars Part 3 + Part 9
September 2019
Join the RAIC Emerging Practitioners (EP) for the returning National Building Code live continuing education webinars available across Canada, with Part 3 and Part 9 in September.
RAIC EP Webinar on the National Building Code of Canada, Part 3
RAIC EP Webinar on the National Building Code of Canada, Part 9
RAIC Foundations of Practice ExAC Q&A Live Webinar
October 2019
New this year, the RAIC  will be hosting a live ExAC Q&A webinar in October!
These webinars are designed to bridge the gap between architectural education and practice; providing practical knowledge and experience aligned with the Internship in Architecture (IAP) program's requirements.
RAIC ExAC Live Q&A Webinar 2019