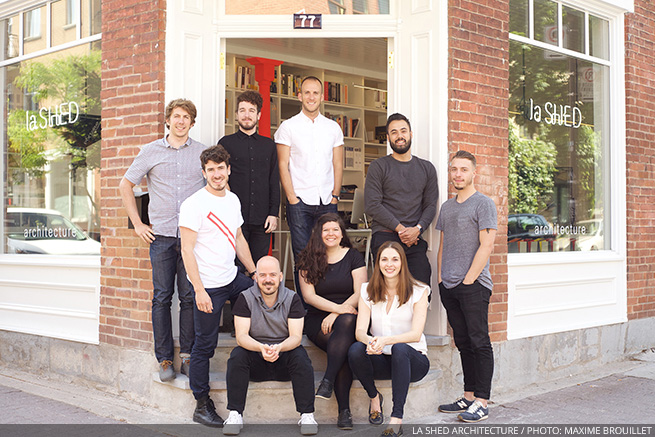 OTTAWA, March 4, 2016 – A Montreal firm that designs fresh, contemporary houses inspired by the informal qualities of Montreal's residential lanes is the recipient of the 2016 Emerging Architectural Practice Award given by the Royal Architectural Institute of Canada (RAIC).
La SHED Architecture, a nine-person office, was founded in 2011 by Renée Mailhot, MRAIC, Sébastien Parent and Yannick Laurin. The trio graduated in 2008 from the University of Montreal, where they met. Their work includes free-standing houses and house additions in tight urban contexts as well as small commercial projects and vacation properties.
"This is a recently created firm that has developed a coherent and consistent body of high-quality architectural work in a rapid time frame," said the five-member jury. "It has achieved this while often working within limited budgets."
The Emerging Architectural Practice Award recognizes the principals of an emerging architectural practice that has consistently produced distinguished architecture. The award recognizes the quality of built work, service to clients, innovations in practice and public recognition.
"La SHED has developed a strong urban signature," said the jury. "The work is original, authentic, and exhibits a strong sense of curiosity. The projects take a sophisticated and often inventive approach. The examples appear well rooted in the local community."
The award will be presented at a ceremony at the RAIC Festival of Architecture, which takes place in Nanaimo from June 8 to 11.
Download images HERE
For three years after graduation, the founders interned at larger firms, while spending evenings and weekends on la SHED projects. They shared a triplex and worked from their living rooms, passing files and computers from one floor to the next. When they obtained their architects' licenses and had enough contracts to keep busy, they devoted themselves full-time to la SHED.
The firm's name alludes to its work, which expresses the eclecticism of the alleyways shaped by the old storage structures typically found behind Montreal homes.
Located in a storefront, the studio aims to bring architecture closer to the general public, where designing a personalized living space is not a luxury but an accessible service.
"La Shed has found a way to produce great work in a market in which architectural success is often elusive – the small home renovation," said RAIC President Allan Teramura, FRAIC.
 "Their accessible designs reflect the life circumstances of their clients while achieving a high level of design character," he said. "One imagines that working with them is also a lot of fun."
The jury:
Brian MacKay-Lyons, FRAIC, 2015 RAIC Gold Medalist, Halifax
David Clusiau, FRAIC, Senior Principle at NORR, Toronto
Ranjit Dhar PP/FRAIC, Past President of the RAIC and independent consultant, Toronto
Monica Adair, MRAIC, 2015 recipient of the RAIC Young Architect Award, Saint John
François Cardinal, 2015 recipient of the President's Award for Media in Architecture, journalist at La Presse, Montreal.
ABOUT THE RAIC
The Royal Architectural Institute of Canada is the leading voice for excellence in the built environment in Canada, representing about 5,000 members. The RAIC advocates for excellence in the built environment, works to demonstrate how design enhances the quality of life and promotes responsible architecture in addressing important issues of society.