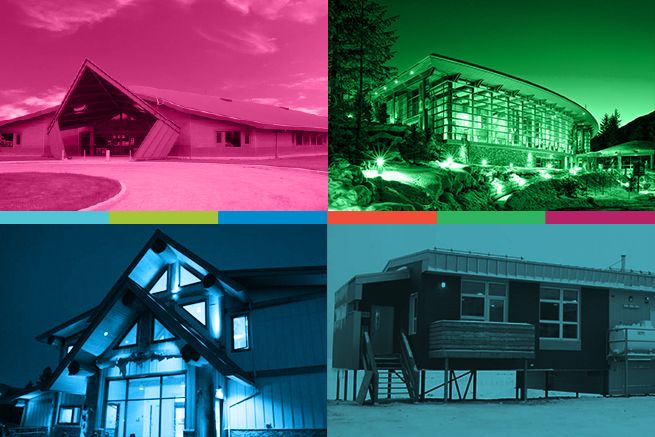 ---
Introduction and Acknowledgements
The Royal Architectural Institute of Canada (RAIC) initiated Four Case Studies Exemplifying Best Practices in Architectural Co-design and Building with First Nations as a resource for designers, clients, funders, and policymakers.
As the leading voice for excellence in the built environment in Canada, the RAIC believes that architecture is a public-spirited profession with an important role in reconciliation – addressing injustices by giving agency back to Indigenous people.
The document builds on the success of the RAIC International Indigenous Architecture and Design Symposium held in on May 27, 2017. At this ground-breaking event, Indigenous speakers from Canada, New Zealand, Australia and the United States presented best practices in co-design with Indigenous communities and clients. Co-design is a collaborative design process between architects and the Indigenous community as client.
The symposium was a project of the RAIC Indigenous Task Force which seeks ways to foster and promote Indigenous design in Canada.  Its members include Indigenous and non-Indigenous architects, designers, academics, intern architects and architectural students.
The four case studies presented here further explore and exemplify best practice themes, specifically in the context of three First Nations and one Inuit community in Canada. 
Ottawa consultant Louise Atkins carried out the research and writing. Special thanks are extended to the Department of Indigenous Services Canada for funding the case studies, and to the 15 individuals interviewed for the projects who generously shared their time, insights and inspiring stories.
---
Overview and Summary of Best Practices
Overview
The four case studies set out to explore best practices in architectural co-design in the context of three First Nations and one Inuit community in Canada. One case study was selected from each of four asset classes – schools, community and cultural centres, administration and business centres, and housing. These asset types would be of special interest to First Nation, Inuit, and other Indigenous communities and to the Department of Indigenous Services Canada as they consider the architectural design, building, and funding of new community infrastructure facilities and housing. 
Best practice insights from these studies can inspire communities and help shape government funders' policies and practices.
Summary of Best Practices
Interviews were conducted with architects and designers, Indigenous chiefs and community leaders, Indigenous government employees, contractors, and construction company officials, academics, and government funders.  Questions posed in interviews built on best practice themes from the RAIC International Indigenous Architecture and Design Symposium as well as value-added considerations such as Indigenous employment. Best practice findings are divided into four groups.
Project Initiation
The impetus for each project was different. Some were replacement assets. The Six Nations of the Grand River were replacing one-room schools dating from the early 20th-century.  When the Splatsin te Secwepemc lost their "Log Cabin" convenience and artisan craft store in a fire, they replaced it with a much larger business hub, artisan marketplace, and offices. The Squamish and Lil'Wat First Nations leveraged the opportunity of the 2010 Olympic Games to create a cultural centre as a showcase to the world in their shared traditional territory of Whistler, BC. In Nunavik, the major stakeholders came together to design, build and monitor a pilot duplex house that could be a prototype for sustainable northern housing that is culturally responsive, better adapted to climate change, and highly energy efficient.  
Co-design Process
Co-design is the collaborative design process between the architects and the Indigenous community as client. In the four case studies, best practices included architects listening carefully to understand the community's vision, and working closely with the client throughout the design phase. The resulting building designs were anchored in Indigenous peoples' connection with the natural world and reflected who they are as people – their traditions, culture, values and lifestyles, and their aspirations.
Co-design is not a formula. In each case study, co-design took its own distinct form. In one project, the architect worked with a large steering committee of Indigenous chiefs and stakeholder officials. Another included Elders as well. A third used a design charrette with a cross-section of Indigenous tenants and a fourth added community open houses to the process. Two of buildings were designed by Indigenous architects, and two were by architects and designers with experience working in Indigenous contexts.
For all four projects, Indigenous respondents underlined the importance of architects who listen well to the community vision and engage in ongoing dialogue. Through an iterative process, the architects brought design options and solutions until their clients were satisfied that their vision developed into a tangible design that met functional requirements and reflected their values, culture, traditions, lifestyles, and aspirations.
Designs referenced ancestral building forms and Indigenous peoples' reverence for and relationship with the natural world. In every case example, the buildings were anchored to their natural surroundings and most integrated traditional materials, particularly wood. Each project maximized energy conservation through mechanical means, insulation, and designs that utilized natural heating, cooling, and air circulation systems.
The buildings were further enhanced through siting, orientation and natural light. In keeping with Haudenosaunee traditions, Emily C. General School is oriented to the cardinal directions, tracking the sun through the days and seasons. Following Squamish and Lil'Wat traditions, entrances to their cultural centre face east. For the Nunavik pilot duplex, reversible front entrances are an architectural innovation that allows optimal positioning of every house for solar gain and bright living spaces.
Architects and designers and their clients carefully shaped the interior spaces, commissioned artists' installations and added historical and contemporary artifacts to convey the cultures and facilitate traditional practices and teaching.
For example, visitors to the Quilakwa Centre and band members alike can sit and enjoy their Tim Hortons coffee among massive log posts and beams carved with images of bald eagles, salmon, fish, and scenes of traditional Splatsin life.
Building Process
Each community took a hands-on approach to the building process. Strong Indigenous community capacity was demonstrated in project oversight and management. Indigenous construction firms and entities employing Indigenous workers in a broad range of skilled trades built major portions of the projects. Leaders stayed involved and committed the necessary resources to ensure project completion. These best practices could be formulated into a guideline enabling First Nation funders to recognize and assess capacity and shift control of capital projects to qualified First Nations.
Steering committees continued to play an important oversight role, guiding development and consulting with architects, designers, and construction managers, right through to project completion. 
These buildings and facilities were built by Indigenous people. Project management and the majority of the construction was done by Indigenous-owned entities employing local Indigenous tradespeople, exemplifying best practices in employment, skills development, pride in the work and a sense of community ownership of the completed buildings. In every case, these buildings are highly-valued by Indigenous community residents and continue to be well-maintained.
First Nation leaders interviewed for the case studies believe that for communities with proven track records in building projects which are on-specification, on-time, and on-budget, the funding agencies should objectively assess and recognize this capacity and pass control to the First Nation for all aspects of their building projects.
Two case study projects involved First Nations who were large or sole funders of their buildings. The Quilakwa Centre was completely self-funded by the Splastsin First Nation through a combination of insurance and trust funds and loan financing. Large cultural complexes are expensive to build, and despite contributions from all levels of government and the private sector, a large funding gap remained for the Squamish Lil'wat and Squamish Cultural Centre. Both First Nations contributed their own band resources and business know-how to get the projects done.
For all four projects, Indigenous leaders were determined to complete their projects to reflect community identity and become a base for cultural reclamation and growth.
Outcomes

Indigenous respondents all felt that the impact of their co-designed buildings was significant, with positive, far-reaching outcomes. They appreciated the role the architectural co-design process played in creating buildings that resonate with the community and will be of lasting value.  Architectural innovations exemplified in these projects have since been applied more broadly to other building projects.
Schools

After 20 years in operation, the IL Thomas and Emily C. General Elementary Schools at Six Nations of the Grand River continue to serve as positive teaching environments and community spaces and are well-maintained. The children are aware and proud that their grandparents, aunts, and uncles built the schools, and vandalism does not occur. The co-design process with the Indigenous architect and project manager, Brian Porter, MRAIC, enabled steering committee members to develop fluency in design and construction processes – knowledge they have applied through a dozen subsequent building projects. Six Nations members continue their tradition as skilled builders and tradespeople. They are respected and employed in their home community, other First Nations and in major North American cities. Read case study
Cultural Centre

For the Squamish Lil'Wat Cultural Centre in Whistler BC, the two First Nations sought out and hired an Indigenous architect, Alfred Waugh, MRAIC. Their goal was to give this large and complex project to an Indigenous architect to develop, innovate and become a role model for Indigenous youth. Today the Squamish Lil'Wat Cultural Centre is a spectacular showcase for the two cultures, welcoming visitors from around the world and inspiring understanding and respect among people. It is also preserving and transmitting architecture, traditional knowledge, culture and spiritual teachings through the generations. Indigenous Youth Ambassadors employed at the centre are enjoying good careers in the tourism and hospitality industries. There are broader outcomes as well. Following construction of the cultural centre, the Squamish established a large Indigenous trades school. The cultural centre has deepened the bonds between the Squamish and Lil'Wat tribes, who are undertaking new joint projects. Architect Alfred Waugh has adapted innovations exemplified in this project to some of his subsequent major design projects. Read case study
Administrative and Business Centre

The Quilakwa Centre, located on Highway 97A in the BC interior attracts many travellers and tourists. With a Tim Hortons restaurant, convenience and craft store, and gas bar, the Splatsin Development Corporation has doubled the number of retail employees and payroll. Due to greatly increased sales of artisan crafts in the new space, traditional basket making and beading are flourishing, and new art forms are emerging. Visitors are enjoying this unique building and showcase for Splatsin culture, history, arts and business acumen. As a favourite local gathering place for people from the reserve and from nearby Enderby, it is strengthening connections between the two communities. Read case study
Housing

In Nunavik, traditional ways of life are important to identity and wellbeing. Tenants in the Nunavik pilot duplex houses expressed great satisfaction with their physical comfort and the capacity of their homes to support cultural practices. Owing to warm and cold porches and the large flexible kitchen and living space, a hunter and his family can store and butcher game, and hold traditional country food feasts on the floor. Another unit, occupied by a mother and her adult daughter, is an ideal environment for them to sew mitts and boots in the bright sunlight of south-facing windows, and to store sealskin pelts on their outdoor balcony. For these pilot homes, architect Alain Fournier, FIRAC, designed reverse entrances – a true innovation which allows optimal positioning of every house for solar gain. As a prototype, this pilot duplex is being monitored for physical and socio-cultural performance, a best practice that will contribute to sustainable northern housing design. Read case study
---
Conclusion
These four case studies illustrate that through a collaborative co-design approach, architects were successful in taking the visions, ideas, and preferences of their Indigenous clients, and turning them into designs that resonate with the community and are technically sound. These designs and building projects reflect Indigenous identity and become a base for cultural reclamation and growth.
In this way, architecture has an important role in giving agency back to Indigenous people and promoting their aspirations. 
---
Case Studies:
Case Study 1: First Nation School
Emily C. General Elementary School and IL Thomas Elementary School
Six Nations of the Grand River, Ontario
Architect: Brian Porter, MRAIC
Case Study 2: First Nation Cultural Centre
Squamish Lil'Wat Cultural Centre
Squamish and Lil'Wat First Nations, British Columbia
Architect: Alfred Waugh, MRAIC
Case Study 3: First Nation Administrative and Business Centre
Quilakwa Centre
Splatsin te Secwepemc First Nation, British Columbia
Architect: Norman Goddard
Designer: Kevin Halchuk
Case Study 4: Inuit Housing
Pilot Nunavik Duplex
Quaqtaq, Nunavik, Quebec
Architect:  Alain Fournier, FIRAC
 
---
Funding for this study was provided by the Department of Indigenous Services Canada.
Information on the Royal Architectural Institute of Canada Indigenous Task Force and its membership may be found here.