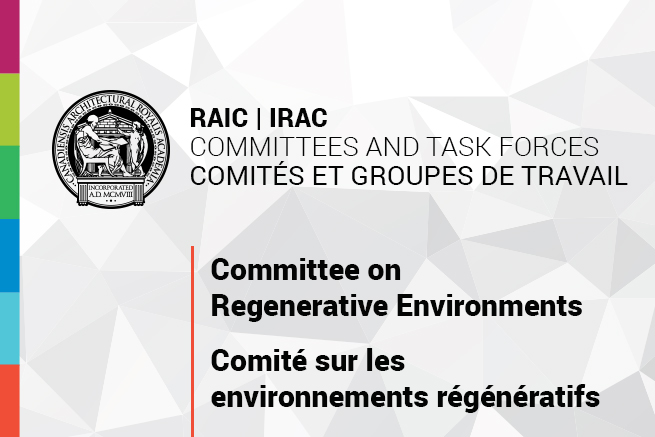 ABOUT THE COMMITTEE ON REGENERATIVE ENVIRONMENTS (CORE)  
Climate crisis, loss of biodiversity, environmental degradation, social inequity and their resultant impacts on quality of life represent our greatest and most urgent societal challenges of the 21st Century. What we build, where we build, and how we build will prove critical. Taking the position that enhancing quality of life involves more than merely 'sustaining'; regenerative development and design are becoming understood as intrinsic to empowering the capacity for people and place to thrive, and as such, key to realizing the above mandate.  
The purpose of the Committee is to support the profession's collective capacity, collaborative agency, and ability to respond to complex, systemic challenges, in a way that is inclusive, inspiring and equitably enabling; so that we can collectively help create a world that nurtures quality of life and empowers people and place to thrive. To this end, the CORE will seek to engage, educate, inspire, motivate and empower RAIC members and the broader community to regenerative design.  
The CORE Commitee is chaired by Mona Lemoine, MRAIC.  
RESOLUTION FOR URGENT AND SUSTAINED ACTION ON CLIMATE AND ECOLOGICAL HEALTH  
The RAIC recognizes that the built environment is a major contributor to climate change, that the continued use of the status quo practice has contributed to the climate emergency, and that architects through their central role in shaping the built environment have both the capability and moral duty to directly enable transformational climate solutions. This resolution intends to provide a framework for the RAIC to prioritize and support urgent and sustained action allowing its members to design for holistic health, resilience, and regenerative built environments.  
Click here to read the Resolution.   
RAIC 2021 CONGRESS ON ARCHITECTURE  
On October 4, 2021 —World Architecture Day 2021 — the inaugural RAIC Congress on Architecture will address Climate Change and Architecture in Canada.  Over the next year, the RAIC will host a series of virtual events leading into the 2021 Congress on Architecture and the development of a Climate Action Plan.    

   
Learn more about the 2021 Congress here.
For more information about CORE, please contact:  
Kristen Harrison  

RAIC Advocacy and Engagement Manager