Workshop - From Point-Cloud to Existing Conditions BIM with Revit
The Royal Architectural Institute of Canada (RAIC) is pleased to announce the launch of the first heritage conservation workshop in partnership with the Carleton Immersive Media Studio (CIMS). This unique workshop will take place from November 15-17, 2019 in Ottawa, ON.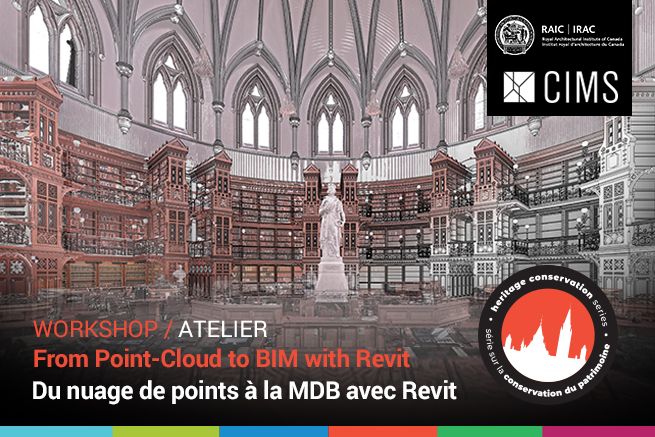 Take advantage of the opportunity to spend a weekend working in the Carleton Immersive Media Studio (CIMS) Lab and learn more about Building Information Modeling (BIM) for heritage (HBIM) and existing conditions. An exclusive wokshop from the Winners of 2018; CanBIM Best in Academic and Best in Innovation Award for the Library of Parliament BIM. This workshop will help participants better understand the complex and unique challenges in managing a BIM project for heritage and existing conditions, including managing large and diverse datasets, file size, and selecting the appropriate level of detail and model tolerance for your project.
Find out how to maximize the efficiency of your project by applying simple fundamental tips for Heritage BIM, and learn hands-on, step-by-step techniques for modeling basic building elements to point cloud data including walls, slabs, windows, and ceilings. The course will include a tour of a designated heritage building with a demonstration of capturing point cloud data with terrestrial laser scanners. Participants will receive an illustrated tutorial outlining all the steps required to model basic building elements from point-cloud and will be able to ask instructors questions throughout the training.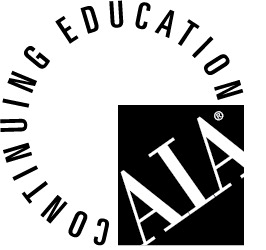 This is an AIA approved workshop and so this unique opportunity will qualify for obtaining AIA continuing education credits as well.
The workshop also includes a 4-hour online pre-learning e-module, designed to ensure participants have a foundational knowledge of the topics and programs to be explored during the in-person workshop experience. A post-workshop online seminar will also be held to further assist participants.
Dates: November 15-17, 2019 (The course will begin on Friday evening and run until late afternoon Sunday.)
Location: Carleton Immersive Media Studio (CIMS) Lab, Carleton University, Ottawa, Ontario
Price: $2,000 for RAIC members, $2,400 for non-members, plus applicable taxes. (Includes workshop, resources and materials, online pre-learning e-module, post-workshop online seminar, and meals.)
Learning Units: 20 credits
Limited spots are available. For more information please read our FAQ link below or contact Sheba Varughese, Program Officer, at 613-241-3600 x 203 or svarughese@raic.org.
Registration Deadline: October 18, 2019
This workshop will be provided in English only. Carleton University is an English-based institution.
Instructors:
| | |
| --- | --- |
| | Stephen Fai holds a professional BArch (Carleton) and a PhD in religious studies (Ottawa). He is an Associate Professor at the Azrieli School of Architecture and Urbanism where he teaches in the design studio and co-chairs the PhD program. He has taught courses on architectural representation and on various themes in the history and theory of architecture. Dr. Fai served as the acting director of the School of Architecture (2002 - 2004), director (2004 - 2005), and associate director, graduate programs (2006 - 2010). His current research interests are at the intersection of architecture, image making, and hybrid digital/analogue technologies. He became the director of the Carleton Immersive Media Studio (CIMS) in 2007 and — over the past decade — has developed five lines of inquiry that address the application of digital technologies in the context of architectural conservation and rehabilitation. Specifically: digitization; building information modelling (BIM); simulation; digitally assisted fabrication; digitally assisted storytelling. |
| | Lara Chow is the Associate Director at the Carleton Immersive Media Studio (CIMS) — a research centre associated with the Azrieli School of Architecture and Urbanism at Carleton University. The research agenda of CIMS is concerned with the study and development of hybrid forms of representation and fabrication for architectural rehabilitation and heritage conservation. She has led several research teams for projects at CIMS including the Centre Block BIM, Library of Parliament BIM, and the development of an urban model of the National Capital Region of Ottawa. Lara holds a Bachelor of Architectural Studies and Masters of Architecture from Carleton University. |
| | Tyler Grunt graduated from Carleton University with a Bachelor of Architecture. Throughout his studies and for the past two years, he has contributed to multiple projects at the Carleton Immersive Media Studio. Tyler's in-depth knowledge of Building Information Modelling (BIM) has led him to his current position as Team Lead for BIM projects involving the Parliamentary Precinct Buildings of Canada. |
When
2019-11-15 18:00 through 2019-11-17 16:00
Location
Carleton Immersive Media Studio (CIMS) Lab, Carleton University




Ottawa

,

ON




Canada
Contact
Phone:
1-844-856-7242 ext. 203