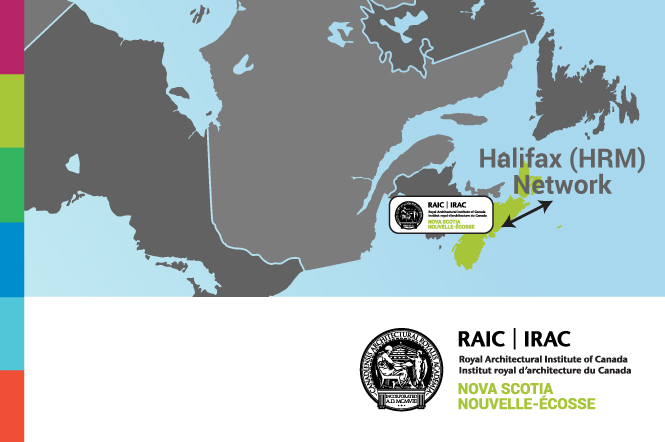 RAIC Architecture for Young Readers Project 

Fueled by the desire to strengthen the presence of books on architecture for young readers in their local public library, the RAIC Halifax network is proud to partner with Halifax Public Libraries to envision a book sponsorship project. This collaboration aims to build a comprehensive collection about architecture, specifically targeted towards children, adolescents, and teens. 
Books are, above all, a vehicle for meaning and values, a medium for knowledge and imagination. 
-Rosi and Evans, 2005 
Get involved! 
You can support this program and help build this collection by sponsoring one or more books.  Each book sponsorship is $25 and includes a personalized bookplate.   
To acknowledge and recognize sponsorship, all contributors will have the option for an individual or firm name added as a bookplate (decorative label in the front page of the book). 
Q: What books are eligible for sponsorship? 
You can select from over 100  eligible titles here.  This book list has been prepared collaboratively with RAIC Halifax Network volunteers and Halifax Public Libraries staff.  
Q: What happens when I sponsor a book? 
Once you select which book(s) you want to sponsor, the RAIC will be in contact with you to collect your sponsorship. Books will be purchased by Halifax Public Libraries in June and July 2021, and bookplates will be added before adding titles to the collection.  If you choose to be recognized, the RAIC will publish a list of all sponsors in October 2021. 
Q: Can I sponsor more than one book?  
Yes- you can choose multiple books from the selection form. 
Q: How long is this project running?  
Sponsorship is open from April 6 to May 28, 2021.
Q: Can I donate a physical book?  
At this time, the sponsorship program does not accommodate donations of physical books.  
Q: What does the bookplate look like?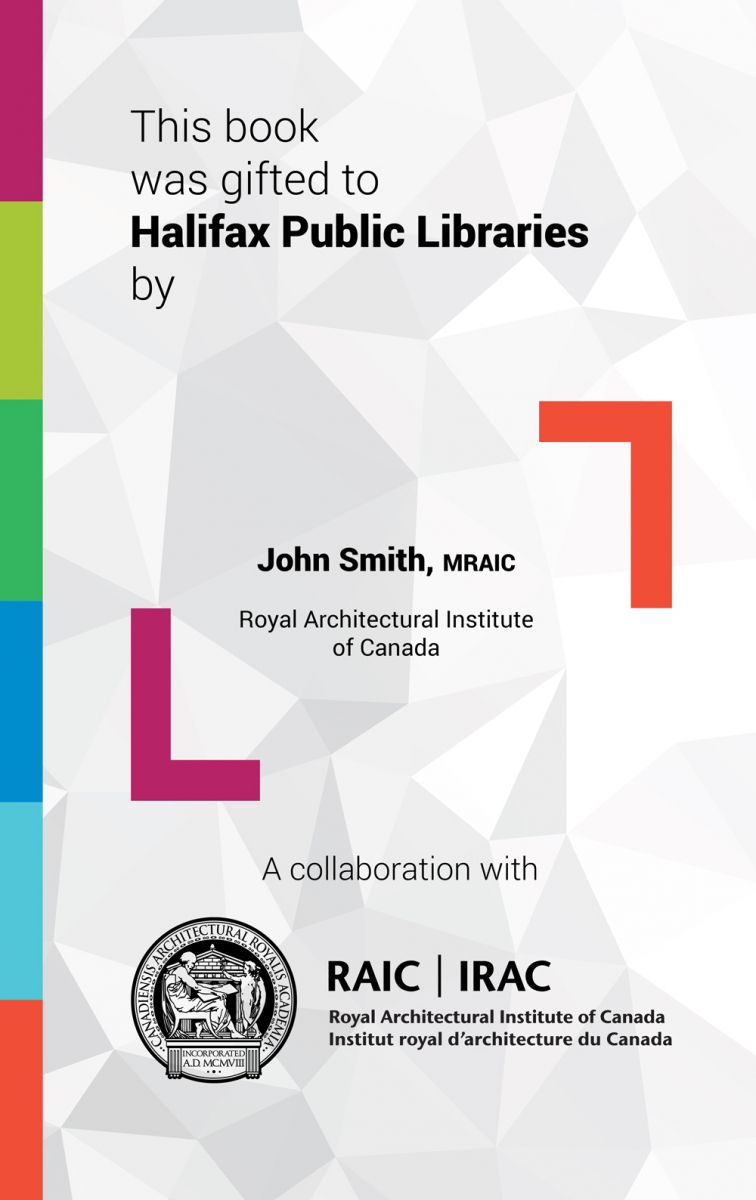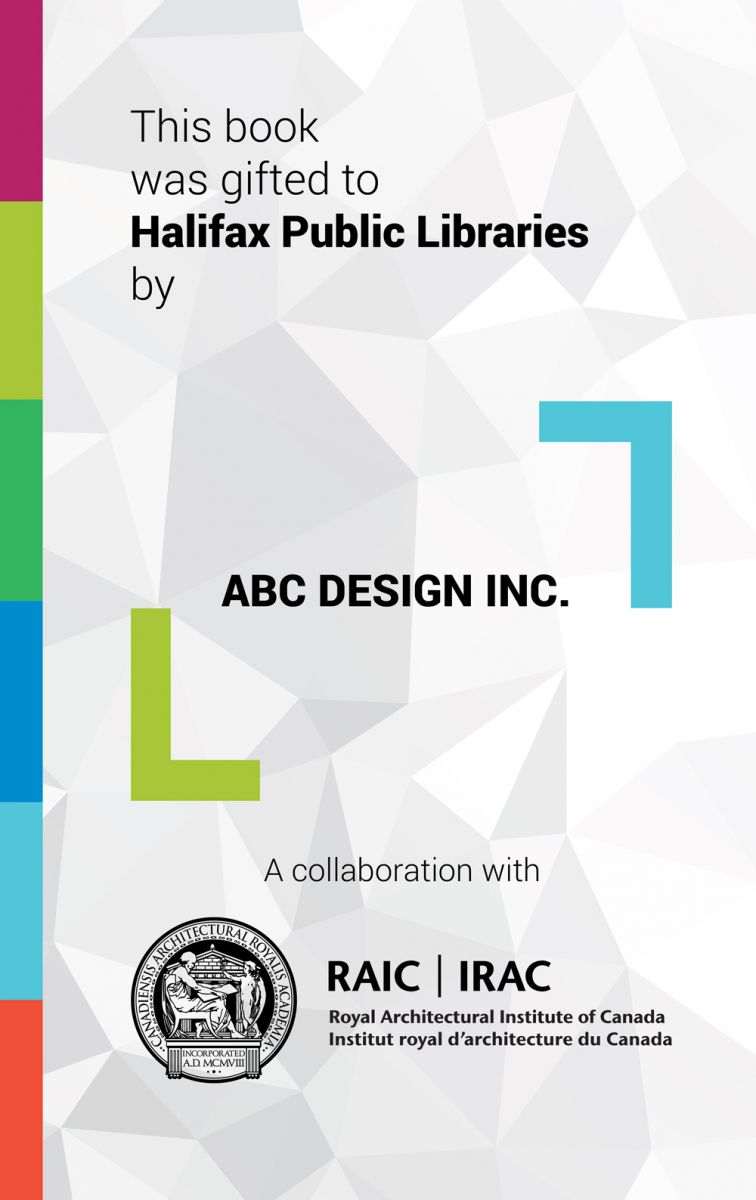 Q: When will the new collection be available? 
It is expected that books will be in the collection in September and October 2021. 
Q: Is my sponsorship tax deductible?  
Yes. If you would like a tax receipt, be sure to indicate "yes" in the sponsorship form. Tax receipts will be issued directly by Halifax Public Libraries. To be issued a tax receipt, you will need to provide your name and address. For inquiries about the RAIC Architecture for Young Readers Project, email the RAIC
Acknowledgement 
This initiative was made possible due to the invaluable contributions of the RAIC Halifax Network volunteers and Halifax Public Libraries staff. A special thanks to Ann Marie Duggan for her vision and leadership in this project. 
References 
Rosi, M., & Evans, G. (2005). Book donations for development. Unesco. 
About Halifax Public Libraries: 
At Halifax Public Libraries, people are at the heart of all we do. We believe every individual in our community wants to thrive and contribute. Supporting this collective growth is why we exist. Comprised of 14 branches, Halifax Public Libraries serves residents of Halifax with our collection of close to 1 million items and a wide range of services creating dynamic public spaces for everyone. By building on our commitment to access, diversity, service, and technology, Halifax Public Libraries attracts more than 3.6 million in-person visits each year. In 2020 we served our community differently, and responded to community needs--we saw more than one million digital titles borrowed and welcomed thousands of new card holders through a new virtual registration process! Everyday we strive to reflect our community; we are a resource for everyone and a launch point for growth.    
Upcoming Halifax (HRM) Network Meetings 
Halifax (HRM) Network Meetings are held on the third Friday of the month, at 12:00 p.m. AT.
Halifax Network meetings are currently on hold, pending in-person meetings.
*All meetings will be held virtually unless otherwise noted.
**RAIC members are automatically members of their closest network. We welcome non-RAIC members to attend a meeting to find out if they would like to be involved.
RAIC Connects 
RAIC Connects is a virtual community where members can share ideas, discuss practice challenges, post questions, read and share blog posts and news articles, learn about fellow RAIC members, and benefit from shared knowledge, resources, and information. All RAIC members are automatically members of RAIC Connects, as well as their provincial Chapter community, as a member benefit.
Click here to join the conversation in the Nova Scotia Chapter community on RAIC Connects.