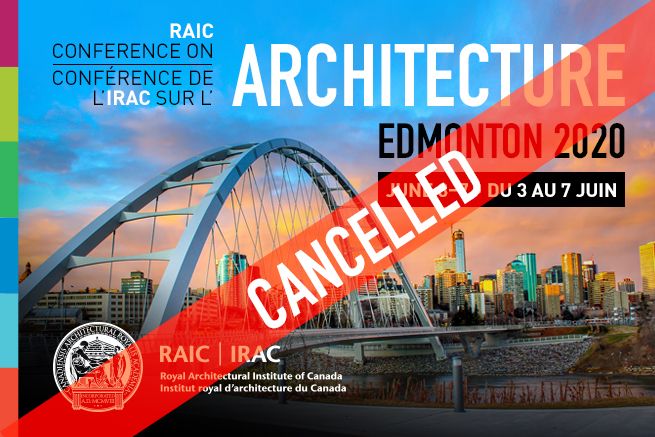 May 4, 2020 
The RAIC's Annual Conference on Architecture is an important gathering for the profession in Canada. As the state of our day-to-day lives continues to shift and we adapt to new realities, the RAIC's commitment to supporting the practice remains a top priority.  The RAIC has therefore transitioned its annual conference to a virtual platform. Join your colleagues and peers in a virtual learning and networking experience. The RAIC Virtual Conference on Architecture brings together professionals at every stage in their career to learn, explore, and discuss the challenges and opportunities facing the practice. 
The virtual program offers eighteen hours of structured learning in a flexible format, including a live broadcast on June 4, 2020 with six sessions, and access to twelve additional on-demand sessions. Participants will learn from industry-leading experts through educational sessions on a diverse range of topics. 
March 20, 2020 
The RAIC has made the difficult but necessary decision to cancel the 2020 Annual Conference on Architecture and all pre-Conference events, scheduled for June 2-7, 2020 in Edmonton, Alberta. This decision is due to the continued rapid spread of the COVID-19 public health emergency.  
RAIC staff have been meticulously reviewing updates from the Public Health Agency of Canada (PHAC), the World Health Organization (WHO) with one issue top of mind, safeguarding the health, safety and well-being of Conference delegates, volunteers, speakers, panellists, exhibitors, and staff. 
In recent days, a number of federal, provincial, and municipal government policy decisions have made the cancellation of the Conference unavoidable.  
Creative problem solving is core to architectural practice and the RAIC is leveraging this strength in planning the next steps. We are exploring alternate virtual continuing education programs with Conference presenters and volunteer leadership as part of our ongoing commitment to enabling meaningful continuing education to support best practices in the profession. 
To ease financial considerations that this cancellation may cause our participants, the RAIC will institute a flexible refund policy, including a 100% refund of registration, sponsorship and tradeshow fees. More details will be released the week of March 23, 2020. In addition, we will facilitate any hotel cancellations that were made in any of the three room blocks using the code provided by the RAIC. 
We will share additional information about our plans through the RAIC bulletin, e-notices and on our  COVID-19: Updates and Information page as we continue to explore the details. Although this is an extraordinary situation, we are committed to keeping the spirit of Conference going and we thank you for your patience as we move forward with the next steps. 
A full FAQ has been released for any questions around the cancelation of the 2020 Conference on Architecture.