Corporate Affiliate Series - Designing for People with Daylight & Fresh Air
The Corporate Affiliate Series is an exclusive, webinar-based series offered by RAIC's Corporate Affiliate members and partners who are committed to salient and informative learning options. Webinars are offered for FREE on Fridays, and RAIC members can receive continuing education credits.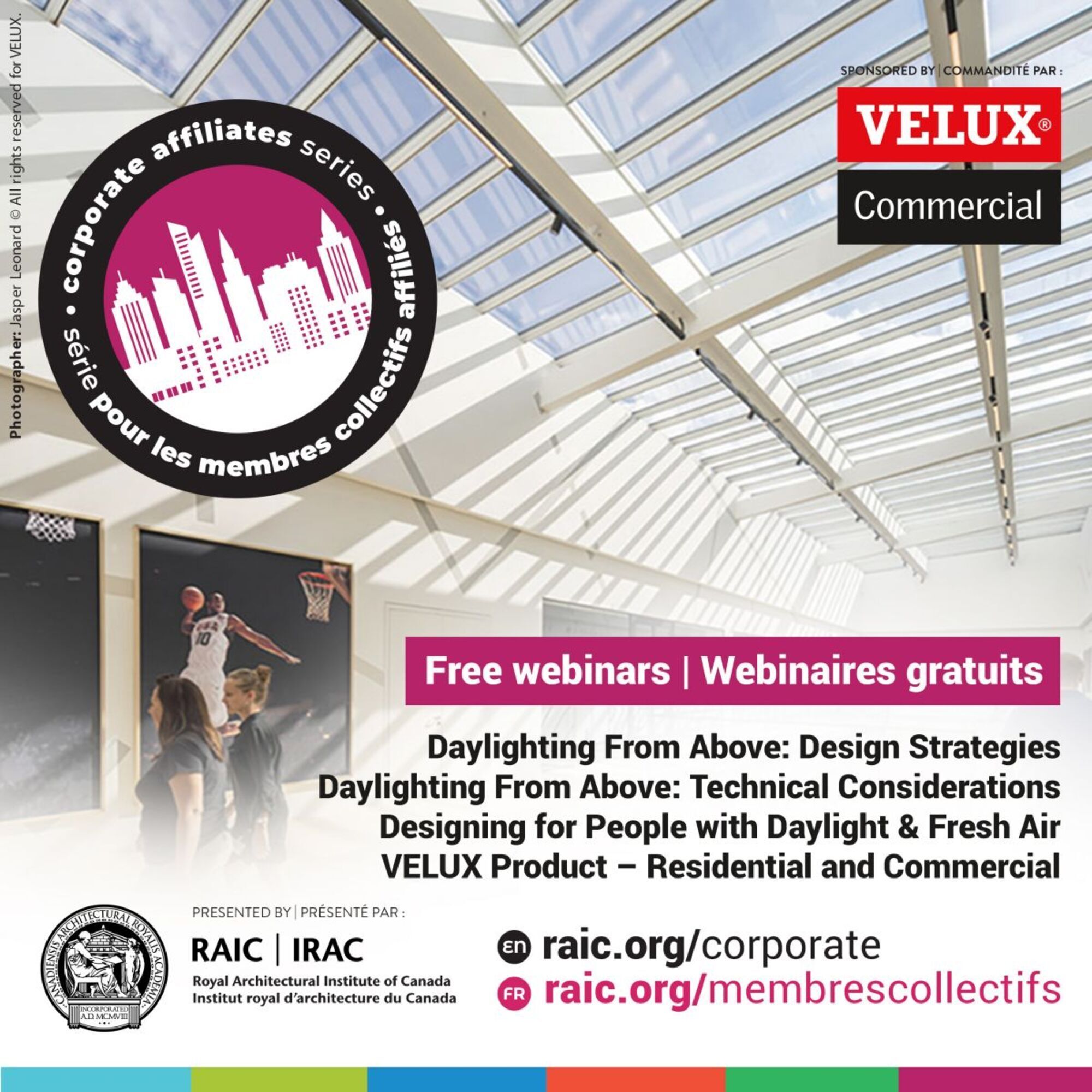 Designing for People with Daylight & Fresh Air
Date: May 15, 2020
Presenters: Monica Bulos and Russell Ibbotson, P.Eng, LEED AP, CTR
SESSION:
Winston Churchill famously said, "We shape our buildings; thereafter, they shape us." In this presentation, we will explore how our buildings change us and the meaning of good design as it relates to the human experience. As more buildings are being designed primarily for energy conservation rather than thoughtful design, we will evaluate the effects of poor design on human health and flourishment, as well as the benefits of good design as it relates to daylight and fresh air on the human mind, body, and overall wellbeing. This presentation will include content relating to research and case studies that link the benefits of a healthy indoor environment to a person's mental capacity, physical functioning, and emotional wellness. Case studies will present various examples of residential, commercial, institutional, public, and community buildings and explore their site conditions, design concepts, and their creative use of daylight to enhance the experience of their spaces.
LEARNING OUTCOMES:
At the completion of this session, the participant/learner will be able to:
Explain the unique qualities and benefits of daylight vs. artificial light
Analyze the use of daylighting strategies in precedents of various building types
Describe the connection between daylit environments to health and comfort
Design human-centric buildings that emphasize the wellbeing of people that use the space
Continuing education learning hours: 1 credit
Monica Bulos graduated from Carleton University's Azrieli School of Architecture and Urbanism in 2018 and gained experience working in the IBI Group Architects' head office in Toronto during her summer terms. Now as the Architectural Project Coordinator at Velux Canada, she has established a great appreciation for the role of daylight and fresh air in good design. Monica has been working alongside architects on commercial projects that include institutional, civic/cultural, retail and office buildings as well as smaller residential and renovation projects. Currently, she is working on gathering and developing research to educate the architecture community about daylighting design.
Russell Ibbotson is a professional engineer with 18 years of experience representing manufacturers in the residential and commercial building sectors. Russell spent the first half of his professional career in renewable energy before transitioning into windows. Russell is now the Technical Manager at VELUX Canada where his team is responsible for commercial business development, building code compliance, product performance, project support and after sales support. Russell has also made volunteering with industry associations a part of his job description including CSC, IIBEC (RCI), and the CHBA. He is a recognized leader in healthy and sustainable buildings.
For over 75 years, the VELUX Group is the world leader in the manufacturing of residential skylights and is one of the strongest international brands in the building materials sector. With over 300 patents in skylight-design, VELUX is known for product innovation, quality and durability. For over a decade, VELUX Canada has been ramping up its commercial product line to serve the Canadian market better. Our commercial program includes the commercial Sun Tunnel tubular skylight, the revolutionary Dynamic and Energy Dome skylights and, more recently, the VELUX Modular Skylight (VMS), a prefabricated modular skylight designed in collaboration with Foster + Partners. VELUX continues to lead the residential industry with; The No Leak Skylight, Sun Tunnel skylights, roof windows, as well as a range of blinds, installation solutions and intelligent home controls. Whether your project is residential or commercial, offer your customers the innovation and quality they deserve at an affordable price. For more information visit velux.ca/professionals.
REGISTRATION DEADLINE: Wednesday, May 13, 2020, at 5:00 p.m. ET.
Webinars are offered for FREE and RAIC members can receive continuing education credits.
Certificates of Completion will only be provided to RAIC members who participate in the live webcast.
SCHEDULE: The Webinar will take place on Friday, May 15 at 1 p.m. ET in English.
The Canada-wide schedule by time zone is:
| | | | | | | |
| --- | --- | --- | --- | --- | --- | --- |
| | PACIFIC | MOUNTAIN | CENTRAL | EAST | ATLANTIC | NEWFOUNDLAND |
| START | 10 a.m. | 11 a.m. | 12 noon | 1 p.m. | 2 p.m. | 2:30 p.m. |
| END | 11 a.m. | 12 noon | 1 p.m. | 2 p.m. | 3 p.m. | 3:30 p.m. |
More information, including online access instructions and a PDF copy of the slides, will be sent to you by email on the Thursday prior to the Free Friday Webinar.
When
2020-05-15 13:00 through 2:00 PM