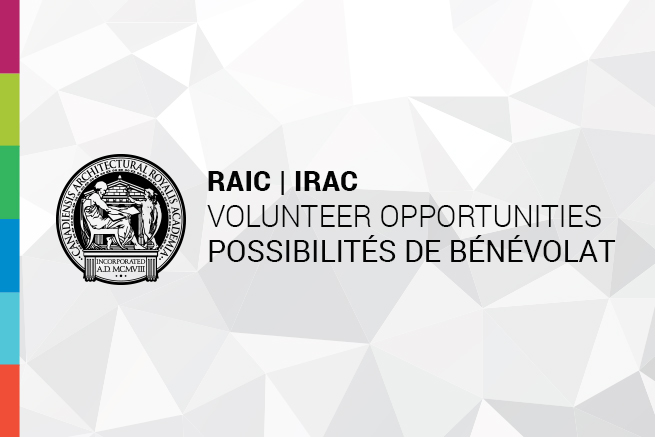 Posted December 09, 2020
RAIC Representative from Quebec on the CCDC Panel
The Canadian Construction Documents Committee (CCDC) is the national body that creates and manages construction contracts, guides and documentation. It is comprised of the key national stakeholders of Canada's construction industry. A volunteer position is open on the CCDC panel for an RAIC representative from Quebec. The candidate must be conversant in construction contracts and possess ample experience in the design-construction industry to understand the nuances of client-contractor and client-architect relationships. The candidate should be familiar with the Civil Code as it applies to construction contracts, payment, lien rights, and related legislation. 
CCDC Documents are produced in both official languages.  The Committee operates in English.  This RAIC appointee is required to function in both French and English.    
The volunteer position requires travel to different Canadian cities approximately 6 times a year with expenses covered by Canadian Construction Association. Terms of Reference for the position will provided on request.
For further information please contact: 
Paul Mitchell
Practice Director
---
Posted December 03, 2020
RAIC Committee on Regenerative Environments (CORE)
The RAIC is seeking one volunteer to join CORE, a committee of the board. The purpose of the Committee is to support the profession's collective capacity, collaborative agency and ability to respond to complex systemic challenges, in a way that is inclusive, inspiring, and equitably enabling; so that we can collectively help create a world that nurtures quality of life and empowers people and place to thrive. Learn more about CORE here.
Duration of Term: two years
Meetings: minimum of four times per year
---
Posted September 16, 2020
Call for volunteers for Regional Chairs with the RAIC College of Fellows



On behalf of the College of Fellows National Committee, the RAIC is seeking Regional Chairs for the College of Fellows. These are volunteer positions and applicants are welcome to apply for the following regions: 
Commencing December 1, 2020
Quebec
British Columbia/Yukon
Victoria
Eligible applicants must be members in good standing of the College of Fellows and must be a resident in the region of interest. 
As per the current College of Fellows Rules and Regulations, the Regional Chair will assist the Officers of the College by receiving nominations, by initiating committee work when requested, and by liaising with the RAIC's Regional Director and local organizations on matters of mutually beneficial interest. 
The duration of the Regional Chair's appointment will be at the pleasure of the Chancellor, with a maximum term of three years. 
If you are interested in volunteering in this capacity, please email a letter of interest to Chantal Charbonneau, Director, Honours and Awards/College of Fellows Coordinator at ccharbonneau@raic.org. 
The current Rules and Regulations for the College of Fellows are available upon request.