Summary of Course
Project Risk Management for Architects - has been designed by architects who practice architecture and lead major projects for a range of clients. It draws on several bodies of knowledge within the domain of risk management, project management, and the practice of architecture.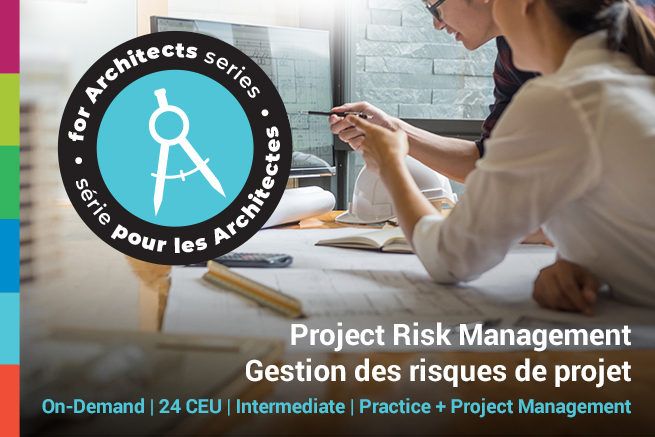 Learning Objectives
At the completion of this course, students will be able to:
Skillfully lead, facilitate, and manage the Risk Management process for architectural projects
Address Project Risks and the importance and role of Project Risk Management to benefit projects, clients, and project teams
Incorporate risk management in project and practice management
View all project aspects and work through the lens of risk identification, control, and management
Possess capabilities to apply project risk management tools and techniques skillfully to projects
Lesson Units:
Introduction to Project Risk Management
Identifying Risk
Defining Risk
Analyzing Risk
Responding to Risk 
Assigning Risk
Monitoring and Communicating Risk 
Managing Risk
Review
Required Resources
Resources listed below are the main resources for this course. Students are advised to obtain a hardcopy of these resources prior to starting this course. 
Atkins, James B. and Grant A. Simpson. Managing Project Risk: Best Practices for Architects and Related Professionals (2008). ISBN: 978-0-470-27381-4 
Once you have purchased your RAIC online course, please click on the RAIC LMS link in the menu at the top of the page to access your course. You will see your course listed on the dashboard when you sign in. (Please note, if you click on the link and you are not automatically signed in to the RAIC LMS, please click Login and you will be automatically signed in.)