The health, safety, and well-being of our staff, instructors and participants is very important to the RAIC. As such, the RAIC is working diligently to  transition all  Continuing Education events and offerings from now until September 30, 2020  to virtual platforms.  
Updates will be provided directly to participants of any in-person activities taking place up until September 30, 2020  as soon as possible via e-mail and raic.org/continuingeducation. 
As an architect or industry professional, the RAIC understands the importance of easy access to industry leading resources and tools. Build on your skills and knowledge with the RAIC Practice Resources! As an RAIC Member, you will benefit from tailored content and resources that set you apart from the competition in practice and in your career.  
Access FREE practice tools and resources for members 
Gain the tools, knowledge, skills and confidence for practice success 
Attend live or on-demand webinars with the flexibility to fit your schedule 
Benefit from tailored content for the architectural profession
 
---
Upcoming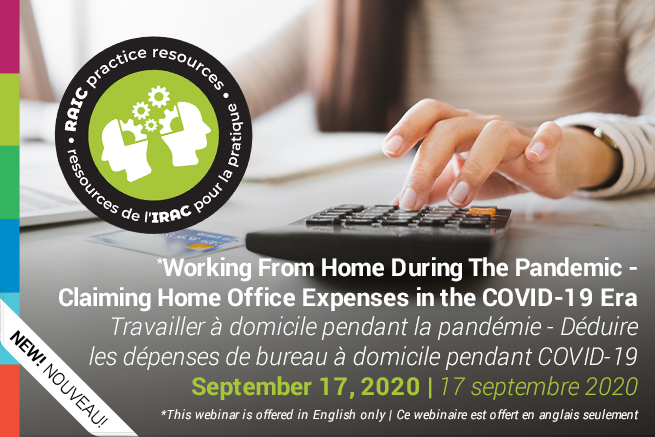 Working From Home During The Pandemic - Claiming Home Office Expenses in the COVID-19 Era - REGISTER NOW!
Date: September 17, 2020
Time: 1:00pm ET
Presented by Alex Mitrovic & Jessica Zhang-Chapman | Welch LLP 
Summary: This webinar will cover the current CRA rules as they relate to claiming home office expenses on 2020 personal income tax returns, deductible vs. non-deductible expenses, documentation requirements, what's new, and what the unknowns are at this point.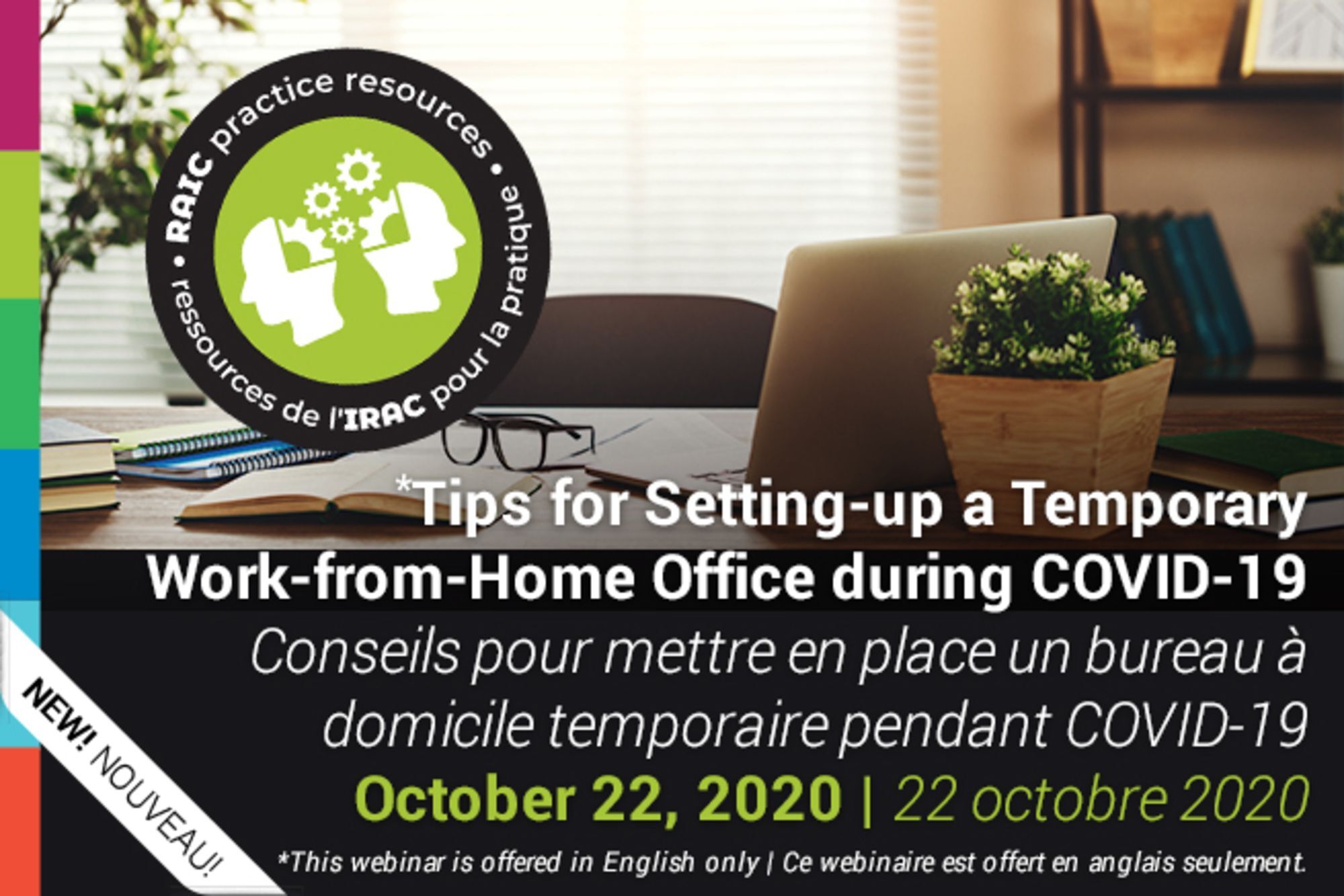 Tips for Setting Up a Temporary Work-from-Home Office during COVID-19 - - REGISTER NOW!
Date: October 22, 2020
Time: 1:00pm ET
Presented by Dr. Henry Tsang, B.Sc.Arch, M.Arch, Ph.D
Architect, OAQ, MRAIC, LEED GA, WELL AP
Assistant Professor, RAIC Centre for Architecture at Athabasca University 
Summary: This webinar focuses on supporting architectural practices that have had to urgently work-from-home during the COVID-19 pandemic; yet intend to return to a physical or semi-physical work environment post-COVID. This talk will introduce the most ready-to-use tools that can complement an architectural practice to improve the connectivity, communication, design and production while being isolated from the work environment. Tools that will be introduced include: ZOOM, Padlet, Trello, Conceptboard, Slack, and others. 
 
---
On-Demand
The RAIC Practice Resource webinars listed below are FREE for members. Non-members save $5.00 when they bundle.
Coping with COVID-19 
Available on demand!
Are you struggling to cope with COVID-19? Join Mark Antczak to talk about why anxiety is so prevalent in everyone's lives and learn strategies to help you and your loved ones manage our overwhelmed brains. The webinar will be followed by an opportunity to ask more specific questions generated by the session.
Available on demand!
In this session, you will find out what mindfulness is, and how it can help you to manage some of the stresses in your life. You will also be introduced to some of the research supporting mindfulness.
Available on demand! 
Right now, the full impact of COVID-19 on the architecture profession is unknown, and no one can say what the future holds. But by planning, responding promptly, making the right immediate decisions, and thinking long-term, you and your firm will be better prepared for whatever comes next. This is the time to protect your financial position and make financial management a priority. 
Available on demand! 
In response to member practice-related queries during the COVID-19 pandemic, the RAIC brought together a panel to answer the most frequently asked questions. Moderated by Past President, Michael J. Cox, this webinar features panelists Louis-Pierre Grégoire (Partner, Gowling WLG), Craig J. Stehr (Partner, Gowling WLG) and Don Ardiel, MRAIC, Director of Practice Support, RAIC).