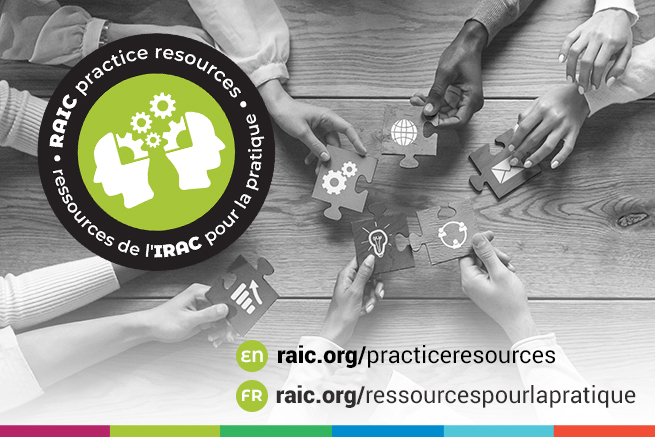 As an architect or industry professional, the RAIC understands the importance of easy access to industry leading resources and tools. Build on your skills and knowledge with the RAIC Practice Resources! As an RAIC Member, you will benefit from tailored content and resources that set you apart from the competition in practice and in your career.  
Access

 FREE practice tools and resources for members

 

Gain

 the tools, knowledge, skills

 and confidence for practice success

 

Attend

 live or on-demand webinars with the flexibility to fit your schedule

 

Benefit from tailored content for the architectural profession
The RAIC Practice Resource webinars listed below are FREE for members. Non-members save $5.00 when they bundle.
Coping with COVID-19 
Available on demand!
Are you struggling to cope with COVID-19? Join Mark Antczak to talk about why anxiety is so prevalent in everyone's lives and learn strategies to help you and your loved ones manage our overwhelmed brains. The webinar will be followed by an opportunity to ask more specific questions generated by the session.
Available on demand!
In this session, you will find out what mindfulness is, and how it can help you to manage some of the stresses in your life. You will also be introduced to some of the research supporting mindfulness.
Available on demand! 
Right now, the full impact of COVID-19 on the architecture profession is unknown, and no one can say what the future holds. But by planning, responding promptly, making the right immediate decisions, and thinking long-term, you and your firm will be better prepared for whatever comes next. This is the time to protect your financial position and make financial management a priority. 
Available on demand! 
In response to member practice-related queries during the COVID-19 pandemic, the RAIC brought together a panel to answer the most frequently asked questions. Moderated by Past President, Michael J. Cox, this webinar features panelists Louis-Pierre Grégoire (Partner, Gowling WLG), Craig J. Stehr (Partner, Gowling WLG) and Don Ardiel, MRAIC, Director of Practice Support, RAIC).