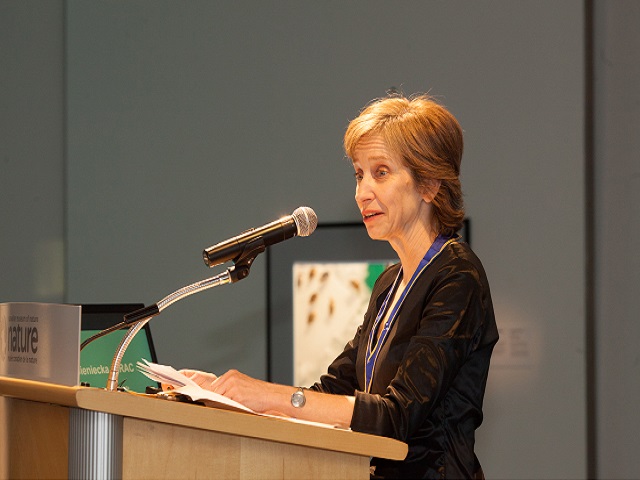 Investiture Speech by Ewa Bieniecka, FRAIC delivered on February 6, 2017 at the Canadian Museum of Nature Ottawa, ON
In 2017, as Canadians celebrate 150 years of Confederation, the Royal Architectural Institute of Canada also marks an important milestone – its 110th anniversary. It was founded in 1907 for the advancement of architecture in this country, with the first congress taking place in Montreal. Even as we celebrate our rich history, our focus is the future and how the RAIC can best serve its members, Canada's architecture community and the built environment.
That is my profession, and what has defined my identity for the past 35 years. My most cherished dream has now become a reality, and tonight I find myself in the midst of distinguished guests, architects, colleagues and family for my investiture as president. It is also an opportunity to celebrate architecture and the environment.
Tonight, we are all on the same side of a special moment driven by the desire to share ideas and talk about architecture. I don't know of a better place than this Institute to foment that desire, which is why I want to express my gratitude and hope in the form of expectations.
I first experienced debate about ideas on spaces and places, at home, at McGill University as a student and later as adjunct professor and researcher, during travel, readings, and in everyday practice. It is time to reflect on how ideas about the built environment become widely accepted and engrained in our culture. Architects' most provocative—and in many ways least understood—contribution is to the cultural landscape is as thinkers.
One of the early experiences that influenced my landscape of thought was visiting Expo 67, the world's fair held in Montreal during the summer of 1967. I went almost every evening with my parents and each visit was a journey. Arriving at the islands by the Metro subway system a new world opened up: riding in the open cars in the Minirail, daring to walk on the sloped surface of the Canadian pavilion, being overwhelmed by the big tent of the German pavilion, and immersed in the action in the 360° surround effect in the Telephone pavilion. I was so distracted by the immense volume of the spectacular United States pavilion that I missed putting my foot on the first step on an extraordinarily long escalator. As I watched my parents descend, a kind stranger took me in his arms and happily reunited me with my family.
Expo 67 brought architecture, art, design and technology together. It was an event that left behind a significant material and imaginative legacy to Canada's culture.
Fifty years later, 2017 marks major milestones in Canadian history. It is the 150th of Canada, the 50th anniversary of Expo 67 and the 375th celebration of Montreal, my native city. As architects, we must continue to investigate the relationship between architecture and the culture that shapes and is shaped by it. This will certainly be part of the conversation at the 2017 Festival of Architecture which will take place in Ottawa May 24 to 27 and is being organized in partnership with the Ontario Association of Architects.
It is perhaps a difficult challenge for architects is to realize that good design is not enough. I believe advocacy can protect the future talents of the profession, and that's why I believe the RAIC is important. We are well positioned to address today's increasing priorities: the environment, health and sustainability. Our current initiatives address this.
My RAIC journey begins by acknowledging the contributions of RAIC's Past Presidents. Thank you for your generosity, dedication, and numerous initiatives. Especially, I want to express my appreciation to our outgoing President Allan Teramura, for his leadership and for spearheading the RAIC Indigenous task force. I will continue to build and support this and other programs such as the Committee on Regenerative Environments, Aging in Place task forceand the Emerging Practitioners group. The priority of 2017 is to research the changing needs of our members and the larger architectural community ensuring that our member experiences are relevant, provide value and encourage belonging. I invite younger members to help make the change. New generations can make a difference and RAIC provides opportunities to learn and to lead.
I want to thank Marie Josée Lacroix, who has served as Design Commissioner for the City of Montréal for the past 20 years. She is one of the greatest advocates for quality design and architecture in our environments.
I also thank Renée Mailhot, one of the architects who founded the Montreal La SHED firm in 2011, and who received the RAIC Emerging Architectural Practice Award in 2016 along with Sébastien Parent, and Yannick Laurin.
My hopes and expectations for the year ahead include restoring pride in architects, their creativity, and the importance of their work, and to encourage diversity and inclusiveness in the profession.   
Architecture should not be isolated in public debate, and we must create conditions that are conducive to dialogue. In our society, we need to continue to demonstrate how design enhances quality of life. Ideas must be shared and exchanged. While dialogue is not a guarantee of consensus, it is the best way to help people see, however fleetingly, what is around them, and to continue to mine creative potential. Together, we will strive to show that architecture helps people live better lives by awakening the senses and stimulating the mind.
I am deeply grateful for the honour conferred on me by my colleagues; no other distinction has ever been more valuable, for me, than one of advocacy. I invite members to dream about what the future, holds for them, to contribute to this institute, to bring about significant change, and to leave a lasting legacy.