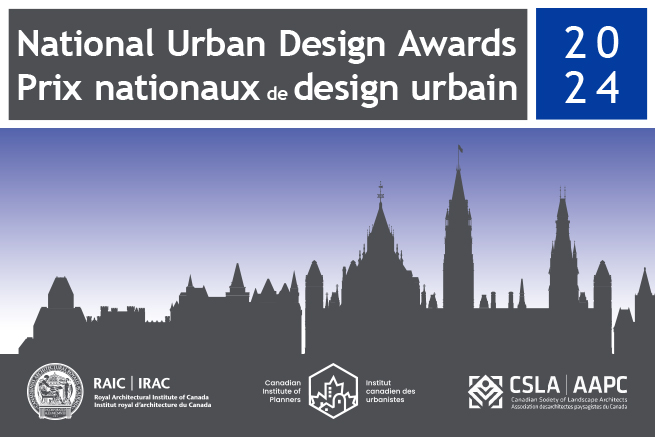 | | |
| --- | --- |
| The Royal Architectural Institute of Canada, the Canadian Institute of Planners (CIP), and the Canadian Society of Landscape Architects (CSLA) are pleased to announce the Call for Submissions for the 2024 National Urban Design Awards |   |
Submission dates: 
September 28, 2023 - January 11, 2024, 10:00 p.m. ET
Urban design plays an important role in maintaining and enhancing the quality of life in Canadian communities.
The Royal Architectural Institute of Canada, Canadian Institute of Planners, and the Canadian Society of Landscape Architects—in cooperation with Canadian municipalities—work closely to promote awareness of that role. In 2006, the three organizations established the National Urban Design Awards program to recognize individuals, organizations, firms, and projects in Canada that have contributed to the quality of life and the sustainability of Canadian communities.
The National Urban Design Awards program encourages the submission of interdisciplinary and multidisciplinary projects involving planners, landscape architects, architects and/or other disciplines. The program recognizes the importance and impact of teams in creating places that enhance the quality of life in Canadian communities.    
Eligibility
Projects, plans, and studies completed or installed within Canadian urban municipalities up to five (5) years prior to the entry deadline are eligible.
NOTE: In accordance with Statistics Canada, urban areas are defined as those that have a population of at least 1,000 and a density of 400 or more people per square kilometer
Winners from the immediately preceding cycle of municipal Urban Design Awards programs will be invited to enter the National Urban Design Awards program with the submission fee waived.
 
Submission Date
Submissions must be received before 10:00 p.m. ET, Thursday, January 11, 2024. Entrants are solely responsible for timely submissions. This date and time are firm without exceptions.
Entry Fee
An entry fee, plus applicable taxes, must accompany each submission, unless a student from an accredited university program is submitting to the Student Projects category, when submitting to the Community Initiatives category or the submitting project is the recipient of a municipal award of excellence from the immediately preceding cycle of the municipal urban design awards. If the latter, please ensure you reach out to your municipality to receive a discount code. 
Payment is processed through the online submission platform.
Payment structure by category:
Urban Architecture: $400.00
Urban Design Plans: $200.00
Civic Design Projects: $200.00
Urban Fragments: $200.00
Community Initiatives: No fee.
Student Projects: No fee. 
 
Submission categories & assessment criteria
Up to 12 projects may be awarded a National Urban Design Award in any of the following categories:
                           Urban Design Plans                     Urban Fragments
                           Urban Architecture                      Community Initiatives Award
                           Civic Design Projects                    Student Projects
The awards recognize urban design excellence achieved through interdisciplinary and multidisciplinary collaboration. Jurors will consider how projects address the following criteria:
Responds to and enhances the site, local context, and public realm, and promotes healthy and resilient communities;
Provides for meaningful experience, social value, and cultural value, and is accessible to various and diverse groups;
Demonstrates leadership in sustainability, including approaches at all scales that improve ecological health, address biodiversity and climate action, and use resources and energy responsibly;
Demonstrates the value of urban design, and positive outcomes from interdisciplinary and/or multidisciplinary collaboration;
Shows an innovative vision and conceptual clarity in terms of bringing new ideas and approaches to interventions in its community;
Demonstrates a positive contribution to reconciliation with Indigenous communities in relation to the Truth and Reconciliation Commission of Canada's Calls to Action.
Instructions
Submissions will be completed using the online submission platform.
The following items must be provided:
1. Project Information and Credits
2. 500- and 100-word Project Descriptions
3. Project Report
4. Key Images and Index
5. Publication Release Form
6. Disclaimer and Declaration Form
Entries can be submitted either in English or in French.
1.   Project Information and Credits
A one-page project information and credit sheet is required. Full credit must be given.
Entrants must include:
Name of lead designers and joint venture partners, if applicable
List of contributing team members from each firm, including professional designations, where applicable
Project name
Project address
Project client
Interior area and/or exterior area, in square meters
Construction contract value / building cost of the project, if applicable
Occupation date of the project, if applicable
A list of all key consultants to be credited, ie. structural engineer, electrical engineer, sustainability consultant, etc.
All credits on certificates, medals, and publicity will be based on this information. If more than one firm is credited for a project, the order in which names are listed will be the official sequence. Any errors or omissions are the responsibility of the entrant. 
2.   Project Descriptions
Two descriptions are required:
1) A 500-word maximum project statement, in French and/or English, outlining the objectives and significance of the project and summarizing how the project meets the assessment criteria. This text will be used in jury deliberations and for editorial coverage.
2) A 100-word maximum (French) and 100-word maximum (English) bilingual media statement. This text will be used for editorial and website coverage.
3.   Project Report
A 15-page maximum report, in French and/or English, combining materials such as texts, sketches, drawings and photos, summarizing the objectives and significance of the project and describing how the project meets the assessment criteria. The report should include an account of the genesis of the project, its development, and an outline of key urban design issues and urban design concepts addressed through the project.
4.  Key Images and Index
A maximum of seven (7) images included in the report should be selected for press purposes, and submitted as individual images. A 1-page index should be included, listing image file names, a caption under 15 words for each image, and photographer credits.
5.   Publication Release Form
 
6.   Disclaimer and Declaration Form
 
Additional information
Submission of an entry to the National Urban Design Awards grants all rights to the RAIC, CIP, and CSLA for unrestricted publication of the submitted texts and of the images designated for press purposes in all media, including electronic media. Permission from owners/clients and photographers is the responsibility of the entrants, and must be obtained before making an entry.
Photographs used for any purpose by the RAIC, CIP, and CSLA will bear the customary photographer's credit line as provided by the entrant.
These terms and conditions may be amended from time to time by the RAIC/CIP/CSLA, in their sole discretion. Notification of any amendment to these terms and conditions shall be deemed to have been given to the Applicant, on the first business day after publication of the amended terms and conditions on the web site of the RAIC/CIP/CSLA, which is presently accessed through www.raic.org
For more information
E-mail: awards-prix@raic.org
Tel: (613) 241-3600 x 2015

---
Category Details
This category is for a plan or study of a significant area that provides a development or redevelopment strategy for inspired urban transformation in the mid- to long-term. Urban design studies, master plans, redevelopment strategies, and community plans with the potential for significant impact on the community's sustainability or development are eligible in this category.
This category is for a building, renovated building, or group of buildings of high architectural standard which achieves urban design excellence through its relationship with its immediate surroundings through its siting, massing, pedestrian amenities, environmental and social sustainability, and other contributions to the community.
This category is open to teams led by a registered architect.
This category is for civic improvement projects such as a park, public space, civil engineering or environmental infrastructure, street furniture, lighting, and other elements implemented as the result of an urban design plan or initiative.
This category is open to teams led by a registered design professional (architect, engineer, planner, or landscape architect).
4. Urban Fragments
This category is for other forms of built intervention that contribute to the beautification, sustainability, enjoyment, and appreciation of the urban environment. It includes enhancements to buildings, landscapes, or public spaces such as street furniture, lighting elements, interpretation media, memorials, public art, or other forms of intervention. Projects may be of a permanent or temporary nature.
5. Community Initiatives
This category is for any size of built projectthat was initiated or implemented by a community-based organization, and that has enhanced the public realm. Examples may include streetscaping, public art, commemorative or interpretive installations, and environmental initiatives.
In addition to the evaluation criteria listed above, for submissions in this category, the jurors will also consider community involvement, ie. demonstration of how the community-at-large was involved and supported the improvements.
6. Student Projects
Submissions may be made directly from individual students or groups of students enrolled in an accredited program in architecture, landscape architecture, and/or planning in the past two years. Such students and student groups may also be nominated by their schools to submit. Students and schools may forward submissions from studio or thesis projects with an emphasis on urban design.
The entry fee is waived for Student Projects.
---