RAIC EP Webinar on the National Building Code of Canada, Part 9
Two-day Webinar on Part 9 of the 2015 National Building Code. Presentation in English only. Saturday, September 28, 2019, Health and Safety and Sunday, September 29, 2019, Structural and Building Envelope; 11:00 a.m. to 4:30 p.m. ET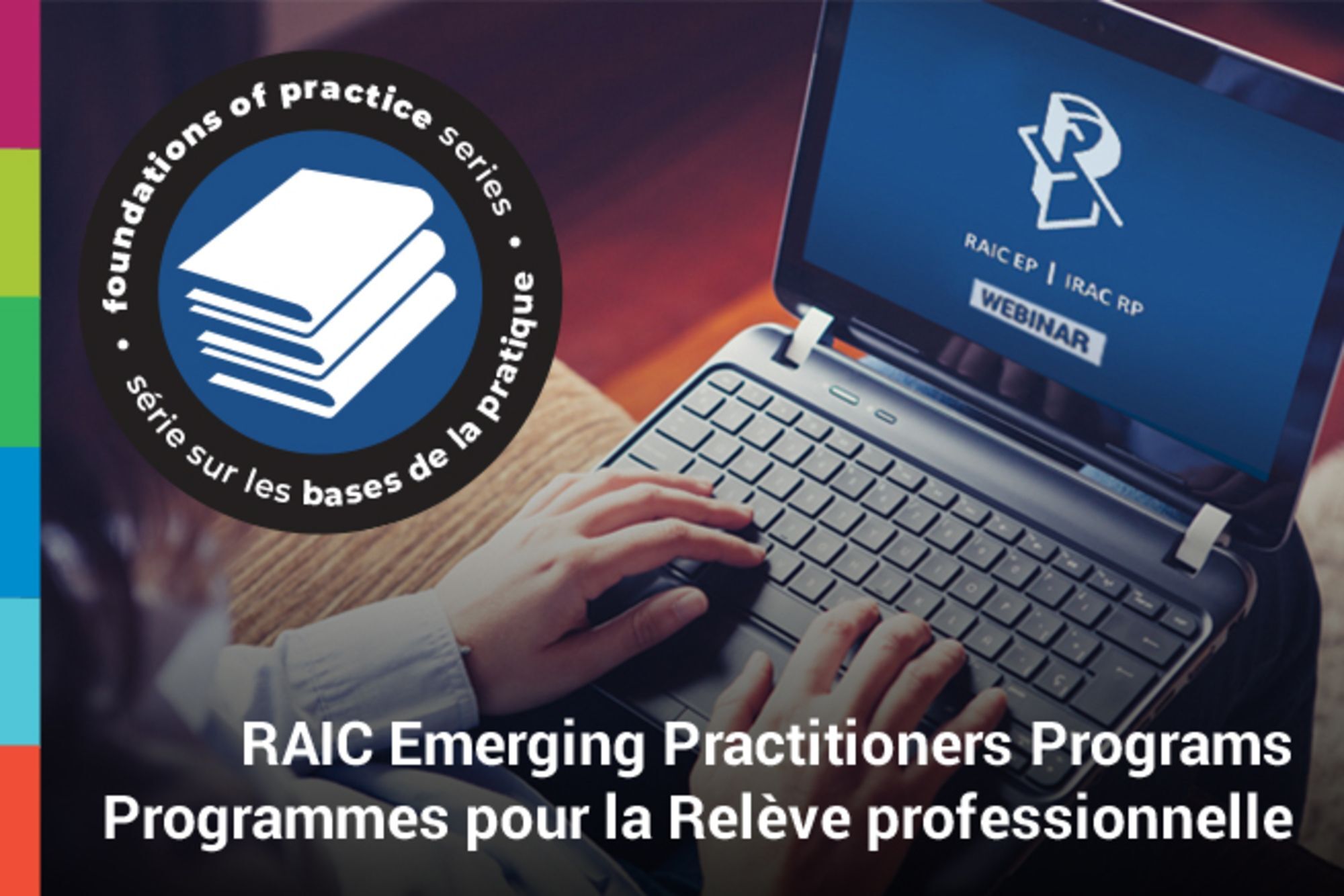 The RAIC Emerging Practitioners (RAIC EP) is pleased to offer a two-day Webinar on Part 9 of the 2015 National Building Code (NBC) in English for the 2019 year. This course is taught by experts from Vortex Fire Consulting, Passive House 43 Architecture and Moses Structural Engineers. The webinar will provide a wealth of information condensed into two 5-hour days. There will be two 2.5 hour sessions each day with a .5 hour break in between. The webinar is designed as an introduction to NBC. It is not designed to discuss varying interpretations of building design applications, as they may relate to the Code. Individuals will need to have both volumes of the 2015 NBC on hand.
LEARNING OUTCOMES:
In summary, this session will cover Health, Egress, Building Envelope, and Structural sections of Part 9 of the NBC with each section covered over a two-hour period followed by questions from attendees.
To interpret the minimum standards of the NBC to a building governed by Part 9 of Division B
To identify Code objectives and their application
To apply prescriptive Code requirements related to health and safety
To apply prescriptive Code requirements to the structural design and the envelope design
NBC Part 9 will be presented by:
SATURDAY: Health and Safety
Samuel Bright A. Boadi
Project Consultant | Canada
Samuel Bright has a Master of Applied Science Degree (M.A.Sc.) in Civil Engineering, with a specialization in Fire Safety Engineering, and a Bachelor of Science Degree in Civil Engineering. Samuel assists in Building Code consulting, Fire Code Consulting, Fire Evacuation Design, Accessibility and other Fire Engineering and Structural Engineering related tasks. Samuel has developed code analyses, conducted life safety audits, and completed third-party reviews for commercial, assembly, industrial, institutional, multi-family residential, high-rise, and high hazard facilities. Samuel adds significant value through all stages of projects and assists design teams with the planning and fire and life safety considerations of proposed design options. Project experience includes identifying building code design options, developing alternative solutions, and coordinating with the design teams and building officials.
SUNDAY: Structural and Building Envelope
David Moses
Principal
Moses Structural Engineers
David is one of Canada's foremost experts on timber structures, heavy timber, glulam and CLT, and an advocate for advances in structural engineering and industry standards. His extensive portfolio includes the first Canadian CLT and passive house buildings and the Art Gallery of Ontario renovation—the most sophisticated wood structure in North America, as well as three prestigious professional awards. The firm's genuine nature, passion for projects and attention to detail are driven by David.

Craig England
Principal
Passive House 43 Architecture
Craig England is principal and founder of passive house 43 Architecture, a small firm dedicated to sustainable, low-energy buildings. He has been an adjunct professor in the Comprehensive Building Design studio at the University of Waterloo as their energy-modelling/sustainability advisor He has delivered lectures on high-performance building strategies as a visiting critic/lecturer at Laurentian and Ryerson. He has provided advice and collaborated on improvements to building envelopes and sustainable design to clients/firms such as Bombardier, LGA Architects, Parry Sound District Social Services Administration Board, Luc Wintzen Design, Tibetan Canadian Cultural Centre, and numerous private clients. His experience in analyzing design utilizing energy-modelling, and his passion for the environment led him to open his firm focusing on reducing the impact our built environment has on the natural environment.
Feedback forms will be sent to each individual after the session. These are used to gain an understanding of how the speaker performed, to inquire about any areas that the attendees would have liked to spend more time on, and to find out if any additional items could be incorporated into the future growth of the webinar.
Upon completion of the webinar session and survey, each participant will be awarded a certificate for 10 structured continuing education credits.
REGISTRATION DEADLINE: Monday, September 23 at 5:00 p.m. (ET).
WEBINAR REGISTRATION FEE:
200 $ for RAIC members, plus applicable taxes.
300 $ for non-members, plus applicable taxes.
SCHEDULE: The Webinar will take place on Saturday, September 28 and Sunday, September 29, in English. The Canada-wide schedule by time zone is:
| | | | | | | |
| --- | --- | --- | --- | --- | --- | --- |
| | PACIFIC | MOUNTAIN | CENTRAL | EAST | ATLANTIC | NEWFOUNDLAND |
| START | 8:00 a.m. | 9:00 a.m. | 10:00 a.m. | 11:00 a.m. | 12:00 p.m. | 12:30 p.m. |
| Q&A | 10:00 a.m. - 10:30 a.m. | 11:00 a.m. - 11:30 a.m. | 12:00 p.m. - 12:30 p.m. | 1:00 p.m. - 1:30 p.m. | 2:00 p.m. - 2:30 p.m. | 2:30 p.m. - 3:00 p.m. |
| BREAK | 10:30 a.m. | 11:30 a.m. | 12:30 p.m. | 1:30 p.m. | 2:30 p.m. | 3:00 p.m. |
| RE-COMMENCE | 11:00 a.m. | 12:00 p.m. | 1:00 p.m. | 2:00 p.m. | 3:00 p.m. | 3:30 p.m. |
| END | 1:00 p.m. | 2:00 p.m. | 3:00 p.m. | 4:00 p.m. | 5:00 p.m. | 5:30 p.m. |
| Q&A | 1:00 - 1:30 p.m. | 2:00 - 2:30 p.m. | 3:00 - 3:30 p.m. | 4:00 - 4:30 p.m. | 5:00 - 5:30 p.m. | 5:30 - 6:00 p.m. |
Disclaimer
This course is organized by the RAIC Emerging Practitioners (RAIC EP) in partnership with Les Muniak Enterprises, Vortex Fire Consulting, Passive House 43 Architecture, and Moses Structural Engineers.
The times indicated below are in eastern time.
When
September 28, 2019 11:00 AM through September 29, 2019 4:30 PM
Event Fee(s)
Event Fees
Event Fee (GST)
$ 300.00

+ $ 15.00 Sales Tax

Event Fee (HST)
$ 300.00

+ $ 45.00 Sales Tax

Event Fee (QC)
$ 300.00

+ $ 44.92 Sales Tax

Event Fee (ON)
$ 300.00

+ $ 39.00 Sales Tax