RAIC EP Webinar on the National Building Code of Canada, Part 3
Two-day Webinar on Part 3 of the 2015 National Building Code. Presentation in English only. Saturday, September 14-15, 2019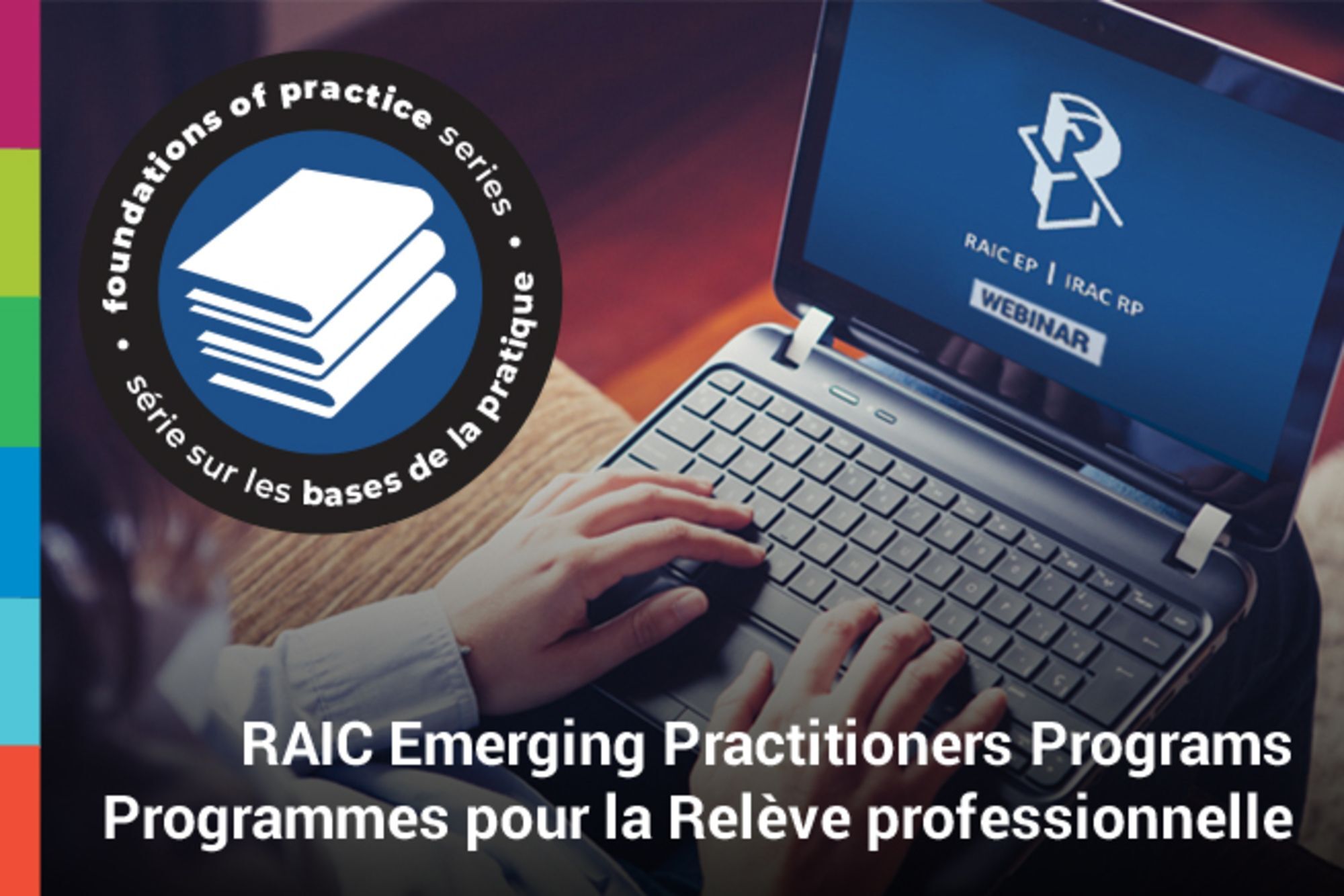 To register for RAIC EP National Building Code of Canada – Part 9 Webinar 2019, please click here.
To register for RAIC EP ExAC Q & A Live Webinar, please click here.
---
RAIC Emerging Practitioners (RAIC EP), is pleased to offer a two-day Webinar on Part 3 of the 2015 National Building Code of Canada (NBC) in English. This course is taught by Megan Nicoletti, partner at CodeNext.
Megan has been in the industry for 13 years and is responsible for the preparation of Building Code and Fire Code assessments for architects, engineers, designers, developers and building owners. She is proficient in all scales of commercial, residential, infrastructure and public sector projects, both in Canada and internationally. In addition, Megan is experienced in the development of fire engineering equivalencies that are specifically tailored to meet client's objectives, while still maintaining the desired architectural vision.
The webinar will provide a wealth of information condensed into two 4-hour days, with a .5 hour break in between. It is designed to simplify the Code and be taught as an introduction to NBC to assist individuals in preparation for ExAC. It is not designed to discuss varying interpretations of building design applications, as they may relate to the Code. Individuals will need to have both volumes of the 2015 NBC on hand.
LEARNING OUTCOMES: The learning outcomes of this webinar are a reflection of items 5.1, 5.2 and 5.4 (as outlined in the ExAC General and Specific Objectives Guideline) http://www.exac.ca/fileadmin/documents/pdf/fr/objectifs_en_2019.pdf.
To apply the requirements of the NBC to the design, construction and occupancy of buildings
To apply the minimum standards of the NBC to a building governed by Part 3 of Division B
To describe the requirements for achieving design compliance using alternative solutions, as set out in Division A and in Subsection 1.1.2. of Division B of NBC
To identify Code objectives and their application
To identify the proper application of an alternative solution in building design in Canada.
Feedback forms will be sent to each individual after the session. These are used to gain an understanding of how the speaker performed, to inquire about any areas that the attendees would have liked to spend more time on, and to find out if any additional items could be incorporated into the future growth of the webinar.
Upon completion of the webinar session and survey, each participant will be awarded a certificate for 8 structured continuing education credits.

REGISTRATION DEADLINE: Monday, September 9 at 5:00 p.m. (ET).
WEBINAR REGISTRATION FEE:
$200 for RAIC members, plus applicable taxes.
$300 for non-members, plus applicable taxes.

SCHEDULE: The Webinar will take place on Saturday, September 14 and Sunday, September 15, in English. The Canada-wide schedule by time zone is:
| | | | | | | |
| --- | --- | --- | --- | --- | --- | --- |
| | PACIFIC | MOUNTAIN | CENTRAL | EAST | ATLANTIC | NEWFOUNDLAND |
| START | 8:00 a.m. | 9:00 a.m. | 10:00 a.m. | 11:00 a.m. | 12:00 p.m. | 12:30 p.m. |
| Q&A | 9:30 a.m. | 10:30 a.m. | 11:30 p.m. | 12:30 p.m. | 1:30 p.m. | 2:00 p.m. |
| BREAK | 10:00 a.m. | 11:00 a.m. | 12:00 p.m. | 1:00 p.m. | 2:00 p.m. | 2:30 p.m. |
| RE-COMMENCE | 10:30 a.m. | 11:30 a.m. | 12:30 p.m. | 1:30 p.m. | 2:30 p.m. | 3:00 p.m. |
| END | 11:00 a.m. | 12:00 p.m. | 1:00 p.m. | 2:00p.m. | 3:00 p.m. | 3:30 p.m. |
| Q&A | 11:30 a.m. | 12:30 p.m. | 1:30 p.m. | 2:30 p.m. | 3:30 p.m. | 4:00 p.m. |
Please note that Q&A session will be extended until 4:00 p.m. (ET) on Sunday evening.
Disclaimer
This course is organized by the RAIC Emerging Practitioners (RAIC EP) in partnership with CodeNext. Neither the webinar nor the content of the course, have been reviewed or endorsed by the CExAC (Committee for the Examination for Architects in Canada). Connections between learning objectives and the General and Specific Guidelines of the exam are for orientation purposes only and in no way reflect a comprehensive exploration of the subject.
The ExAC is an examination of the application of knowledge to the design of buildings. Study or courses alone may not prepare the participant for the exam. The application of knowledge through experience in practice is essential for success.
The times indicated below are in eastern time.
When
September 14, 2019 11:00 AM through September 15, 2019 4:00 PM
Event Fee(s)
Event Fees
Event Fee (GST)
$ 300.00

+ $ 15.00 Sales Tax

Event Fee (HST)
$ 300.00

+ $ 45.00 Sales Tax

Event Fee (QC)
$ 300.00

+ $ 44.92 Sales Tax

Event Fee (ON)
$ 300.00

+ $ 39.00 Sales Tax