Webday Wednesday - An Investigation of the Costs of Accessibility – Building to RHFAC Gold
For the month of April, the RAIC is pleased to present a weekly series on the subject of Universal Design.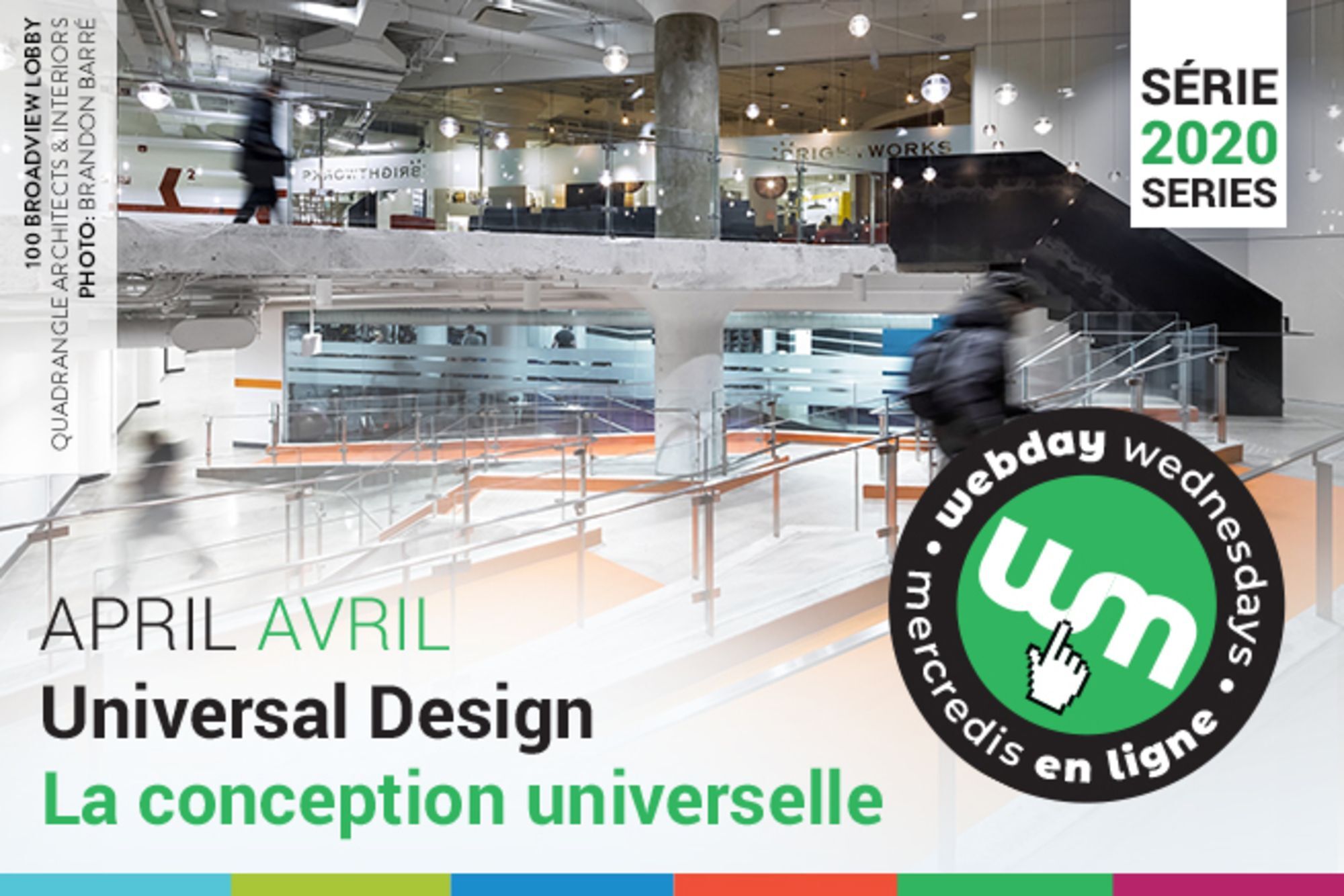 An Investigation of the Costs of Accessibility – Building to RHFAC Gold
Date: April 29, 2020
Presenter: Darryl Condon
SESSION:
Designing buildings to be widely inclusive is a fundamental responsibility of all involved in the process, however, understanding what it takes to go beyond the minimum code requirements can be challenging. This session will help accessibility professionals dispel potential client concerns by sharing the results of a research project that analyzed the added construction costs relation to accessibility certification for new buildings.
LEARNING OUTCOMES:
At the completion of this session, the participant/learner will be able to:
Analyze a building's access for all users including those with hearing, vision, and/or mobility challenges, and understand where improvements can be made.
Develop a strong understanding of Universal Design and how it is applied.
Understand the economic and societal importance of ensuring that the built environment is accessible for all.
Continuing education learning hours: 1 credit
Darryl Condon Architect AIBC, AAA, SAA, OAA, NLAA, AIA, FRAIC, LEED AP
HCMA Architecture | Managing Principal
Darryl Condon is interested in design that acts as a catalyst for positive social change.
As Managing Principal at Vancouver based HCMA Architecture + Design, he has created successful public spaces including community centres, swimming pools, recreation facilities, fire halls and libraries across Canada, and beyond. His work has been recognized internationally for its innovation and design excellence.
After 30 years of practice creating these dynamic, engaging and effective spaces, Darryl is asking 'what's next'. The intent is to push, think and break away from preconceptions of conventional practice at every scale, to maximize the impact and potential of projects and collaborations. These efforts are focussed on creating spaces which leave lasting legacies in our communities while maximizing social impact.
Darryl is a registered Architect, a LEED Accredited Professional and a Fellow of the Royal Architectural Institute of Canada. He is a Past-President of the Architectural Institute of British Columbia and an adjunct professor at the UBC School of Architecture and Landscape Architecture.
REGISTRATION DEADLINE: Monday, April 27 at 5:00 p.m. ET
WEBINAR REGISTRATION FEE:
$50 for RAIC members, plus applicable taxes.
$75 for non-members, plus applicable taxes.
SCHEDULE: The Webinar will take place on Wednesday, April 29 at 1 p.m. ET in English.
The Canada-wide schedule by time zone is:
| | | | | | | |
| --- | --- | --- | --- | --- | --- | --- |
| | PACIFIC | MOUNTAIN | CENTRAL | EAST | ATLANTIC | NEWFOUNDLAND |
| START | 10 a.m. | 11 a.m. | 12 noon | 1 p.m. | 2 p.m. | 2:30 p.m. |
| END | 11 a.m. | 12 noon | 1 p.m. | 2 p.m. | 3 p.m. | 3:30 p.m. |
More information, including online access instructions and a PDF copy of the slides will be sent to you by email on the Tuesday prior to the Webday webinar.
*Purchase of webinars and events are non-transferable.
When
April 29, 2020 1:00 PM through 2:00 PM
Event Fee(s)
Fees
Event Fees (GST)
$ 75.00

+ $ 3.75 Sales Tax

Event Fees (Ontario)
$ 75.00

+ $ 9.75 Sales Tax

Event Fees (Quebec)
$ 75.00

+ $ 11.23 Sales Tax

Event Fees (HST)
$ 75.00

+ $ 11.25 Sales Tax