Managing Director, Perkins+Will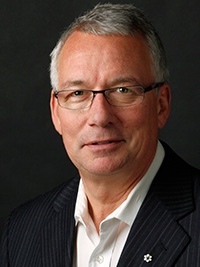 Internationally recognized and published for his contributions to Architecture and Planning, Peter Busby's award-winning portfolio embodies his philosophy of social responsibility and commitment to sustainable design. Since opening his Vancouver practice in 1984, Peter's body of work has gained a reputation for design excellence and innovation, becoming a powerful catalyst in the growth of the green architecture movement in North America and abroad. After merging his firm with Perkins+Will in 2004, Peter became a driving force across the company, compelling its industry-leading sustainable design initiatives. In 2012, Peter relocated to be the Managing Director of Perkins+Will's San Francisco office, bringing his focus on sustainable communities and regenerative design to all Perkins+Will's West Coast offices, directing teams working on projects locally and internationally. Peter's dedication to design advocacy remains steadfast; he lectures frequently at academic institutions and professional engagements around the world.
Peter holds a bachelor's degree in architecture from the University of British Columbia and a BA in political philosophy from University of Toronto. In 2008, he was conferred an honorary doctorate in science by Ryerson University and in 2011 was named a Cascadia Fellow. In 2013, he was elevated to LEED Fellow, a designation of the US Green Building Council which recognizes exceptional contributions to the green building community as well as significant achievements within a growing community of sustainable design professionals.
Jury Comment(s):
"Mr. Busby was awarded the RAIC Gold Medal for his pioneer efforts in bringing sustainable design and development to the forefront of the practice of architecture."
"Through his on-going efforts, the importance of a more responsible approach to building and urban development has become part of the mainstream of architectural practice and education."
"His pioneering work in sustainable design and his international influence in this regard has ensured a permanent place for Mr. Busby in Canadian architectural history, for both design and innovation."