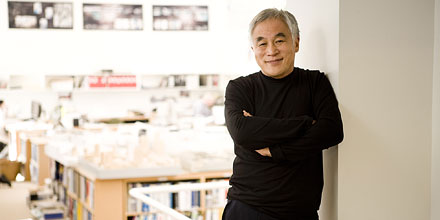 Bing Thom is a global thinker who through the strength of his architecture has encouraged communities in Canada and around the world to raise their ambitions and strive to improve their condition. His natural curiosity coupled with intensely critical thinking has resulted in architecture of innovation and a quest for excellence that is at the forefront of what is being produced this era.
From single family houses to large urban complexes, the work of Bing Thom balances a delight in form-making with a commitment to shaping artful, involving, democratic public spaces. Bing is a dedicated and artful city-builder whose global reputation has risen in consort with that of Vancouver, the city he has done much to protect and to improve. Since 1982, his firm, Bing Thom Architects (BTA), has been advising and collaborating with cultural institutions, corporations, universities, governments, developers and communities around the world to help them successfully realize their architectural aspirations.
Bing has a fundamental belief in the transformative power of great architecture to uplift, not only the physical, but also the economic and social conditions of a community. His belief in this power has become the grounding philosophy for the office, and has resulted in memorable architecture that consistently taps into something beyond aesthetics. Bing's buildings are not just beautiful, they also add to the health of the communities in which they reside.
The firm undertakes only a selective few projects at any given time to ensure that Bing is personally involved in all stages of every project. The firm has established a reputation for innovative design on a wide range of projects ranging from residences and interiors to large-scale mixed-use projects and city building. More often than not, BTA's projects integrate a range of commercial, residential and institutional uses to create a vibrant and sustainable whole.
Among Bing's successes are the master plans for the Cities of Dalian and Yuxi in China; the creation of a new city centre for Surrey, BC with Central City; the Chan Centre for the Performing Arts at UBC; the Aberdeen Centre in Richmond, BC; the Trinity Uptown Plan for Fort Worth, Texas; the Sunset Community Centre; and Arena Stage in Washington, DC. Bing Thom's architecture is remarkable because it continuously evolves and gracefully gains its patina through years of public use.
Bing has long espoused the "Master Builder" approach to architecture, breaking down the isolation that often exists between design and construction and working directly with the contractors and trades to develop innovative and cost effective solutions to unusual building configurations. Bing's professional practice is enriched through the work of BTAworks, an independent research and development group that helps BTA to understand the demography and trends in the communities in which BTA works and helps the firm stay on the forefront of sustainable applications in architecture.
Prior to opening his own practice in 1982, Bing's professional career began in the offices of Fumihiko Maki and Arthur Erickson. Arthur Erickson taught Bing at university and invited him to work on the winning competition for Simon Fraser University. After graduate school in Berkeley and a period teaching architecture at the University of Singapore, Bing returned to the Erickson office in the early 1970s in time to take a leadership role on the Robson Square government offices/law courts complex in downtown Vancouver. While at Erickson's, Bing helped to open offices in Toronto and Los Angeles and led the design teams that were responsible for winning several important design competitions, including the massive Bunker Hill project in Los Angeles and the Napp Laboratories in Cambridge, England.
While his preference is clearly to build rather than work in academia, teaching and research are very much at the core of Bing's practice. His studio is a laboratory of exploration into new materials and techniques. Seeing himself in the tradition of the "master builder", Bing's work is characterized by close collaboration with trades and industry. At any one time there is often at least one full sized mock-up in the parking area in front of his office.
With close personal and professional ties to Asia and North America, Bing has been a strong advocate of Canada's multi-cultural traditions. Bing Thom's holistic and engaged approach is also reflected in his 35 person office, his team is shaped by the wide-range of experience brought by professionals from 13 different countries, who collectively speak 14 languages. He is constantly championing the creative and competitive advantages that this diversity brings and has been outspoken about Canada's immigration and trade policies.
Bing's commitment to the community as a volunteer is significant and his influence in this regard is as important as his professional work. He was a founding member of Vancouver's Chinese Cultural Centre, Builders without Borders and has served on the Boards of the University of British Columbia and the Vancouver Public Library. He led the Building Committees that established design competitions to select the architect for both the Chinese Cultural Centre and the Vancouver Public Library. In addition to his own extensive involvement, he supports and encourages his staff to be involved in the community and, as a result, many more organizations in Vancouver benefit from his attitude toward volunteerism. Over the past decade, profits from his firm have been used to establish the Bing Thom Architects Foundation which funds cultural activities in cities across Canada.
Bing Thom's talent and service has been recognized already by a range of honours including the Order of Canada, the Golden Jubilee Medal, honorary degrees from Simon Fraser University and the University of British Columbia, and an honorary professorship from Tongji University in Shanghai. Most recently, his firm was the winner of the RAIC 2010 Firm Award.
Jury Comment(s):
"Bing Thom's architecture consistently and skillfully balances the art of form-making with an over-arching capacity to create meaningful and sustainable "community".  It is an architecture that has the capacity to engage and inspire, to create community. It is transformative in the sense that it looks beyond program and site  – it is an architecture which engages the broader urban, social and economic opportunity."
"The work of few practitioners fulfills the spirit and intent of the RAIC Gold Medal as Bing Thom's does. It is generally understood that the Gold Medal should recognize and honour a life's work: Work that is noteworthy, instructive, influential, and at its best extra-ordinary. Mr.Thom's work addresses all of these interests.
At the level of craft it is consistently pushing the boundaries of technique and use of materials, generating a recurrent sense of substance and quality. Truly noteworthy work in architecture must take us to a place beyond this, a place that is visceral, difficult to define, yet obvious in its presence. Bing Thom's work does this. It is good, and fulfilling to experience. It can be inspirational. It leaves one with worthwhile memories. It has long been worth honouring."
"The RAIC has decided to honour Bing Thom for his distinguished overall career. His work at his Vancouver firm, founded nearly 30 years ago, has always been of unflagging quality."